Why William And Catherine's Days At Kensington Palace Might Be Numbered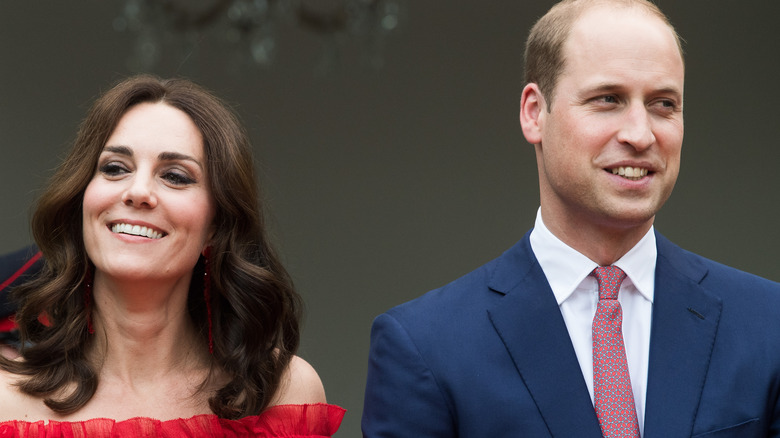 Matthias Nareyek/Getty Images
Kate Middleton and Prince William's reported move to Windsor has been in the pipeline for a while now. As Hello! magazine reported in June 2021, the Duke and Duchess of Cambridge were eyeing a relocation to the country to establish a life for themselves and their children that kept with their values. William and Kate already spend much of their time at their country pile in Anmer Hall, Norfolk.
The Cambridges have been living at Kensington Palace since 2017 and the move to Berkshire, per the Daily Mail, will necessitate Prince George and Princess Charlotte changing schools. Prince Louis, meanwhile, will join his siblings at their new school accordingly. Originally, Prince William, Duke of Cambridge, and Kate, Duchess of Cambridge, were slated to keep Kensington Palace as their home base, but in the intervening months, the move looked like it may end up being more permanent.
Cosmopolitan reports that their chosen home, the chic Adelaide Cottage, was built in 1831 and named after Queen Adelaide, the wife of King William IV. The home, despite its cute name, is the furthest thing from an actual cottage, and is located on the grounds of the queen's property. This means William will be close to her amidst Her Majesty's ongoing mobility issues. Apparently, there's also another major reason as to why the Cambridges are choosing to move from Kensington Palace.
The Cambridges are reportedly eager to give their children more space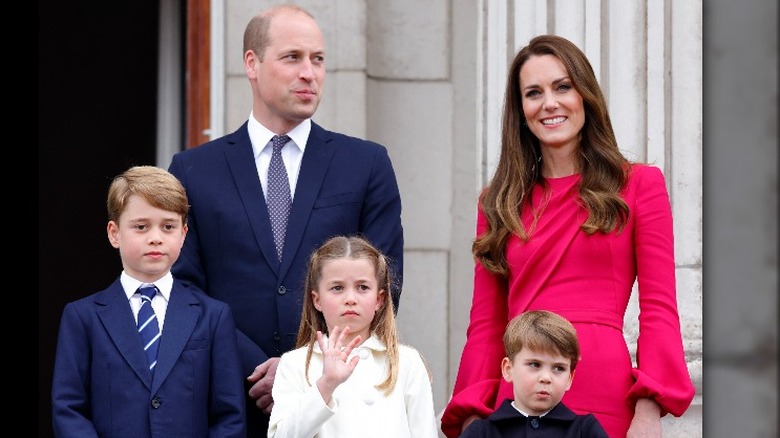 Max Mumby/indigo/Getty Images
With the summer holidays winding down, Prince William and Catherine Middleton are getting ready to relocate their family to somewhere more suitable, after one final hurrah in the spacious surroundings of Anmer Hall. The couple is reportedly done with their chic "apartment" at Kensington Palace, too. As royal expert Ingrid Seward explained to The Sun, "Wills and Kate need space to bring up their children. Kensington Palace is a glorious prison for kids — they want to be able to play football without being watched from behind the gates."
Seward added, "I think Windsor will be perfect for them, as they will have lots of freedom and they can all be at school together." The Duke and Duchess of Cambridge, alongside their three children, will soon call the stylish four-bedroom Adelaide Cottage home. There, they'll be closer to Catherine's family as well as William's beloved grandmother, Queen Elizabeth, who moved to Windsor full-time due to ongoing health issues. 
The Sunday Times confirmed (via Express) that the queen had not spent a night at Buckingham Palace since leaving in March 2020 — at the height of the COVID-19 pandemic — and had no plans to return. Of the Cambridges' planned move to Windsor, Catherine's uncle, Gary Goldsmith, shared with The Sun, "I think they are ready for the next chapter in their lives." Being in Windsor also makes it easier for the couple to reportedly prepare for the transition of power, when Prince Charles inevitably becomes king.
William and Catherine are supposedly preparing for the transition of power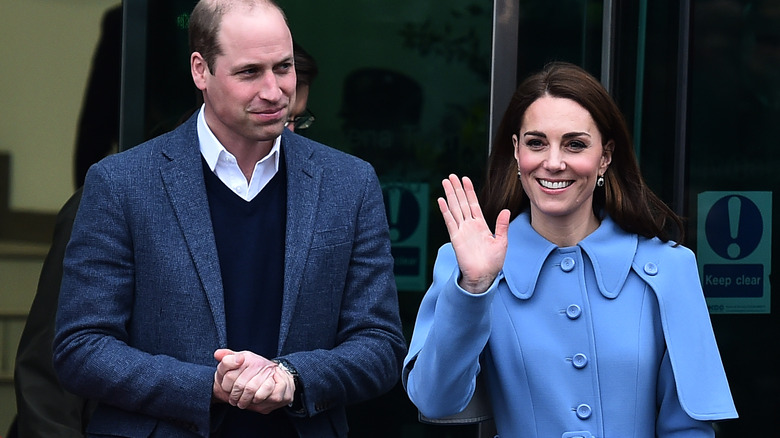 Charles Mcquillan/Getty Images
The real reason Prince William and Kate Middleton want to move is supposedly to do with being closer to their respective families, but it will also give the couple more opportunities to engage with the monarchy in anticipation of their changing roles. Royal expert Charlie Lankston explained, during an appearance on "Access," although the Duke of Cambridge knows he's not next in line, "William and Kate are very much already in that kind of waiting in the wings roles where they are both very much aware that they will be on the throne probably, you know, not too far in the future," (via Express).
As Lankston pointed out, Prince Charles is older than his mother was when she inherited the throne, so "I don't think anyone is expecting Prince Charles to sit on the throne for decades and decades to come." As the Daily Mail's assistant editor elaborated, "William and Kate are ... taking on a huge amount of responsibility not just in terms of public engagements but also in terms of the way in which the monarchy is run. They're making small but very important changes." According to Lankston, this includes modernizing the monarchy. 
As Marie Claire points out, when Charles, Prince of Wales, ascends the throne, William, Duke of Cambridge, and Catherine, Duchess of Cambridge, may become the next Prince and Princess of Wales as a result. It seems as though they're more than ready for the challenge.