Hillary Clinton Releases A Hat That Says It All Amid Donald Trump's Latest Scandal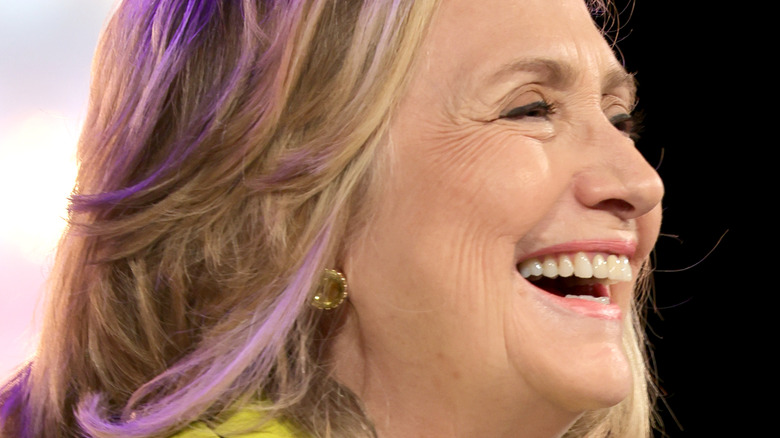 Michael Loccisano/Getty Images
The Hillary Clinton email server scandal and the FBI's raid of Donald Trump's Mar-a-Lago estate, which may or may not have anything to do with January 6, involve completely different circumstances, but that doesn't mean the former Democratic presidential candidate can't have a little fun based on the reversal of fates currently playing out (via Politico).
First, a brief look back at the 2016 FBI investigation that saw Director James Comey ultimately deciding that no charges should be brought against Clinton after it was alleged she used a personal email server to send classified communications. It was posited by many that although the former first lady escaped criminal charges, the investigation itself was a major reason she lost the election to Donald Trump, with the timing seeming suspicious at best (via The Guardian).
Of course, Trump never went easy on Clinton over the scandal, and even continued to speak on the topic from the oval office (via NBC News).
Now, the 74-year-old is using her past to profit a cause near and dear to her heart.
Hillary Clinton is having some fun at her own expense
As Hillary Clinton shared via Twitter, the former candidate for the top job in the nation isn't ready to leave the past in the past and instead, is clearly having a bit of a smug moment over the FBI raid at Mar-a-Lago. Showing off a hat with a tongue-in-cheek message, the former New York Senator wrote, "Every 'But her emails' hat or shirt sold helps @onwardtogether partners defend democracy, build a progressive bench, and fight for our values."
Clinton then added, "Just saying!"
Onward Together is an organization that seeks to advance the mission nearly realized in 2016 and help progressive candidates run for future office.
Meanwhile, it seems the hats were so popular that they quickly sold out. Clinton went back to Twitter to advise her fans of a "crisis averted," as the merchandise is now available for pre-order.
It's worth noting that not every former presidential candidate and rival of Trump has taken the same tactic of self-promotion when it comes to responding to the raid. For instance Andrew Yang controversially claimed that the FBI's action will only serve to strengthen the conservative's voter base.