Michelle Obama's Parenting Advice Is What Every Tired Mom Needs To Hear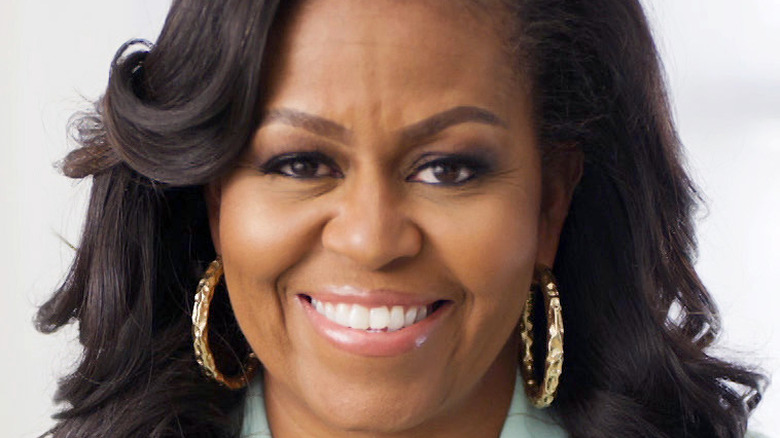 52nd Naacp Image Awards/bet/Getty Images
Michelle Obama is an inspiration to us all. As E! News notes, her pet causes include education, increasing support for military families, and encouraging healthier eating habits in children. Never mind the fact that, aside from being a former first lady, Michelle had a successful career as a lawyer, worked extensively in public service, has a production company alongside husband Barack Obama, and is even a best-selling author to boot.
She's also a dedicated mother to daughters Malia and Sasha Obama. In fact, when Meghan Markle asked her in a conversation for British Vogue what the former first lady's best advice for her children was, Michelle spoke from her own experience. "Don't just check the boxes you think you're supposed to check, like I did when I was their age. I tell them that I hope they'll keep trying on new experiences until they find what feels right," she explained.
Further, the "Becoming" author acknowledged that she made some mistakes along the way, including being a lawyer just because it seemed like the right path for her at the time. Michelle is open about how much she values self-care, too, telling Parents.com, "I've found keeping up with my routine helps me stay grounded. That means getting enough sleep, eating right, exercising — the basics. And sometimes that means... practicing self-compassion." 
When it comes to being a mom, she has a similar approach.
The former first lady makes sure she practices self-care as a parent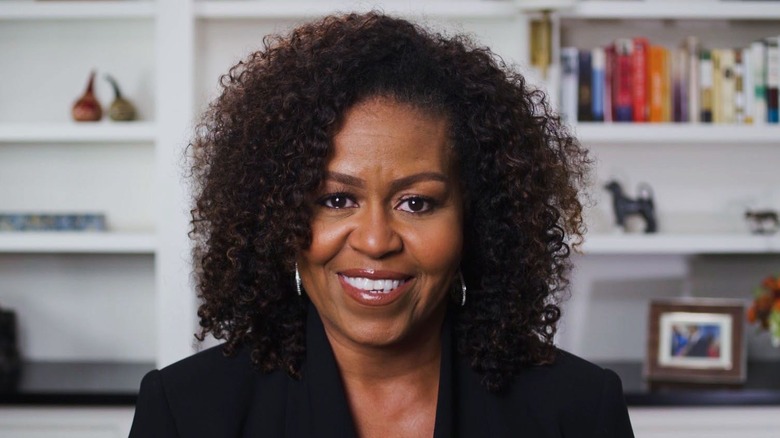 Bet Awards 2020/Getty Images
When it comes to being a good mother, former First Lady Michelle Obama reckons it's best to lead by example — particularly if you're feeling stressed out. "I want my girls to see the model of a mother taking care of herself, because, quite frankly, my mother didn't do that," she shared, per Black Enterprise. 
Michelle's mom always put their family first, to the detriment of her own self-care, so she makes a point of taking care of herself to inspire Malia and Sasha Obama to follow her example.
Michelle's parents, Fraser and Marian Robinson, taught their children to speak up for themselves and problem-solve alongside them, as she recalled while speaking at the American Library Association's annual conference in New Orleans in 2018 (via Associated Press). In fact, Michelle noted, "When I go throughout my day, I often ask myself, 'Am I doing what I think Marian and Fraser would expect me to do?'" 
Her mother, in particular, keeps their extended family grounded to this day. The former first lady revealed that Marian wouldn't even let housekeepers in the White House take care of her laundry. "She keeps us humble and focused on what's important," Michelle said. "She's also my sounding board. She'll sit and just listen and then ask me, 'What do you think you should do about that?'" 
Like mother, like daughter, indeed.
Michelle Obama reconnected with her daughters during COVID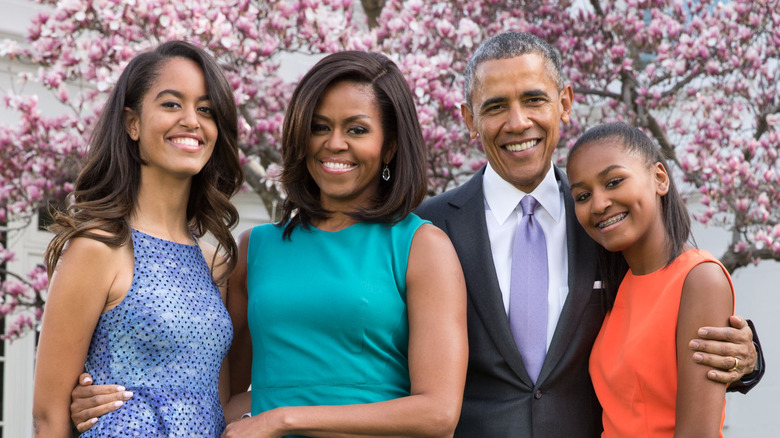 Handout/Getty Images
They might be superstars, but even Barack and Michelle Obama struggled to keep things fun while in COVID quarantine with their daughters. As the former first lady admitted to People, they were put in a difficult position because Sasha and Malia Obama had been away at college — Malia was at Harvard, while Sasha attended the University of Michigan — when the lockdown struck. So they were understandably unwilling to adhere to their parents' rules upon returning home again.
Thankfully, although it was a battle at times, the quarantine ultimately brought the family closer together. As Michelle explained, "This time has allowed us to get some stolen moments back with our girls. Those recaptured moments have meant the world to us and I think they've made our relationships with our children even stronger." 
Likewise, she knew how lucky they were, compared to people all over the country. As Michelle explained to Ellen DeGeneres (via Twitter), "I feel for all the folks who are going to suffer because of what's going to happen to the economy." She added, "We have to be mindful about what we're going to do to support those folks when this quarantine is over and people are looking at what's left of their businesses and their lives, and that is a negative." 
She's leading by example, as always.