Why Interior Designers Can't Wait To Ditch Shiplap In 2022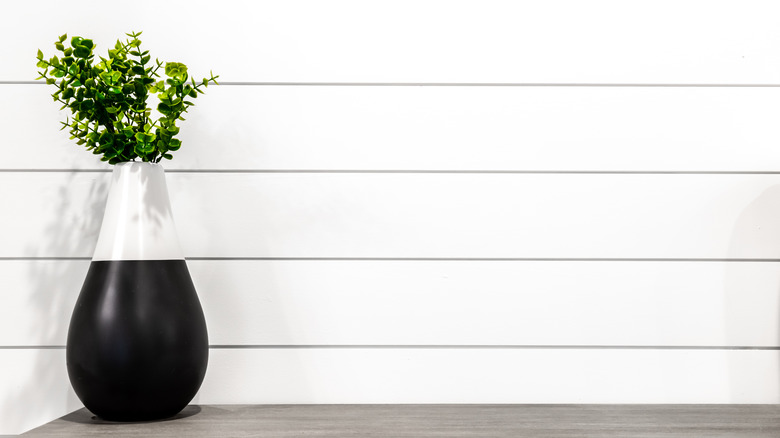 Aspects and Angles/Shutterstock
Shiplap was all the rage in the 2010s — in fact, it was hard to even watch a renovation show on television without some form of shiplap incorporated into the design, per Insider. According to Real Homes, two of the most famous faces on HGTV, Chip and Joanna Gaines of "Fixer Upper," pushed shiplap, making it a super popular interior design trend that spread across the masses quickly.
Before it became a design trend, shiplap was used to waterproof boats and was put on the outside of homes to protect the interiors from inclement weather. According to Southern Living, it became a popular mechanism to add life to a room and make an otherwise boring wall an eye-catching focal point of a home. The versatility of the product made it a must-have for many interior designers, who could paint and manipulate it to fit the look they were trying to create.
But, as we enter a new season of design and trends, it seems shiplap will go back to its rightful home on boats and leave the inside of our homes.
Shiplap is no longer a design trend in 2022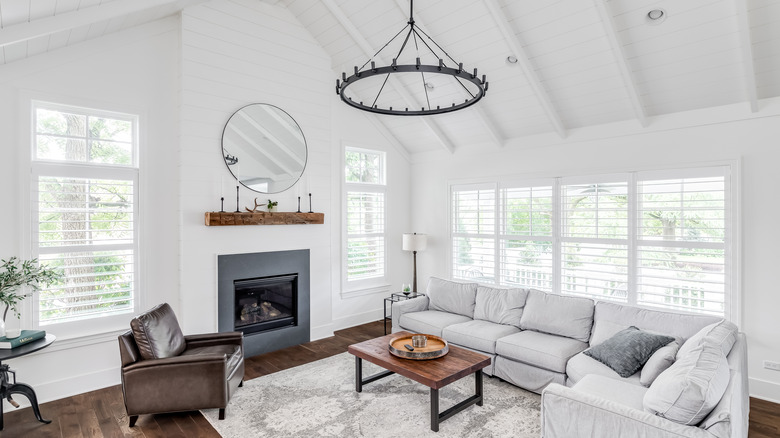 Hendrickson Photography/Shutterstock
Just as quickly as a trend becomes popular, it can be left behind. According to Camille Styles, while you should feel free to decorate your home however you see fit, if you are following design trends or working with a designer, there are a few things you may want to avoid as we enter a new era of home trends. Some trends no longer in style are the love for fast furniture (Camille suggests buying vintage pieces instead), all-white kitchens (time to bring color back into our homes), and yes, the ever-popular shiplap.
According to Southern Living, while shiplap is a versatile product that can bring life to a space, it can also be quite difficult. If a piece of shiplap gets damaged, it can be difficult to fix and may require replacing the design entirely to make it work. Besides the hard work, many interior designers can't wait to get rid of shiplap because it is simply overdone. According to Real Homes, many designers feel it has been used too much. "Although I personally like the look when appropriate, I think the trend is going to play itself out by 2022, if it hasn't already," designer Amanda Thompson told the publication.
Here are some in-trend alternatives to shiplap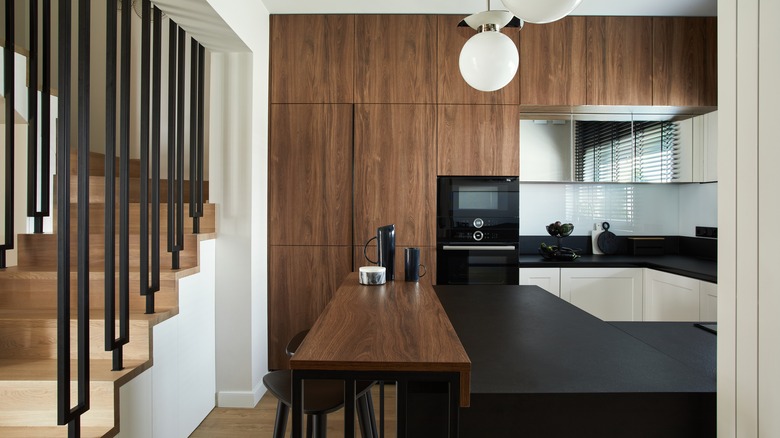 Followtheflow/Shutterstock
If you were loving the shiplap trend and are now sad to say goodbye, there are many other in-trend ways to achieve that same, lively wall look in your home. Real Homes suggests considering black paneling instead of the wood-look shiplap to add even more spunk to your home (this would look especially great as an accent wall behind your bed). The publication also recommends laying your panels vertically to create a completely different, more modern look, or even adding shiplap to your ceilings, if you really can't stay away from the trend.
Insider encourages homeowners to avoid the paneling look altogether, noting that a living wall of plants will be much more trendy this year. The publication also recommends tiling the walls or using plaster or rattan for a super unique look. Meanwhile, My Domaine suggests reclaimed wood planks as a similar yet in-trend alternative to shiplap. Or, you could always incorporate textured wallpaper, which will give your walls that subtle movement — just in a much easier and cost-effective way.