Donald Trump's Deposition Strategy Has Twitter Reeling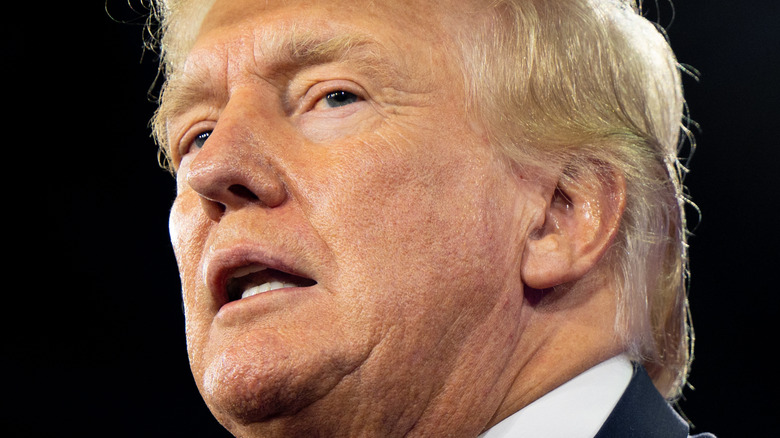 Brandon Bell/Getty Images
In the latest chapter to what could be called Donald Trump and the Terrible, Horrible, No Good, Very Bad Day, the former president has been called to testify under oath for New York Attorney General Letitia James. James has been heading a civil tax fraud investigation into Donald and the Trump Organization, per NBC News. The attorney general's office has confirmed that they've found evidence that the company misrepresented how much certain properties and assets were worth to get more favorable terms from financial institutions. But they've also needed to speak directly with the former president to get more information.
Previously, Donald filed a lawsuit against the attorney general to stop the investigation, but a judge ruled that Trump and his children Ivanka and Donald Jr. have to answer questions under oath, according to The New York Times. Donald arrived for his required deposition on August 10 in New York, but it doesn't sound like James got much useful information from him (via PBS).
Donald Trump rolled up via motorcade to Attorney General Letitia James's office, and a little over an hour later, he released a statement explaining his plan for the deposition: he'd be pleading the fifth, which is the right to refuse to answer a question that would be self-incriminating (per Los Angeles Times). And people pounced on the admission.
Twitter had a field day after finding out Donald Trump was pleading the fifth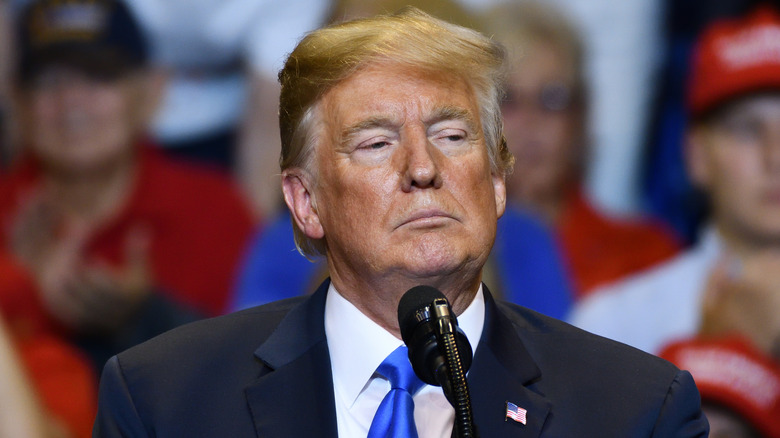 Evan El-Amin/Shutterstock
After hearing that Donald Trump would be pleading the fifth during his deposition, Twitter blew up. One person pointed out that Trump had previously said pleading the fifth wasn't good: "'The mob takes the fifth. Why take the fifth if you're innocent?' – Donald J Trump."
California Democratic Representative Eric Swalwell seemed to be anticipating another potential presidential contest between Trump and Joe Biden when he tweeted "As Donald Trump was pleading the Fifth like a two-bit mobster, Biden signed a bill to help Vets exposed to toxic burn pits. Your choice: lawbreaker or lawmaker."
Another comparison was between Hillary Clinton and Trump, a journalist tweeted: "it's worth noting how Hillary Clinton [sat] through 11 hours of public Benghazi testimony and sat with the FBI for 3.5 hours amid her emails — and when Trump faces questions, he takes the Fifth." One person tweeted "the Trump crime family has now pleaded the fifth more times than they've paid taxes" — Trump didn't pay income taxes for 10 out of 15 years before he became president, according to The New York Times.
One person proposed a way to get Trump to confess to anything, tweeting "just get someone Trump hates to say, on air, that he's not smart enough to commit major crimes. He'll go from Fifth Amendment to 'I DO ALL THE BEST CRIMES! MY CRIMES ARE THE BIGGEST CRIMES IN THE HISTORY OF AMERICA!'"
Donald Trump said he now knows why innocent people would plead the fifth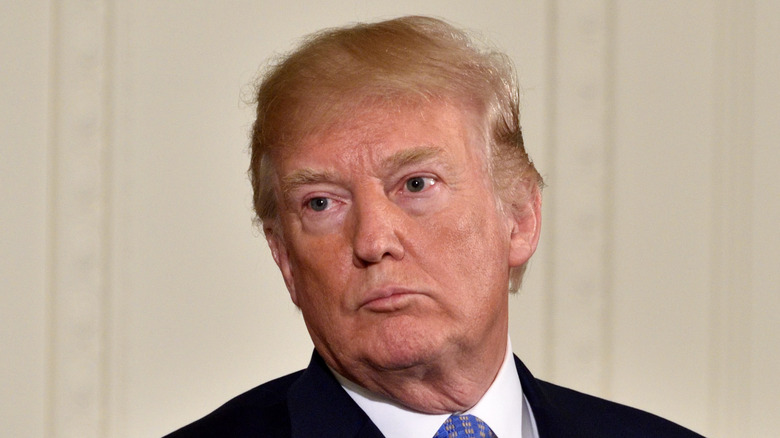 Evan El-Amin/Shutterstock
For Donald Trump's part, he couldn't tweet about the situation, having been banned from Twitter after the January 6 insurrection at the Capitol. But he did note in his statement that he had previously questioned why innocent people would plead the fifth: "Now I know the answer to that question. When your family, your company, and all the people in your orbit have become the targets of an unfounded politically motivated Witch Hunt supported by lawyers, prosecutors, and the Fake News Media, you have no choice" (per Time). He might not be the only Trump to use the fifth amendment in the civil investigation. Alina Habba, a Trump lawyer, was asked on Newsmax back in February if the family would be pleading the fifth, and while she hadn't yet decided if that would be the strategy, she said the family was "between a rock and a hard place" with the investigation, via YouTube.
The deposition comes after the FBI raid at Mar-a-Lago; agents were acting under a court-approved search warrant to collect any government documents that were improperly taken from the White House at the end of Trump's presidential term, per The New York Times.