Sarah Podemski On The Future Of Resident Alien - Exclusive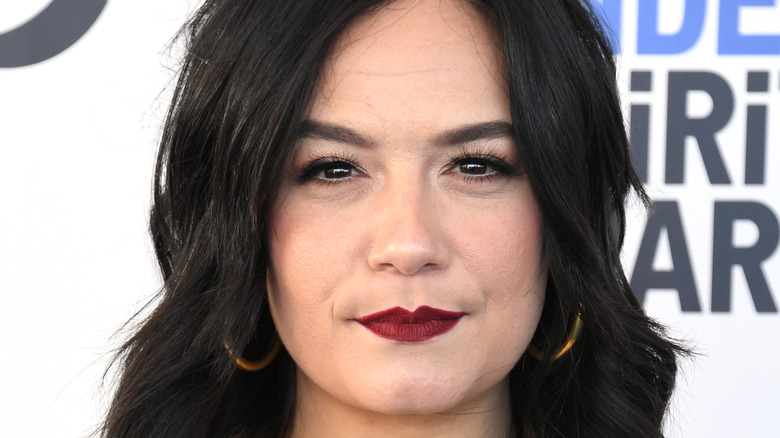 Jon Kopaloff/Getty Images
Over the course of her career as an actor, Sarah Podemski has racked up an impressive collection of screen credits. According to IMDb, she's been seen in such series as Netflix's sci-fi mystery "Between," Prime Video's drama "Tin Star," and The CW's "Coroner," among many others. Meanwhile, she's also appeared in a variety of films and television series in her native Canada.
At the moment, TV viewers can see Podemski in not one but two celebrated shows: "Reservation Dogs," FX's award-winning, Taika Waititi-produced comedy focusing on four Native American teenagers coming of age in an Oklahoma reservation, in which she plays Rita, mother of one of those teens; then, on the Syfy comedy "Resident Alien," she plays Kayla, cousin to Asta Twelvetrees (Sara Tomko), human confidante of the titular shape-shifting extraterrestrial (Alan Tudyk).
In an exclusive interview with The List, Podemski shared what she knows about the future of "Resident Alien" and revealed what other projects she has in the works.
Sarah Podemski on the possibility of a third season of Resident Alien
With the second half of the second season of "Resident Alien" set to debut this summer, can fans of the Syfy series expect a third season down the road? Unfortunately, that's still unclear. "I don't know about a third season, but we have the second part of the second season coming out on August 10," said Podemski. 
"There's been a little bit of a hiatus for fans, but I'm excited for everyone to see the conclusion of the second season," she added. "That's also another great surprising show. I feel really lucky that I can be part of two shows that are so thoughtfully written. The talent and the ensemble cast is so strong. There's also similarities in terms of the message of humanity and community and family and what this traumatic experience, being a human and becoming a human, is. It's nice to be on two different shows where ... I like being a part of them and I like watching them."
Sarah Podemski discusses her upcoming projects
While no decision has yet been made on renewing either "Resident Alien" or "Reservation Dogs" for respective third seasons, Sarah Podemski is keeping busy with some other projects she has in the works. "I'm really excited; I'm getting to do a feature film with Shane Belcourt, who's a Métis filmmaker, called 'Warrior Strong.' I'm going to be shooting that in August. I'm very excited about getting to work in Northern Ontario and getting into film world, because I'm usually in the TV world," she said. 
"Then my husband [writer, composer, producer, and filmmaker James Gadon] and I have a little docuseries that we hosted, wrote, directed, produced with [Canadian cable company] Bell Fibe ["Six Miles From the Grand"]," Podemski continued. "That should be coming out soon. [I'm] keeping busy and trying to continue creating."
The second season of "Reservation Dogs" premiered August 3 on Hulu; the second half of Season 2 of "Resident Alien" debuts August 10 on Syfy.