Why Interior Designers Can't Wait To Ditch Word Art In 2022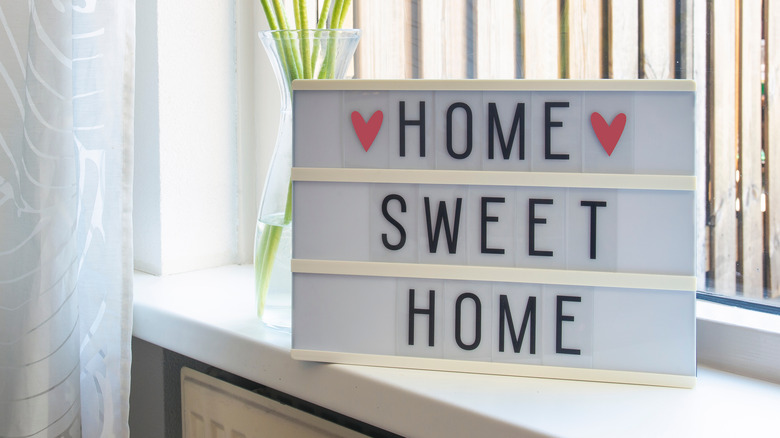 A-photography/Shutterstock
From fashion and art to television and film, everything is subject to trends and fads, including the world of interior design. While the past few years have seen a rise in certain design trends, such as modern farmhouse and minimalism, interior designers are voicing their opinions on the fads that are disappearing in 2022 (via Forbes).
One such trend that seems to be on its way out is word art. According to Apartment Therapy, this fad became especially popular after the recent recession, as art plastered with simple sayings or one-word statements was much more affordable than more unique, high-end art. It's likely the trend was also popularized by Joanna Gaines of HGTV's "Fixer Upper," as word art became a staple of what is considered Gaines's trademark farmhouse style.
With these forces in mind, it's no wonder that the word art we all know and love (or hate) has become increasingly popular in recent years. Despite this, interior designers seem to be convinced that the fad is steadily working its way out of the trend cycle.
Interior designers consider word art tacky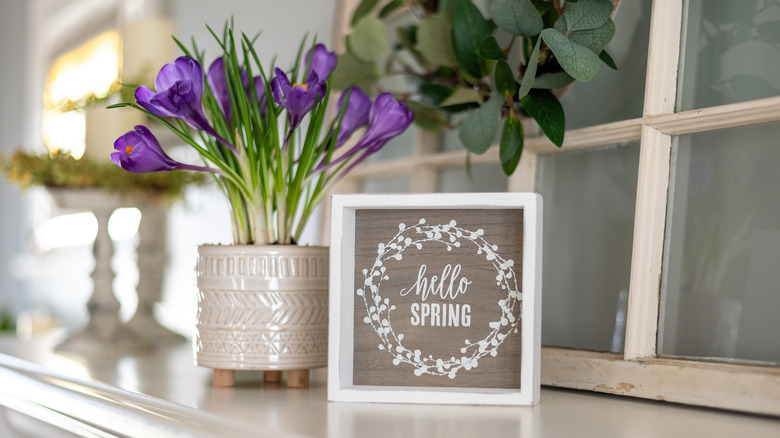 Kristen Prahl/Shutterstock
According to some interior designers, the word art trend is on its way out because it lacks personality or design appeal, making it a tacky addition to home spaces (per The U.S. Sun). Nowadays, having a one-word sign naming the space it's hanging in could be considered a design faux pas, as Brick noted.
As mentioned by Family Handyman, the word art trend was heavily accompanied by modern farmhouse touches such as shiplap wood and sliding barn doors — accents that are losing popularity. With this in mind, it makes sense that such a staple of the modern farmhouse look is similarly becoming less fashionable.
Even though interior designers believe word art is tacky, that doesn't necessarily mean you should throw out every piece of word-adorned art if it's truly what you love. Interior designer Shaolin Low says in an interview with MyDomaine, "Who cares if your neighbors or the general public don't like your space? It really doesn't matter. What you love is all that matters and your space should represent who you are or make you feel a certain way — be that calm, happy, or excited."
Word art alternatives that are trending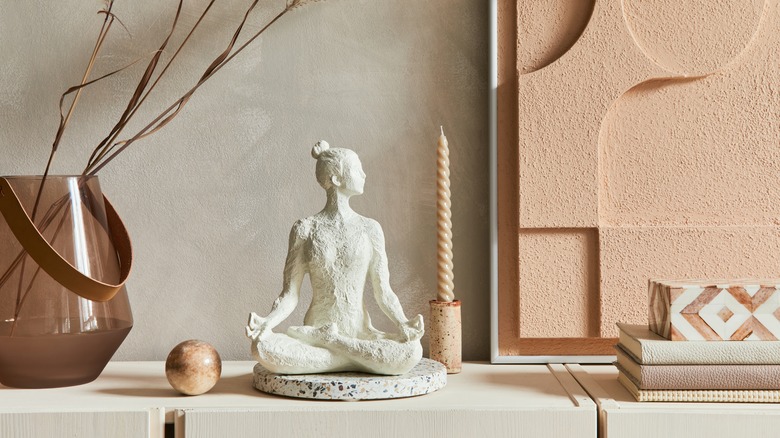 Followtheflow/Shutterstock
If you agree with the word art verdict of interior design experts, then you might be wondering about alternative pieces of art to use in your space. Luckily, plenty of designers have also weighed in on 2022 art trends.
According to Cincinnati Refined, one up-and-coming trend that'll make your space stand out is 3D art. 3D art can refer to a number of things, including three-dimensional paintings and photographs that utilize depth in addition to height and width or physical sculptures (per Eden Gallery). Incorporating such art into your space is sure to make it unique to you while also maintaining a modern style.
Similarly, Artfinder mentions the rise in nature and natural elements in interior design art, naming sculptures made of organic materials as a specific example. They also mention that incorporating greens into your art will similarly align your interior with sustainable and nature-based trends that have been dominating the interior design community.
Whether you decide to take the advice of design experts or simply choose to embrace the alleged tackiness of word art, the most important element of interior design decision-making is what will make your space the most comfortable for you.