How Zende Became A Forrester On The Bold And The Beautiful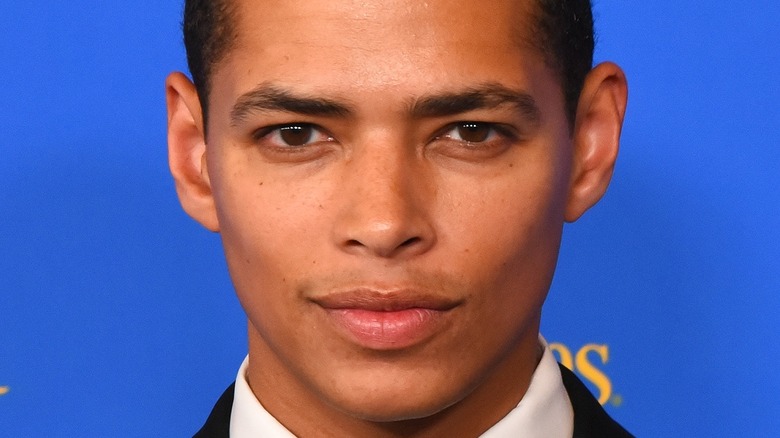 Michael Mattes/Shutterstock
Zende Forrester Dominguez was originally introduced to "The Bold and the Beautiful" in 2001 as a small child — though that wasn't always his name. The character was originally played by child actor Daniel Smith, before being rapidly aged in 2015 (via Soaps in Depth). From there Rome Flynn took on the role until 2017 when the character was written off the show. In 2020, Delon de Metz reprised the role and has portrayed Zende ever since.
In his time as an adult on the show, Zende has become a respected designer at Forrester Creations and has been through his fair share of romantic entanglements. His first major relationship was with Nicole Avant, though they dealt with some turbulence when she decided to be a surrogate for her sister Maya Avant (Karla Mosley). After falling into bed with her friend Sasha, Zende and Nicole were eventually able to reconcile. The two were eventually married and together moved to Paris in 2017. However, in 2020 a divorced Zende returned to Los Angeles ready to put in work at his family's company, Forrester Creations. However, more interested in pleasure than business, Zende then got involved with both Buckingham sisters, Zoe (Kiara Barnes) and Paris (Diamond White).
The drama that Zende has experienced so far in his life is no surprise considering who his family is. But how exactly did Zende come to be a part of the Forrester clan?
Kristen Forrester and Tony Dominguez gave Zende a new life
In 2001, Kristen Forrester (Tracy Melchior), daughter of Forrester Creations founders Eric and Stephanie Forrester, got married to Antonio "Tony" Dominguez (Paulo Benedeti), per Soap Central. Though their relationship had its ups and downs, as the two were both fashion designers at competing companies, their love had persevered. The two went on a honeymoon in Africa and while there they lost a roll of film that held all of the photos from their trip. However, a young local boy soon tracked them down and returned it to them. The couple was smitten with the charming boy named Zende and learned that both of his parents and his brother had died due to complications from AIDS. Zende was living at an orphanage at the time and they discovered that he would be put out on the streets once he became too old to live there.
Kristen and Tony returned to Los Angeles following their honeymoon, but they couldn't get the thought of the young boy they'd met out of their heads. Tony was living with his own HIV+ diagnosis which only strengthened the bond he felt with Zende (via SoapHub). The newlyweds swiftly returned to Africa and made the decision to adopt Zende and bring him home to America with them. They ultimately gave the boy both of their last names and he became Zende Forrester Dominguez, a member of one of LA's most prominent families.
Zende has found a place for himself in the Forrester family
Shortly after adopting Zende, Kristen and Tony decided to relocate their family to Florida, and they weren't seen on "The Bold and the Beautiful" for quite some time (via Soaps). However, Kristen made several brief visits to LA to spend time with family, particularly when her mother Stephanie Forrester was dying from lung cancer.
In 2015, Zende returned to Los Angeles on his own, wanting to work for the family company Forrester Creations, per Soap Central. He was hired as an intern and worked his way up over time until he became a designer, following in both of his parents' footsteps. In 2017, he and his new wife Nicole Avant decided to move to Paris to work at Forrester International, though only a few years later Zende returned as a divorcé.
Zende has become a recognized member of the Forrester family, and a prominent character on the show, through his romantic relationships, friendships, and family drama. Zende continues to prove that you don't have to be born into the Forrester family for their notorious drama to seep into your life. However, the last time his parents appeared on screen was at his wedding to Nicole, so perhaps the time has come for the pair to make a surprise visit.