How Susan Flannery Feels About Her Character's Death On The Bold And The Beautiful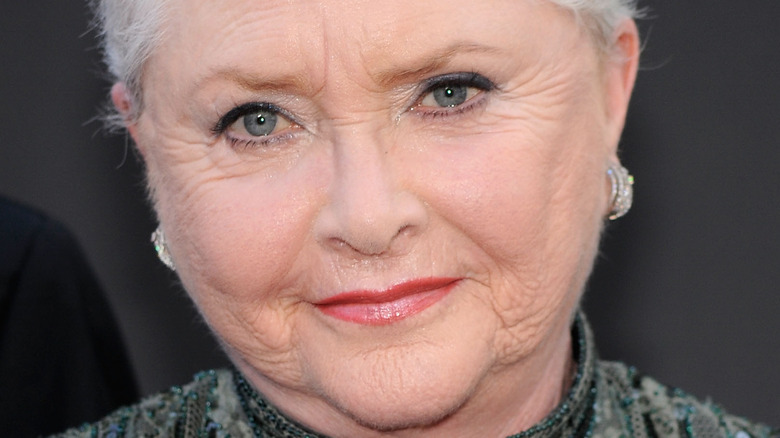 Frazer Harrison/Getty Images
Susan Flannery played the iconic matriarch Stephanie Forrester on "The Bold and the Beautiful" for 25 years, from the very first episode of the show until her retirement in 2012. Flannery won four Daytime Emmys over the course of her career and was nominated for six others.
Stephanie was a part of the core group of "B&B" long-standing characters that included her on-again-off-again husband Eric Forrester (John McCook), their son Ridge Forrester (Ronn Moss), and Brooke Logan (Katherine Kelly Lang) who was at one point married to each man. The complicated dynamics between these four, along with Stephanie and Brooke's seemingly everlasting feud, was at the center of the soap for many years (via Soap Central).
Viewers came to love the relationship between Stephanie and Brooke, when they were at each other's throats and when they were finally able to put their differences aside and become dear friends, in Stephanie's final years. In 2010, Stephanie was diagnosed with Stage IV lung cancer after collapsing during a fight with Brooke (via Soap Central). Rather than inform her family right away, Stephanie swore Brooke to secrecy and insisted the two take a trip to complete her bucket list. Despite undergoing treatment, Stephanie was deemed terminal in 2012 and planned a "celebration of life" party where she could be with all of her loved ones for the last time.
Stephanie Forrester dies in the arms of her long-time rival Brooke Logan
After saying her final goodbyes, Stephanie and Brooke went up to the family's Big Bear cabin where Stepanie wanted to spend her last living moments. While waiting for Eric to arrive, the two women shared a bench overlooking a beautiful vista and spoke about their complicated history (via Michael Fairman TV). In Susan Flannery's last scene on the soap that she had dedicated her career to, she and her real-life friend Katherine Kelly Lang delivered emotional performances that tugged at the heartstrings of long-time fans and earned both actresses Daytime Emmy nominations.
Brooke apologized to Stephanie through tears about all of the pain she had caused the other woman over the years, and the dying woman accepted responsibility for her faults as well. Stephanie gifted Brooke her engagement ring from Eric, to which Brooke replied, "I always wanted something of yours, but I never imagined it would be this." Laughing, Stephanie said, "Why not? You got all my men," via Showbiz Cheat Sheet.
When it became clear that the end was near for Stephanie and Eric probably wouldn't arrive in time, she asked Brooke to sing to her. Through sobs, Brooke began singing "When Irish Eyes Are Smiling" and cradled Stephanie as she passed away.
Susan Flannery wanted Brooke there when Stephanie died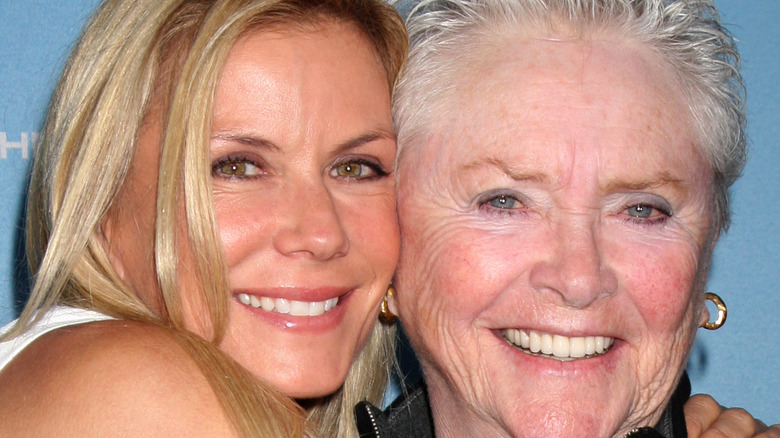 Kathy Hutchins/Shutterstock
Though many fans were upset and confused by the fact that Stephanie didn't spend her final moments with the love of her life, Eric, Susan Flannery did not feel the same. In an interview with TV Guide at the time, she explained how that was the ending she was hoping for Stephanie to have. Flannery approached executive producer of "B&B" Brad Bell and said, "You're going to have Brooke there with her at the end, right?" to which he smiled and confirmed.
The poignancy of the moment was twofold as Brooke and Stephanie were able to convey the enduring strength of female friendship amidst life's chaos, and Lang and Flannery were able to cap off their time on "B&B" together in a really beautiful way. In an interview with Soap Opera Digest, Lang said of Flannery, "She was kind but tough. She always expected 110 percent from herself and everybody else, too. I was always in awe of how she took command of the scenes and her character. I was so lucky to work with her."
There wasn't a better person to share Stephanie's last moments with her than the woman who saw her for who she truly was and the actress who did the same.