How The August 11 Full Moon Will Affect You If You're A Leo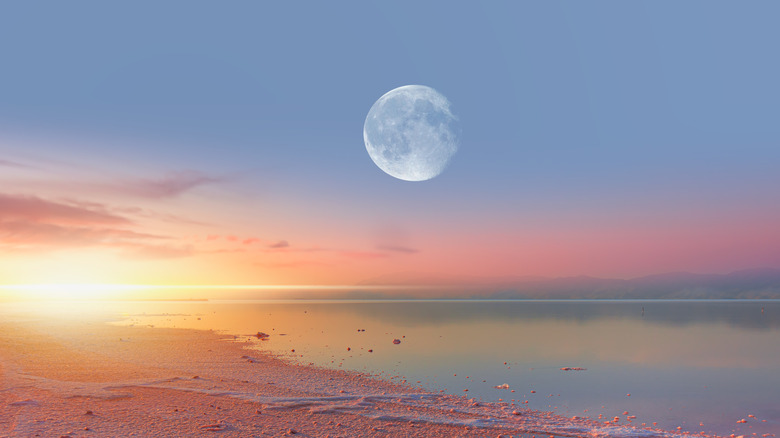 muratart/Shutterstock
Summer is in full swing, but there's just something about August that reminds us all of how fleeting it really is. To make things feel all the more heightened, it's time for the final supermoon of the summer. August 11's full moon in Aquarius marks the last of a summer full of supermoons, per The Old Farmer's Almanac. 
There's a lot going on building up to this full moon. On August 8, the lion's gate portal opened up, bringing with it intense manifestation energy, per NBC's "Today." Add to that the fact that Saturn retrograde and Uranus are also connecting with this Aquarius full moon, and you have a boiling pot of intense emotion and disruption. Of course, with all of that aside, the only way to truly understand how a full moon will impact you is by understanding how it is impacting your zodiac sign. 
Landing in your opposite sign, this full moon has a lot in store for Leos. Of course, it's your season and it should be a time of celebration and excitement. But set aside some time on this full moon to check in with yourself, or more importantly with how you feel about others.
Is your relationship where you want it to be?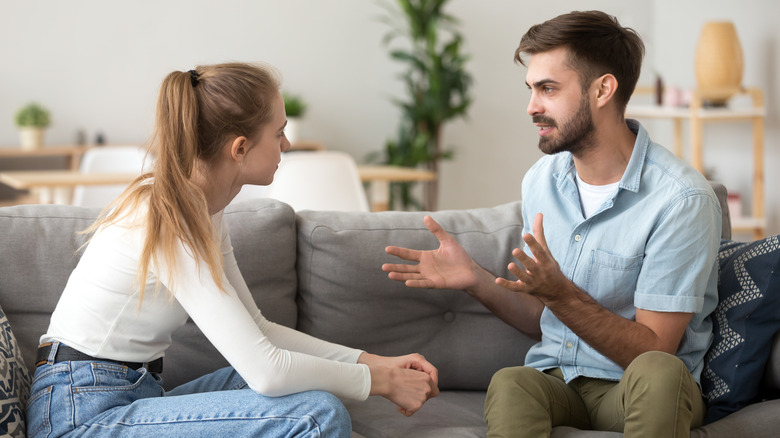 fizkes/Shutterstock
First and foremost, happy birthday Leo (July 23 to August 22)! It's your season and it is your month, so don't worry, the full moon is keeping things spicy and interesting for you. The Sturgeon supermoon lands in your seventh house of relationships this August 11, per Mind Body Green. While it's definitely interesting, things can get a little disruptive if you don't stay focused on this full moon. 
The full moon is shining a bright light on how you really feel about your relationships. Are you happy with how things are? Or are you perhaps just going through the motions? Woman & Home suggests you use this full moon to question your existing relationship status, and whether it adds to your life or is draining you. You can't keep pouring from an empty cup, Leo, and if that's how you've been feeling in a relationship then this full moon is the time to release it. 
Aquarius is your opposite sign and the fact that this full moon lands in Aquarius is bound to have a unique effect on you. Astrologer Erin River Sunday explained to Bustle, "Because Aquarius opposes Leo, there's a balancing act that occurs with this lunation. Leos could be faced with a dilemma between the head and the heart, and the trick will be to believe there's room to honor both." You've been avoiding this very battle, but with this full moon, it is time to finally decide which you want to go with.
It'll be your head versus your heart this full moon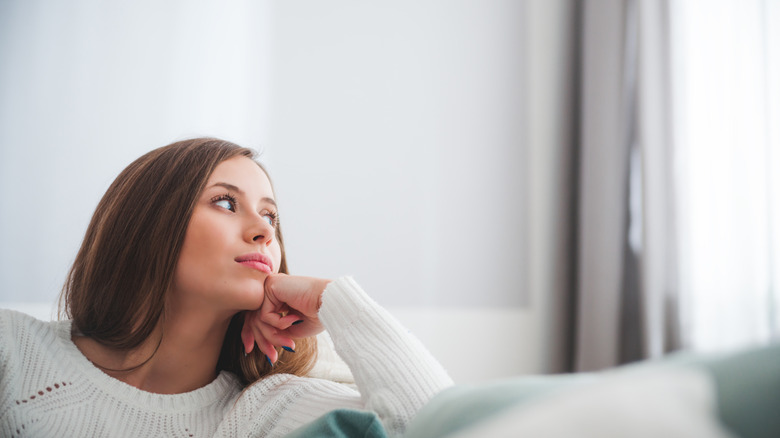 Leszek Glasner/Shutterstock
If you're single and ready to mingle things up on your birthday, Leo, then this full moon could be when things take a turn for you — all it depends on is how the power of the moon impacts you. Astrologer Kayse Budd explains to Mind Body Green that the moon conjunct Saturn landing in your seventh house of partnerships can mean one of two things. "People can make, renew, or rekindle a commitment or connection under these conditions. Others may reach a point of clarity and coolness in their relationship and choose to take a step back," Budd revealed. 
This full moon could bring the opportunity of meeting someone new and lighting a new spark if that is what you're looking for, Leo. However, if you've been at an impasse in a situation that has remained unclear, this full moon could finally clear things up for you. Things can't go on the same way they have been, and it's time to finally decide if you want to follow your heart and go full speed ahead or if it's time to listen to your head and release this situation to pave the way for a new one, per InStyle.
Things may feel very rocky and disrupted this full moon emotionally, but don't worry, Budd reassures that things will clear up soon. "The upcoming week may feel a bit limiting with your ruler, the sun, opposing Saturn," Budd shared. "Fundamentally, however, you shine — so, glide through that Saturn shadow, feeling supported by the grace of Venus. She's transiting your sign the next few weeks."