If You're An Enneagram Type 8, You Should Watch These TV Shows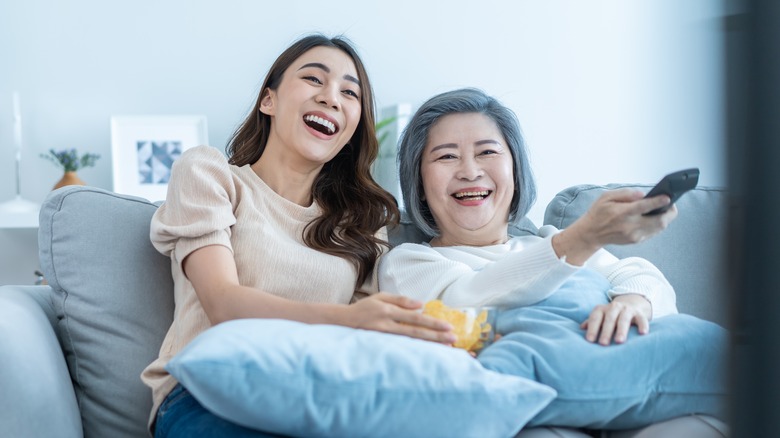 Hananeko_Studio/Shutterstock
If you've ever felt indecisive, you might have turned to your Enneagram to help you make decisions. From everyday choices like what cocktail to try or what self-help book to read to life-changing decisions like what city you should move to, knowing your Enneagram is a great way to help you make all sorts of decisions.
If you're having trouble deciding which new show to start binging, using your Enneagram to find TV suggestions is a great way to discover your next obsession. Enneagram type Eights, known as "The Challenger," are characterized by a concern for justice and the tendency to rebel against society's rules (per Truity). They are also defined by their self-sufficient and strong-willed nature, as one of their core motivations is maintaining independence.
According to Personality Path, Eights are also known for their intense, high-energy personalities. Although they don't shy away from confrontation, this Enneagram avoids displaying any vulnerability or weakness. Knowing these personal details can point you in the direction of your next new TV favorite.
Bold and intense TV shows are a perfect choice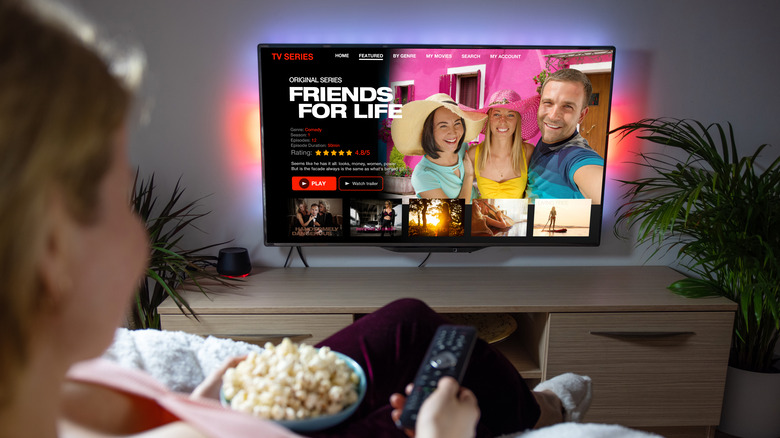 Kaspars Grinvalds/Shutterstock
Because the Enneagram Eight is known for being bold and intense themselves, they are sure to enjoy TV shows that are equally as fierce. As mentioned by Truity, Eights also have an interest in justice and protection, making crime shows a go-to pick for them.
With this in mind, any Enneagram Eight should check out "The Wire," a 2002 crime series created by David Simon and Ed Burns (per IMDb). This award-winning show, which follows both drug dealers and law enforcement on the Baltimore streets, is still considered one of the best TV shows of all time (per NPR). Immersive, raw, and politically charged, this HBO show is recommended for anyone interested in an intense, comprehensive crime show, but especially for the bold Enneagram Eight.
As mentioned by The Everygirl, "Scandal" character Olivia Pope, played by Kerry Washington, is likely an Enneagram Eight herself, making the political thriller a great pick for this personality type. The ABC show, created by Shonda Rhimes of "Grey's Anatomy" fame, follows a former White House communications director who struggles to shake her past after starting her own crisis management firm. With a strong-willed, ambitious protagonist, the Enneagram Eight is sure to appreciate this seven season TV show. "Scandal" can currently be streamed on Hulu. 
This Enneagram type will also appreciate high-energy comedies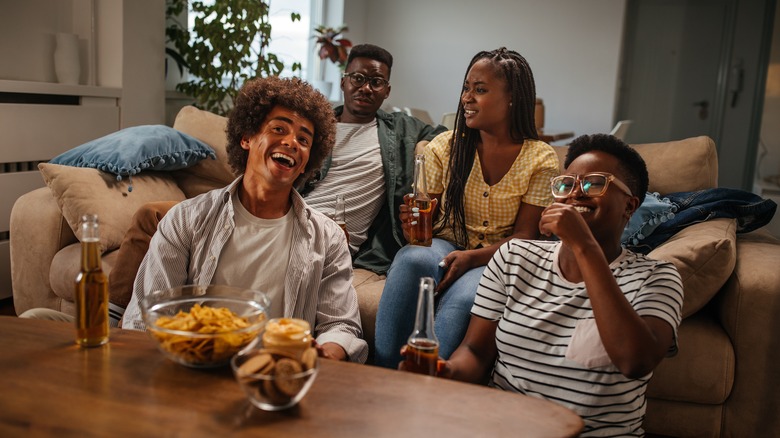 bbernard/Shutterstock
Enneagram Eights might be most known for their distinct, intense personalities, but that doesn't mean they can't enjoy TV comedies in addition to their crime dramas and political thrillers. Listed as an honorable mention by Crystal Knows, "Barry" is a comedy that is sure to win the Eight over with its action-packed storyline.
This ongoing HBO Max show was created in 2018 and follows a midwestern hitman, played by Bill Hader, who becomes accidentally involved in the LA theater arts community (per IMDb). In this way, "Barry" will appeal to both the humorous and high-energy sides of this personality type.
The final TV suggestion for the Enneagram Eight is similar to "Barry" in its combination of action scenes and dark comedy. Amazon's "The Boys" is an ongoing series created in 2019 by Eric Kripke that follows a group of vigilantes tasked with keeping the celebrity superheroes of their world in line (per IMDb). Combining the action and energy of superhero classics with a satirical tone, this show is sure to entertain and engross the Enneagram Eight.