How The Mar-A-Lago Raid Brought Good News To Biden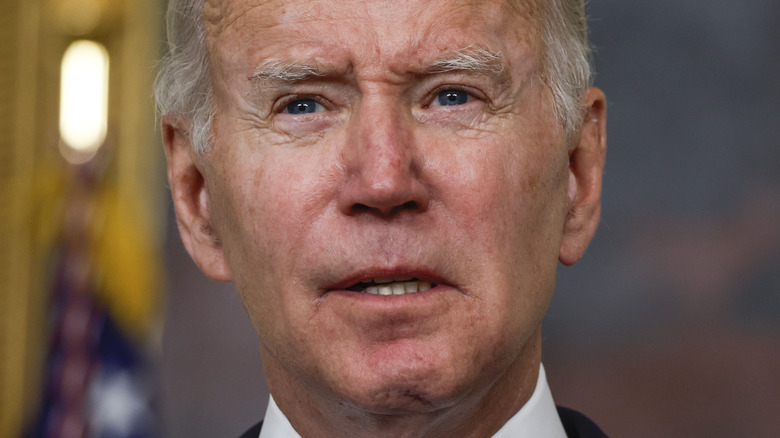 Anna Moneymaker/Getty Images
On Monday, August 8, the FBI raided Donald Trump's Mar-a-Lago home in Florida in an unprecedented move. Federal officials were said to be looking for classified documents that may have been unlawfully removed from the White House and kept in the Trump home after the former president left office. A source revealed that Trump feels "furious yet scared" after the search and is leaning on Republicans for support, especially as he continues to hint at another presidential run.
The former president hasn't stayed mum following the raid. The New York Times reports that Trump has suggested that FBI agents could have planted evidence in his home to incriminate him. He also wrote on his Truth Social platform that he believes President Joe Biden "knew all about" the FBI search ahead of time, per Fox News. However, Biden and White House officials have confirmed that the president was unaware of the raid until news reports were released to the public (via CBS News).
While the rivalry between Trump and Biden continues to deepen, the current POTUS received some good news on the heels of the Mar-a-Lago raid.
President Biden's approval rating rose after the Mar-a-Lago raid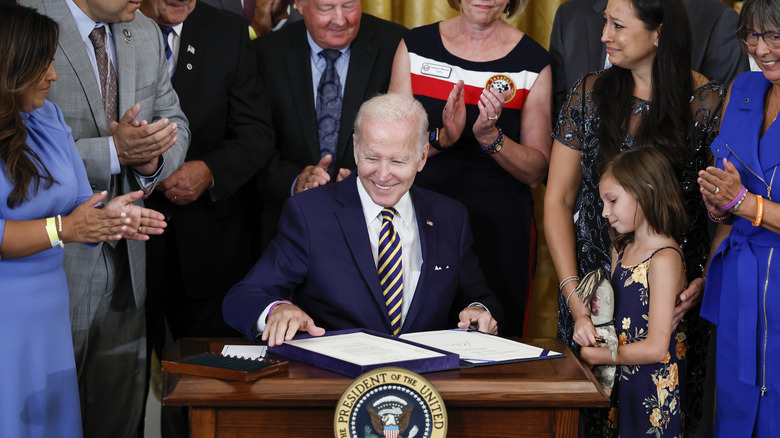 Chip Somodevilla/Getty Images
Shortly after the FBI entered Donald Trump's Florida residence earlier this week, a national poll revealed that President Joe Biden's approval rate rose to 40%, the highest level of support in two months, Reuters reports. It's worth noting, however, that the rating is still considered to be historically low and comes after Biden's lowest rating yet at 36% in May — only slightly higher than Trump's lowest rating during his presidency, 33% in December 2017.
When asked about his low popularity just before the poll was completed, Biden told reporters, "I think you're going to see a lot change," citing political division for the lack of progress made during his presidency so far (per The Hill). True to his word, the president has gotten to work this week, as he signed a bill to subsidize U.S. semiconductor production and oversaw the approval of a bill on climate change, drug prices, and corporate taxes.
And as Trump was pleading the fifth in a messy deposition looking into his business practices in New York on Wednesday, Biden was busy signing a bill to protect veterans who were exposed to toxic military burn pits, according to The New York Times.
Reuters suggests that Biden's recent legislative victories are responsible for the rise in his approval ratings — not the raid on Trump's home — and that the increasingly favorable views of Biden's performance may help Democrats in the upcoming midterm elections.