This Is How Long Queen Elizabeth Will Lie In State After Her Death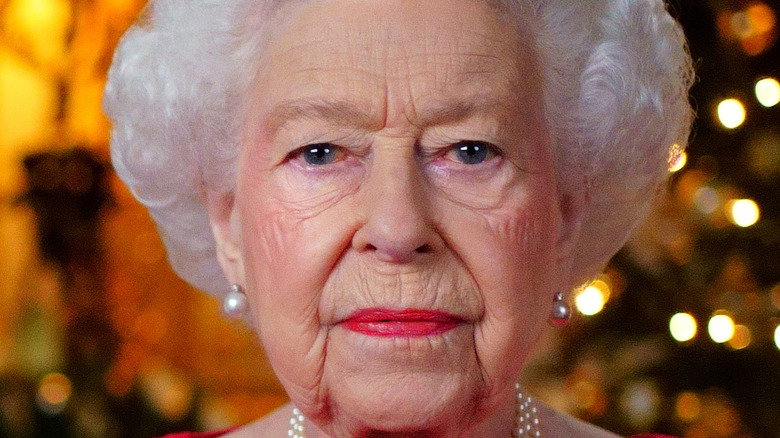 Pool/Getty Images
As difficult as it may be to contemplate, the queen potentially doesn't have very long left. The beloved monarch, who recently celebrated her Platinum Jubilee, marking 70 years on the throne, is getting on in years. Likewise, Queen Elizabeth has had a number of highly-publicized health problems recently, too. As People confirmed, Her Majesty notably moved out of Buckingham Palace in March 2020, at the height of the COVID-19 pandemic. And, a couple years into her stint in Windsor Castle, it became clear she'd never return.
According to The Sunday Times, the queen feels "more comfortable at the castle where she lived with Prince Philip until his death." Although Her Majesty has continued conducting official business as best she can, she has been gradually handing over responsibilities to her son, and heir to the throne, Prince Charles. In particular, in May 2022, he took over the State Opening of Parliament, alongside Prince William, for the first time during her reign (via BBC News). The queen's crown was present, as a symbolic gesture.
Evidently, various procedures are already in place to make the handover of power as smooth as possible. And, when the time comes, this is how long Queen Elizabeth will remain in state following her passing.
Mourners will have plenty of time to pay their respects to the queen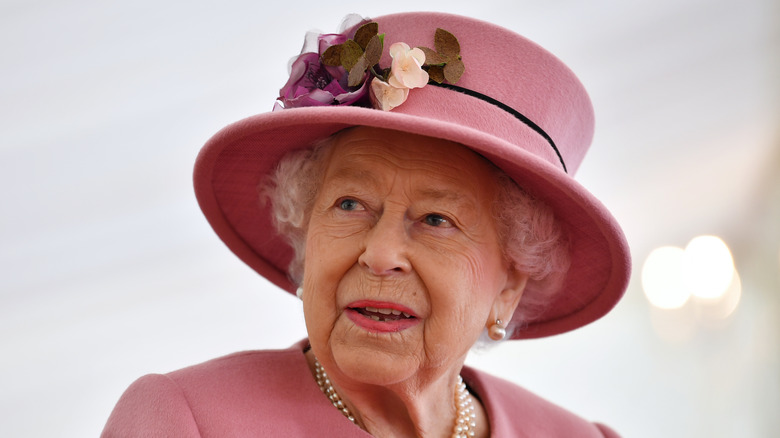 Wpa Pool/Getty Images
There are, understandably, incredibly strict protocols in place surrounding Queen Elizabeth's death. In fact, although the general guidelines have been set out for decades, according to The Guardian, there are still multiple meetings held about it annually. The British Prime Minister will be the first to learn of the queen's death. The rest of us will have to wait a little bit longer, with a notice posted to the gates of Buckingham Palace accordingly. 
After five days, Her Majesty's coffin will be transported from the Palace to Westminster in a special, one-hour procession, which will be followed by a service held in Westminster Hall. However, the queen will "lie in state" for another four days, as fans and mourners alike visit her coffin. Funeral preparations for the longest-reigning monarch in British history will, obviously, be a considerable undertaking. 
Politico details how there are tons of stipulations to contend with, including how many people physically descend upon the city of London to pay their respects, from tourists to various dignitaries. There's a lot of uncertainty too, regardless of how much preparation has gone into it, and how far in advance. Thus, the queen's funeral won't actually take place at Westminster Abbey until a full nine days after her passing, per The Guardian. 
The event itself will constitute a "day of national mourning" for Britain, which requires everything to be closed, including the stock market, as a mark of respect.
Buckingham Palace is actively preparing for Prince Charles's ascent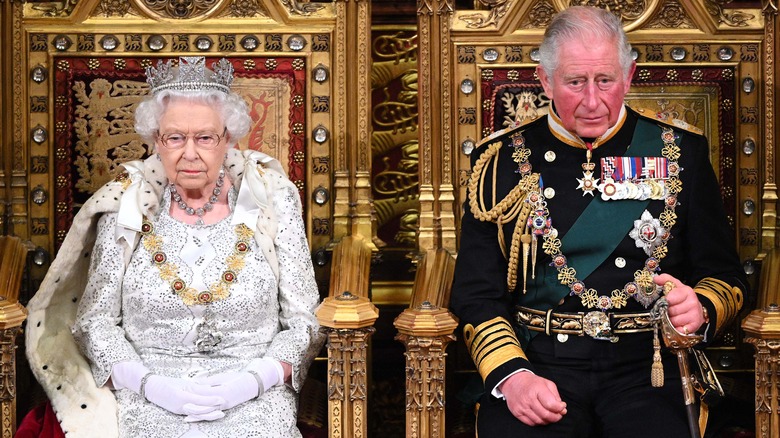 Wpa Pool/Getty Images
In the interest of making the transfer of power as seamless as possible, when Queen Elizabeth sadly passes away, Buckingham Palace is working away in the background to ensure Prince Charles ascends the throne with minimal fuss. Page Six reports that, according to Joe Little, managing editor of Majesty magazine, everything kicked into overdrive when Her Majesty's mobility issues forced her to step back from certain duties.
"The transition has been planned behind the scenes for quite a few years," Little confirmed. "Unlike [the queen's father] King George VI, who died quicker than expected and with not a lot of preparation, this is well mapped out and orchestrated." Interestingly, though, Charles and wife Camilla Parker Bowles may choose to open Buckingham Palace to the public rather than living there themselves, saving the stately property for "official events" only. 
According to Us Weekly, Charles and eldest son Prince William are eager to modernize the monarchy and plan to "guide each other" on their respective paths to ruling, per a royal insider. The Duke of Cambridge will gradually take on more responsibilities in the coming years, led by his father. They also plan to slim down the active members of the family, believing "less people means less drama." 
The queen has already confirmed that Camilla will be "Queen Consort" when the time comes, with a source revealing Charles "is over the moon" about the decision, describing it as "a dream come true."