Here's What Kate Hudson Looks Like Going Makeup Free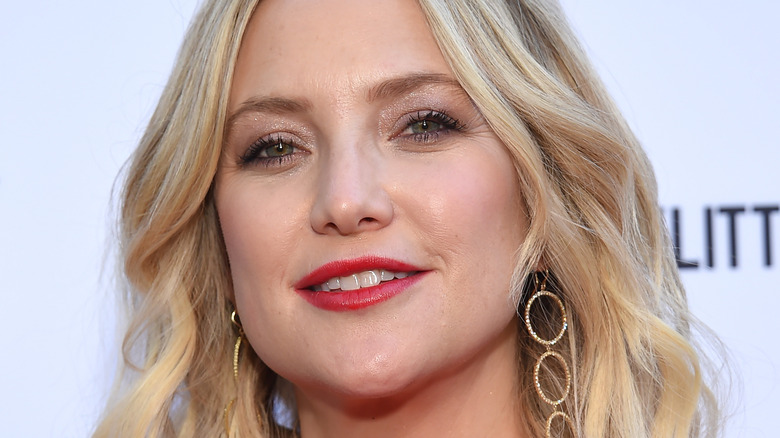 DFree/Shutterstock
Aside from being a Hollywood star, Kate Hudson has become a very familiar name in the health and wellness world. In 2016, she published her first book "Pretty Happy: The Healthy Way to Love Your Body" (via Marie Claire). In it, the actress details the lessons she's learned as an actress to stay grounded, healthy, and look absolutely radiant. As Hudson writes in an excerpt from the book, the fundamental part of loving your body is "truly connecting with yourself and accepting who you are and whatever shape you have," which will help "you reject perfection and the idea of extremes."
Hudson's mantra is something she definitely lives by, as evidenced by her social media. Whether that's from sharing her personal life as a mom of three, her wellness routines, or the days she decides to go makeup-free. Speaking of which, she's become somewhat of an Instagram phenomenon in that regard.
Kate Hudson admires both a glam and natural look
Kate Hudson frequently posts makeup-free selfies on Instagram. So much so that during an interview with Allure, the star was asked how she felt about her photos often going viral. "I don't know what the fascination is. I personally like seeing everybody in whatever state they want to share," she said. As someone who's a little bit natural and a little bit glam, she loves it when women "are made up" and "when they're makeup-free." She often strikes the balance of demonstrating her gorgeous makeup skills and her glowing, natural skin.
The actress says that any beauty ritual — skincare or makeup routine — is the best part of self-care. "Any ritual that slows down the process of your day, anything that connects you to honoring yourself, is actually good for the brain," Hudson explained. "Self-care is a million different things to me, but at the same time, for me personally, I love my beauty routines."
This is the secret to Kate Hudson's flawless skin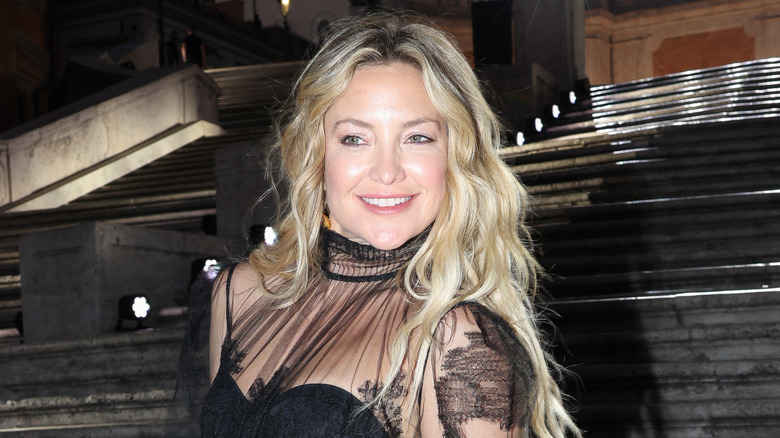 Jacopo Raule/Getty Images
If you're after Kate Hudson's secret beauty routine for flawlessly glowing skin, look no further than her collaboration with Juice Beauty — specifically their Revitalizing Acacia + Rose Powdered mask (via Allure). It's a super hydrating mask that you mix with water. It contains hyaluronic acid, vitamin C, rose petal, olive leaf, grape skin, and aloe, giving your skin the ultimate glow. It's also the only skincare product Hudson uses in the morning — besides water and a washcloth. It's the evenings when she digs into products to treat her skin. "The mornings are really simple," the star told Byrdie. "I really don't do anything other than wash with water and a cloth, moisturize according to how my skin is feeling, and use sunscreen whenever needed."
As for other healthy skin tips, Hudson sticks to the simple rules of drinking enough water and getting plenty of sleep. "Whenever my skin is not feeling great, it's usually because I'm dehydrated," she explained to Byrdie. "And it really won't matter what you put on your skin if you're not drinking enough water or getting enough sleep."