Marjorie Taylor Greene's Latest Line Of Merch Has The Internet Talking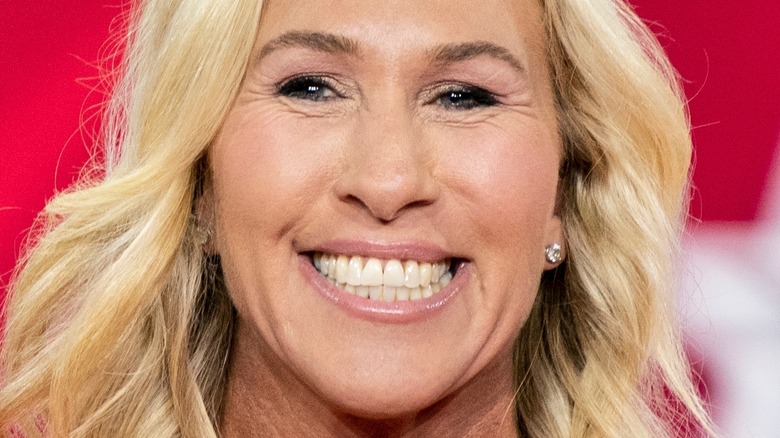 lev radin/Shutterstock
Congresswoman Marjorie Taylor Greene has been one of the loudest voices supporting former President Trump after the FBI raid at Mar-a-Lago. The Georgia congresswoman's social media posts started the day of the FBI raid. On August 8, when the FBI searched Mar-a-Lago, Greene tweeted: "DEFUND THE FBI!" In an interview on Real America's Voice (via Rolling Stone), Greene said the Mar-a-Lago raid was politically motivated and was "the path that leads to direct and intense communism." Green told the outlet, "What we should be asking the Department of Justice is, 'When are you going to stop this political persecution?'" Greene also posted an upside-down American flag on Instagram and Twitter. An upside-down flag is traditionally used as a sign of distress.
By August 10, Greene was parroting Trump's talking points that the FBI had planted evidence at Mar-a-Lago. The Georgia congresswoman tweeted: "I think there is an extremely high probability that the FBI planted 'evidence' against President Trump." As MTG turned up the rhetoric about Mar-a-Lago, even Trump's 2016 presidential rival Hillary Clinton jumped into the fray. Clinton released a hat that says it all amid Trump's latest scandal. On August 10, Clinton tweeted: "Every 'But her emails' hat or shirt sold helps @onwardtogetherpartners defend democracy, build a progressive bench, and fight for our values. Just saying!"
But even for the conspiracy-loving Georgia representative, Greene's latest line of merch has the internet talking.
Marjorie Taylor Greene is selling Defund the FBI and Enemy of the State merch
Donald Trump began using the FBI raid at Mar-a-Lago to raise money (via Reuters). Like her mentor Trump, Marjorie Taylor Greene began using the FBI's legally approved search warrant to spread conspiracy theories and raise money. Greene is selling a new line of merchandise calling to "Defund the FBI" and "Enemy of the State" tees for Trump supporters. Green promoted her new "Defund the FBI" merch on Instagram writing: "Joe Biden has weaponized the FBI and DOJ against President Trump and his supporters. This isn't the first time, and it won't be the last." In another Instagram post, Green promoted the new "Enemy of State" gear sharing: "Biden is ordering the FBI and DOJ to go after President Trump and his supporters. We are now officially ENEMIES OF THE STATE."
Greene's merchandise appears to be an effort to enrage Trump supporters to violence, and Twitter was not amused. One Twitter user was appalled by MTG's new merch and tweeted: "MTG's merch is lacking an ungodly amount of self-awareness. Anyone who is a fan of her is an enemy of the state." Another non-fan of Greene tweeted: "You also know crazy MTG had merch up in about 30 minutes after the news broke, and she sent out an e-blast within the hour, right?" But one Twitter user summed it up by tweeting: "We need a Defund MTG tee-shirt."