Meghan Markle's Friend Gives A Stark Warning About Her Safety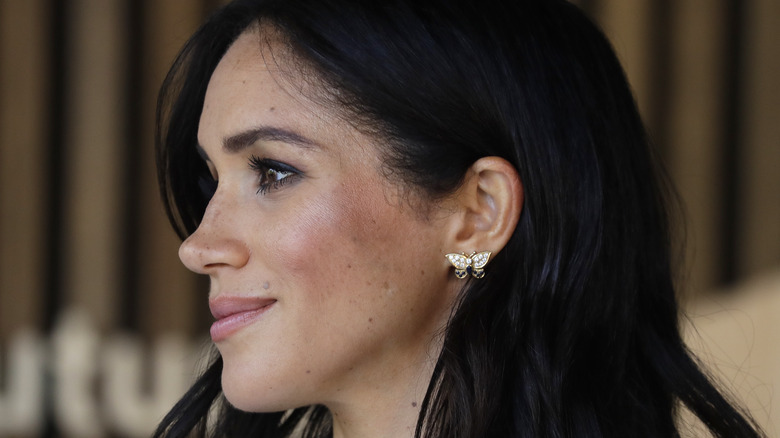 Pool/Getty Images
Meghan Markle and Prince Harry experienced a run of unexpected problems when they decided to step down as senior working royals. According to People, the Duke of Sussex claimed he was left without fiscal support from his family and relied on money that his late mother, Princess Diana, had left him. He told Oprah Winfrey during a sit-down interview that the "family literally cut me off financially." While the couple eventually made lucrative deals with Netflix and Spotify, the Sussexes found themselves seeking additional security. As full-time royals, they were privy to police protection in the U.K., but that changed when they moved to the U.S. 
According to Us Weekly, Prince Harry asked for a judicial review of the British Home Office's decision to strip him and his family — Meghan, Duchess of Sussex, daughter Lilibet, and son Archie — of police protection, even if it were personally funded and didn't rely on the British taxpayers. "Prince Harry inherited a security risk at birth, for life. He remains sixth in line to the throne, served two tours of combat duty in Afghanistan, and in recent years his family has been subjected to well-documented neo-Nazi and extremist threats," read a January 2022 statement from the duke's lawyer. "While his role within the Institution has changed, his profile as a member of the royal family has not. Nor has the threat to him and his family."
Now, an advocate of Meghan Markle's has written a foreboding opinion piece calling for additional security for the couple, "before it's too late."
Omid Scobie calls on UK government to reinstate Harry's security at his own expense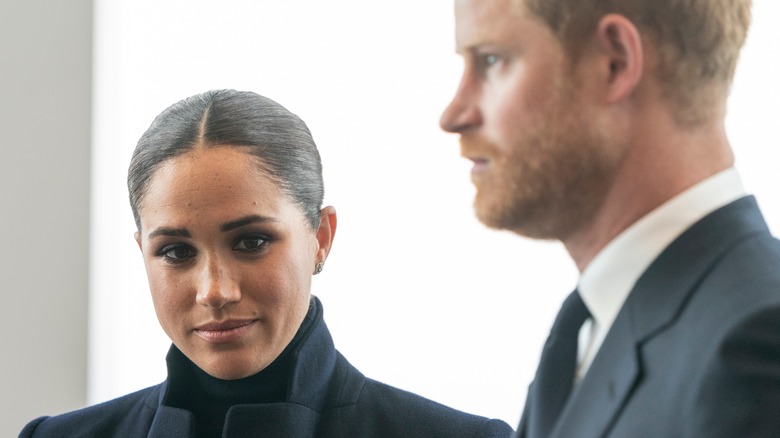 lev radin/Shutterstock
Journalist — and rumored friend of Meghan Markle's — Omid Scobie has written a scathing opinion piece calling for the U.K. government to allow Prince Harry to pay for police protection while in his home country. Scobie has long been a cheerleader of the Duke and Duchess of Sussex, and his role as Yahoo U.K.'s Royal Executive Editor has allowed him to voice his support of the groundbreaking couple.
"The safety of others should never be up for debate," Scobie wrote on Twitter. "The Duke of Sussex and Home Office may not see eye to eye, but there's only one acceptable solution to this fight: Reinstate Harry's security at his own expense — before it's too late." Scobie's article includes a chilling story of Jaswant Singh Chail and his attempt to break in and murder Queen Elizabeth II last Christmas. The "Finding Freedom" author credits Chail's quick detainment to "the elite training and world class intelligence that helps royal protection officers always remain one step ahead." 
Scobie went on to say that for Prince Harry and other members of the Windsor family, "this high level of security is essential."
Scobie says Harry and Meghan received an 'astonishingly high number of threats'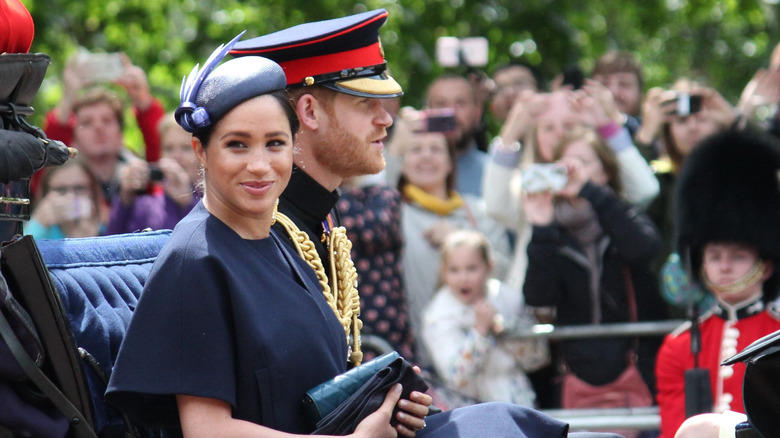 Lorna Roberts/Shutterstock
Journalist, author, and editor Omid Scobie says that the royal family will always be at risk, including those like Meghan Markle, Duchess of Sussex, and Prince Harry, Duke of Sussex, who have quit being full-time working royals. Scobie believes his first-hand experience reporting on the lives of the Sussexes confirms that the two have been — and will continue to be — targeted. "Harry's fears aren't rooted in paranoia. While covering Harry and Meghan's time as working royals, I was made aware of the astonishingly high number of threats sent to the couple — the majority received from U.K. locations and many of them rooted in racism towards the duchess," Scobie wrote for Yahoo! U.K.
Though Meghan and Harry have stepped back from their duties within the royal family, Scobie says their risk hasn't diminished. He noted that he has even received threats due to "false tabloid tales" claiming he is the couple's "close friend" and "spokesperson." Even with Scobie's call for the Home Office to allow the Duke of Sussex to pay for police protection, it's clear that Prince Harry's legal battle against the U.K. is far from over.