What We Know About Anne Heche And James Tupper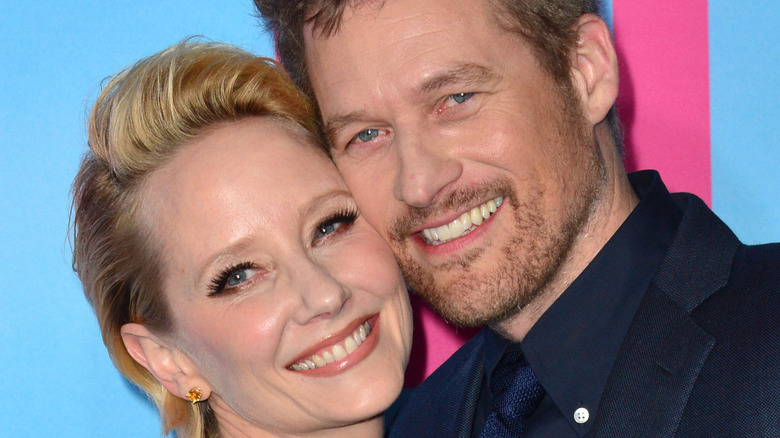 Featureflash Photo Agency/Shutterstock
Anne Heche's most high-profile relationship is undoubtedly with Ellen DeGeneres, who is now married to Portia De Rossi. But back in 1997, it was Heche and DeGeneres who seemed inseparable (via Page Six). In 2000, the "it" girls split up, issuing a joint statement that said, "It is an amicable parting and we greatly value the 3½ years we have spent together" (via People).
Heche didn't take the breakup well, showing up at a stranger's home the day after and talking about being picked up by a spaceship.
Flash forward to 2007, and the star coupled up again with James Tupper (via OK!). Us Weekly reports she was actually married to cameraman Coley Laffoon, with whom she'd had a son, Homer, at the time that they first met (via Meaww).
Tupper, a Canada native, is best known from his stints on TV shows like "Grey's Anatomy," "Revenge," "Big Little Lies" and "A Million Little Things."
But it was on another series that the actor would meet the Hollywood star.
Anne Heche and James Tupper seemed very much in love for a decade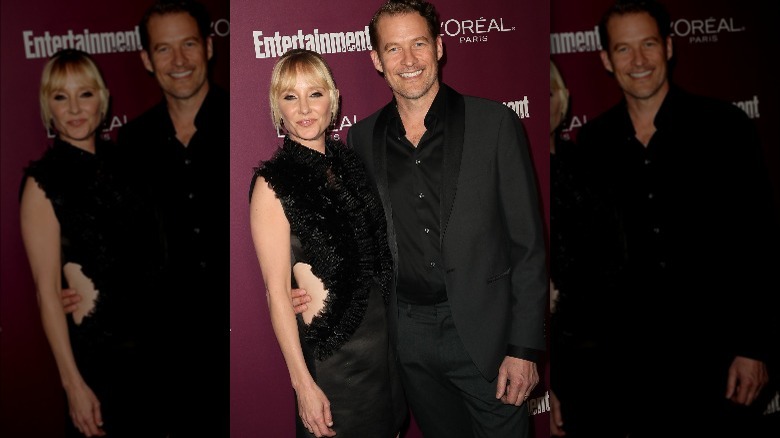 David Livingston/Getty Images
According to The U.S. Sun, Anne Heche and James Tupper became acquainted while filming the show "Men in Trees." They moved in together after the movie star's divorce from Coley Laffoon and were expecting a child by 2008 (via Us Weekly).
Atlas was born the following year, with Heche gushing about her role as a mom to People that year. "Obviously, the miracle of life for a mother is just dumbfounding. It's so hard to explain how wonderful it is to look in the eyes of a child that you're blessed with," she said.
This was Tupper's first child, and his partner noted how "good" the actor was with her older son. But while everything looked picture perfect, but after a decade together, the Hollywood parents, who never married but with Tupper gifting Heche a new ring every year according to her 2011 interview with The Telegraph, went their separate ways.
And it seems the exes have not been on the best of terms since.
Anne Heche and James Tupper endured post-split drama
Following a decade together and after welcoming their son Atlas, Anne Heche and James Tupper reportedly shared a home for co-parenting purposes, but were no longer a couple (via OK!). The breakup was contentious, with the TV star reportedly changing the security code to their place without telling her, a claim Tupper denied in court in 2019 after Heche sought an emergency ruling.
In part, he said, "I truly do not understand this drama and hope it isn't linked to extended drug use." Sadly, it seems substance abuse may be behind her catastrophic August 2022 car crash, with LAPD Officer Annie Hernandez saying "blood draw results showed a presence of narcotics" (via CNN).
For his part, Tupper took to Instagram to share his emotional reaction to the news that his ex and the mother of his son had been in the headline-making accident. Sharing a photo of Atlas with his famous mom, the star dad wrote, "Thoughts and prayers for this lovely woman, actress and mother tonight anneheche we love you," adding a broken heart emoji to the post.
At time of writing, Heche's rep said in a statement, "Unfortunately, due to her accident, Anne Heche suffered a severe anoxic brain injury and remains in a coma, in critical condition. She is not expected to survive" (via TMZ).