The Anne Heche Accident Explained, From Fiery Crash To Coma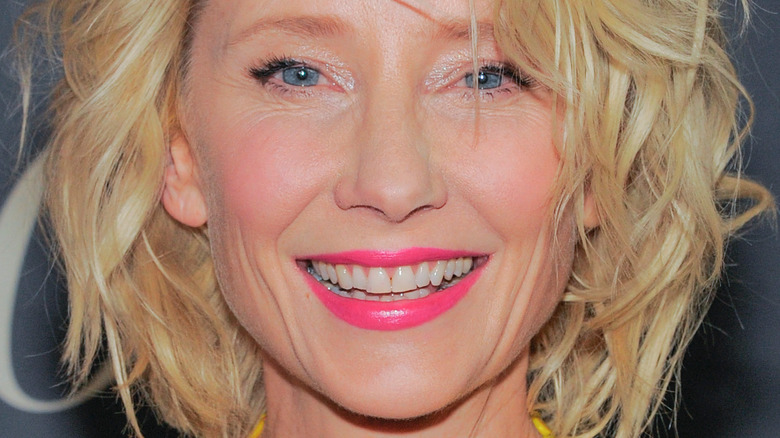 lev radin/Shutterstock
Actress Anne Heche is best known for her roles in films like "Six Days and Seven Nights" and "Wag the Dog," as well as several guest spots on popular television shows like "Chicago P.D." and "Adventure Time" (via IMDb). She began working in the entertainment industry in the early 1990s and continued to land roles with shows slated to air both this year and next.
Heche made waves when she appeared on a red carpet for the debut of her film, "Volcano" in 1997 with Ellen DeGeneres on her arm (per Page Six). The actress was told the affair with DeGeneres would ruin her reputation forever, but she took the chance and appeared publicly with a woman as her date. Though that relationship fizzled out, Heche continues to respond to questions about Ellen.
Heche's memoir details her interesting life at length, now, however, her life has taken an unfortunate turn as she finds herself in critical condition following a very serious accident.
Heche's accident was serious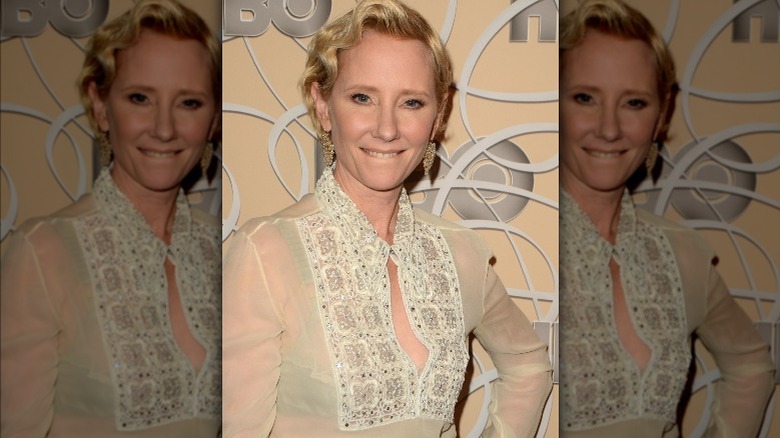 Kathy Hutchins/Shutterstock
Emmy-nominated actress Anne Heche was in a serious accident in a West Los Angeles neighborhood this weekend (via TMZ). The incident was caught on neighborhood cameras. Before the crash, a video surfaced of Heche driving over 90 MPH in a neighborhood. It was clear that something was off with the actress. 
As Heche sped through the neighborhood, she drove straight into a home at an alarming speed. Her car, as well as the home, was engulfed in flames. Heche was severely burned and carried out of the home on a stretcher. Thankfully, the resident of the home was unharmed, as People reported. Prior to this major crash, Heche had collided into the garage of a nearby apartment complex in her blue Mini Cooper (per TMZ). A resident caught the incident on camera, recording the actress with what looks like an empty bottle of alcohol in the cupholder.
A source told Deadline that Heche is in critical condition. "At this time Anne is in extreme critical condition. She has a significant pulmonary injury requiring mechanical ventilation and burns that require surgical intervention," the rep said. "She is in a coma and has not regained consciousness since shortly after the accident."
Though over 50 firefighters responded to the accident, Heche was not able to be removed from the scene for 65 minutes (per Deadline). However, she was allegedly able to speak when she was rescued from the vehicle but shortly lost consciousness afterward.
She may have been intoxicated at the time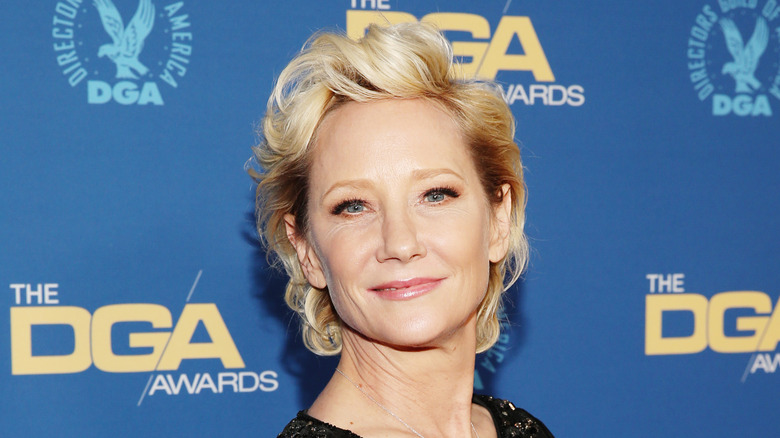 Jesse Grant/Getty Images
According to the  Los Angeles Times, the Los Angeles Police Department is investigating Anne Heche for possible DUI and hit and run, though she hasn't been arrested or charged with anything at this time.
In a podcast episode posted just a few hours before the accident, Heche was allegedly drinking vodka and wine, as well as slurring her words (per the New York Post). The episode of her podcast, "Better Together," was removed, but a representative stated that it had been recorded several days prior to the accident. Throughout the episode, however, she had opened up about drinking heavily and experiencing "no good, very bad days," but she didn't fully open up about why she was feeling low — though she did make note of some "mysterious events" affecting her mood. The New York Post reported Heche also said podcast fans should "keep their fingers crossed that she and co-host Heather Duffy would even make it through the recording."
Duffy released a statement that read, "Her family and friends ask for your thoughts and prayers and to respect her privacy during this difficult time," according to The Washington Post.
Later, sources from the LAPD reportedly told TMZ that both cocaine and fentanyl had shown up in her blood test. However, the outlet notes that more tests are required to find out if the fentanyl had been in the actor's system prior to her hospital admission. TMZ claims she's currently "fighting for her life."