Love Island's Bryce Dishes About What Went Wrong With Courtney And More — Exclusive Interview
We love a bombshell — a mystery show that ends on a cliffhanger, a soap opera that brings yet another person back from the dead. What's better than programming that keeps you on your toes? Not much, if you ask us, unless of course you add gorgeous singles, drama, and an appetite for romance. You'd be a fool not to tune into "Love Island" if you consider yourself a reality TV fan. It's got everything — the stars, the villains, the drama, the tossups, the bombshells, and (if you're tuning in to an international version) the best accents. As it stands, "Love Island" is simply taking the world by storm, with the U.S., U.K., and Australia versions of the show beating out the reality TV competition. With Season 4 of the U.S. version in full swing, it's no wonder that "Love Island" is all the rage.
This season has had plenty of ups and downs. From Tyler Radziszewski's surprise exit to Chazz Bryant's ... dramatic ... interaction with Sereniti Springs, it's clear that viewers are in for even more roller-coaster track as the season progresses. And while bombshell Bryce Fins certainly made an impression on viewers (and Courtney Boerner), he was surprisingly sent home after a less-than-ideal confrontation between him and Courtney took place — with Zeta Morrison keeping a close eye. So what exactly happened during Bryce's run on the show, and does he have any intention of reconnecting with Courtney? We sat down with him for an exclusive interview and got all the answers you're looking for.
Bryce did not see his elimination coming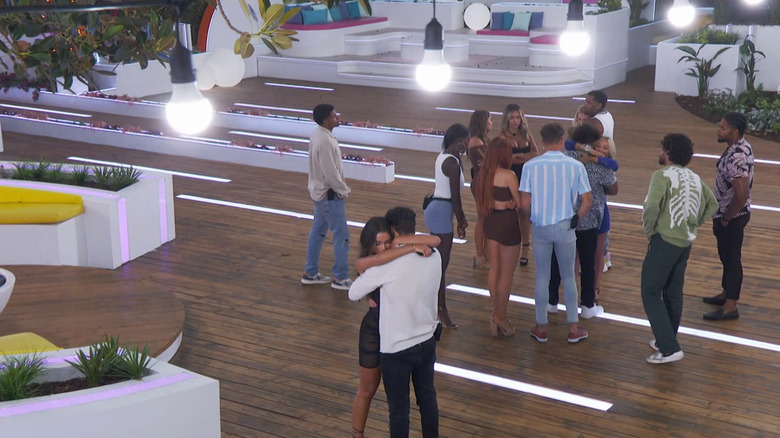 Peacock
I want to start with your elimination. Fans were angry off the bat that you were chosen to go home over Chazz [Bryant]. Take me back to that moment. What was going through your head?
There were a lot of things going through my head at that time. I was just as shocked as the ... I read fans' comments, and the people that were watching, I guess they didn't really see it coming [either]. I felt blindsided.
I knew that going into this, not recoupling, but elimination, there was a possibility that I would be going home, obviously, because I was in the bottom four. I knew that Jesse [Bray], he's got something really good going with Deb [Chubb], and she's going to be one of the people deciding on the panel. I knew it was going to be between Jared [Hassim], Chazz, and [me]. However, I didn't think I would be that much of an option — that good of an option — simply because, other than one incident with Courtney [Boerner], I really haven't caused a lot of doubt amongst the people in the Villa.
In that moment, I was standing there rather confident. Then, when Deb started saying she doesn't feel like the relationship is as stable, or something to that effect, essentially, I was like, "Oh, I really hope she's not talking about Courtney and [me]." Because actually, it was fairly stable. I was like, "They still can't be me. It's got to be Chazz since he's jumping all over the place with girls and it's just ..."
And then they said my name, and I just felt like a ... I was like, "No way. What do they know that I don't know? What was said amongst the girls to make them?"
They definitely were deliberating for a long period of time. That made me feel like it wasn't an instant thought: "Bryce, he's got to be out of here." However, I was very surprised that they landed on me considering the other people that haven't really had a solid connection like I found there in the Villa.
I talked to Sereniti [Springs] just a couple days ago. Talking about Chazz and that ending with a handshake, there was a lot of drama going on. You were clearly caught off guard. Fans definitely were as well.
The situation with Sereniti and Chazz was an interesting one. I felt that the girls were very close with Sereniti, so the way that Chazz handled that, I know that it left a bad taste, in their opinion. I was like, "I'm probably okay. I'm probably going to be fine," but apparently, that's not how it happened.
Bryce reflects on Mady's decision to leave the Villa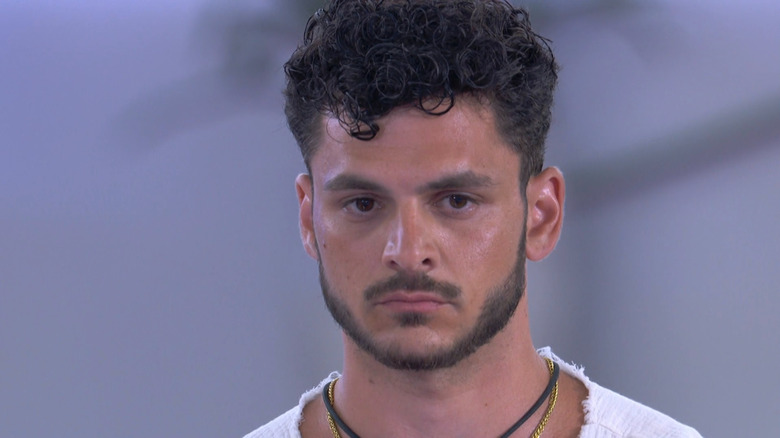 Peacock
The special was all over the place. Mady [McLanahan] chose to go home. Explain what that whirlwind was like in real time.
I had grown close to Mady, following the days that Andy [Voyen] left the show, and I noticed she was increasingly longing for him. So when she said that, I felt it was very admirable, but I almost saw it coming too.
She realized that she didn't have the capacity necessarily to move forward with the show. And the fact that she didn't selfishly continue on, because she knows the connection she has with the girls and rather just gave them a chance, I thought that was incredible.
There's a few photos of me standing there smiling, even though I knew I was going home. Most people aren't smiling at that moment. But I was really proud of her because I really grew to like Andy and the relationship that they had during the time that I was in the Villa with both of them.
Definitely, it's a huge testament to her character.
Absolutely.
And the relationships and the friendships that you all got to cultivate behind the scenes.
Yeah. She wasn't just forgoing the opportunity to find another connection romantically, but also, she had built such tight bonds with Deb and with a lot of the girls. So she was also giving that up. It was like a two-pronged situation for her. To make that kind of sacrifice, I thought it was really something, and it made my departure that much easier because I love Mady and we were able to go out together strong.
I feel like we both were there for the same reasons. We really wanted a genuine connection that was going to last outside of the Villa. Leaving together made sense to me.
What was it about Courtney that caught Bryce's eye?
When I'm thinking about your time on the show, you came in as a bombshell, hit it off with Courtney, and Felipe [Gomes] went home as a result. We chatted with him a couple weeks ago. Tell me about that initial connection with Courtney and what it was about her that caught your eye that we maybe didn't get to see on camera.
I'm not sure how much was shown about our interactions, but in the beginning, it was so effortless, even in a situation like "Love Island," where you feel like things are accelerated and you have to move very quickly to get to know people. And I didn't know that there would be a recoupling 24 hours from me entering.
But looking back on it, realizing I had to make a very good impression or at least an authentic impression of myself to Courtney, I feel like we really did have a good connection that started off on a strong footing. We discussed things about future plans, where we're both located, what we want out of life, all different sorts of aspects that make a relationship whole other than "Hey, I think you're hot. You think I'm hot. You should drop that dude and come with me."
When she chose me, I was a little taken [a]back because I was like, "I didn't think this was for sure going to happen." It seemed as if she and Felipe had a great connection. But I realized that what was missing in their relationship was very pivotal for her making a decision to go with me because she needs the intellectual stimulation that I also do.
Then down the line, that evolved into something else. That ended up being part of the reason why I left, but it was still an incredible moment. She put a lot of faith and trust in me, and I felt like I definitely wanted to reciprocate that. That's why I didn't entertain anybody else while I was in the Villa. Courtney had my eye, and until there was a major problem, I didn't want to deviate from saying what we could be, fulfilling that potential.
Bryce addresses the confrontation between himself, Courtney, and Zeta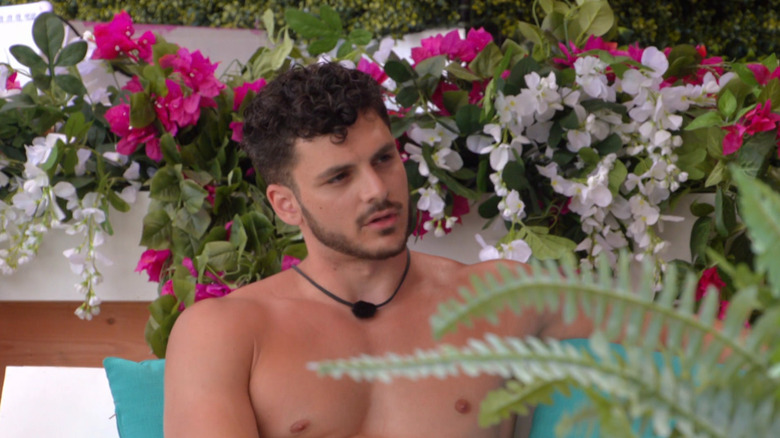 Peacock
Things got a little icy. There were confrontations about chemistry. Zeta [Morrison] was there. Take me back through that experience and maybe provide context [about] what that's been like to think on.
That experience was a little jarring. I wasn't exactly sure why ... We had never had any issues prior to this one issue about not being passionate enough during our alone time in bed. I was a little confused as to where it came from.
To this day, I still don't know exactly how it manifested into a bigger issue than I thought it was. Because I don't think it's shown on-camera, but we finished the conversation strong: "Yeah, we're going to work on this. It's not a big deal. Let's just not have these things moving forward. We need to pay more attention to our needs."
But when I was sitting there in that moment and talking to her about it and realizing that Zeta needed to be standing to see how I would react, it made me feel like, "What is Courtney feeling about me?" Because I don't feel that way about her. I don't feel like I need somebody there to ... We founded our relationship, just the two of us.
Zeta wasn't monitoring that or being a mediator. When it happened, I was like, "This seems unnecessary." But I also didn't want to take it from a defensive standpoint because maybe she felt like I would be defensive and that's why she brought her. And I have nothing to hide. I felt very authentic and genuine to her and good throughout the time. I felt like even if Zeta's there, we can work this problem out. It was interesting, definitely, to say the least.
Bryce reveals if he'll reconnect with Courtney after the show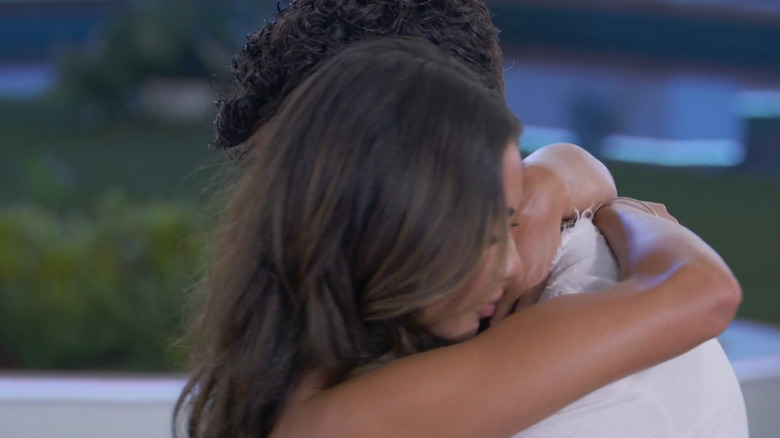 Peacock
Now you're home. Do you have any regrets from your time on the show?
No, I don't have any regrets. I feel like it would've been nice if I was able to facilitate more conversations after that argument. Or not even, it wasn't an argument — it was just a misunderstanding. That's the way that I look at it. The night that she misinterpreted my passion for her was a night that I was exhausted, and we still ended up kissing that night, and it's shown on the show.
It shows us being very close, but it wasn't exactly what she needed at that time. But I don't have any regrets. I knew that I was going in there for the sole purpose of finding a genuine connection, which I really do believe I found with Courtney, and trying to fulfill that to its greatest extent.
If I [had] acted any way that wasn't true to my purpose, then I feel like that would be something I would regret. If I [had] entertained the idea of getting involved with people that I feel like weren't as close as Courtney and [me] ... Because for the longest time, we got voted the most boring couple because we literally got along so well. We never fought; we wanted the same things. We were there for everybody in the Villa and there for each other.
Do you have any intention of connecting with Courtney once this whole experience is over?
I've been asked that a few times. It's still up in the air because, after I left, I'm not exactly sure ... She said it was a little bit of a relief. Obviously, I didn't feel great hearing that, but I feel like there's a little bit of unfinished business. I'd like to know exactly what her headspace was during that time.
Closure would be nice.
Yeah. Just to know if she knew if the girls' decision was solely based on that one issue or if she saw other things going on that I wasn't aware of. In my eyes, it was blindsiding. I didn't exactly see that coming. We had been getting along wonderfully.
I wouldn't be against talking to her just to see where her head was at. It's a very different experience, and emotions run high during the time. You have to be very understanding and have a clear method of communication if you want to find something real.
What's next for you moving forward?
Decompression. I'm going to get used to getting into a normal sleep schedule. I plan to see my family. I'm flying out to Montana soon to see them. And getting back to work, getting back to my diet, gym routine, all that stuff that I forgo during the show. But I had such a wonderful time on the show that I'm obviously going to be interested in other opportunities to reconnect with people and that kind of situation. Hopefully, all of our Villa mates will get together at some point and put together something fun.
"Love Island" USA Season 4 drops new episodes Tuesdays through Sundays on NBC's Peacock, with recap episodes releasing on Saturdays.