Data Reveals Planet Fitness' Most Popular Month Of The Year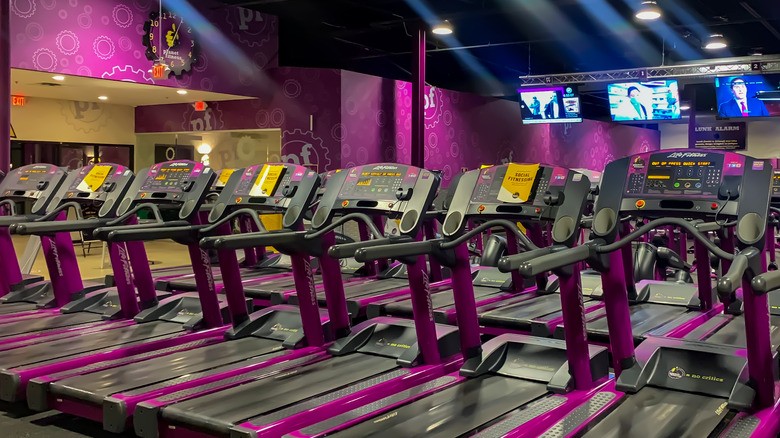 gg5795/Shutterstock
The fitness industry is booming: Those who once relied on virtual classes and at-home workouts during the pandemic, find themselves longing for the community of a gym. According to the U.S. Chamber of Commerce, "80% of consumers said they're open to hitting the gym again." Whether you're a total gym rat or you are just beginning your fitness journey, it's important to find a gym that fits your needs. Planet Fitness is known for its low-cost monthly membership and its inclusive ideals. For $10 a month, Planet Fitness is Verywell Fit's top pick for those who want to work on their physique without breaking the bank. Planet Fitness was established by the Grondahl brothers in 1992, rising from the ashes of an old Gold's Gym. The founders were determined to create a place where people could work out without fear of judgment (Via Planet Fitness).
Planet Fitness, known for its iconic purple walls, is a no-frills gym with only the basics. They pride themselves on being a gym for non-gym people, and according to their website, "heavy-duty grunting powerlifters" and "perfectly formed goddesses" are not Planet Fitness' demographic. Their motto, along with the easy-on-the-eyes price tag, encourages visitors to flock to Planet Fitness. But do gyms really have a busy season? And how did the pandemic affect their visitor averages? To answer these questions, The List created a graph with exclusive data that illustrates foot traffic trends over the past two years.
Did the pandemic change people's fitness goals?
According to The List's graph, which defines a visit as a "stay at the location lasting more than four minutes," Planet Fitness has seen some major changes in the past two years. Prior to the pandemic, the popular purple gym saw the most visitors in January: The start of a new year unsurprisingly encourages new visitors to sign up for memberships and cross their fitness goals off their New Year's Resolutions list. However, once businesses had to close due to COVID-19 safety concerns, the gym chain took a major loss in visitor count, with less than 100,000 visitors all spring. Luckily, that summer, the gym reopened with new safety measures, regaining its average of 400,000 visitors in 2021.
Post-pandemic, January no longer holds the title of "most popular month." Two years in a row, the graph illustrates a spike in visitors around March, with a steady average in the summer and a small loss once the holidays roll around. The data makes us wonder if the anniversary of the pandemic is the new "New Years," with people reevaluating their habits and lifestyles as they look back on the lockdown of 2020. Maybe March is when people shed their winter coats and start prepping for their hot girl summer. Either way, Planet Fitness has made a successful recovery from their brief closure, and remains a place for people of all body types and budgets to work towards their fitness goals.