Has The Root Cause For Donald Trump's FBI Raid Been Revealed?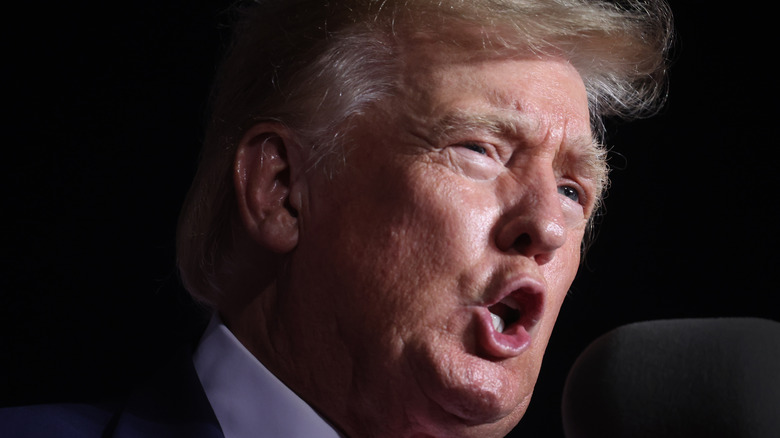 Scott Olson/Getty Images
Donald Trump referred to Mar-a-Lago as a "Winter White House," and he wasn't the first to do so. Marjorie Merriweather Post had Mar-a-Lago built in the 1920s, and she arranged to have the property left to the United States government upon her death, hoping it could be used as a "Winter White House," per Smithsonian Magazine. The government passed on the gift due to cost of maintenance, and in 1985, Trump purchased the property for $8 million. In September 2019, Trump updated his official primary residence from New York City to Mar-a-Lago, via Fox News. While president, Trump spent 142 days at Mar-a-Lago; he had some official meetings there, including with Chinese President Xi Jinping and Japanese Prime Minister Shinzo Abe, per Voa News.
Trump's final flight on Air Force One was to Mar-a-Lago the morning of Joe Biden's inauguration, per BBC. While he may have called Mar-a-Lago his "Winter White House," it's not an official government building and Trump is no longer president, which makes Mar-a-Lago the wrong place to store government documents. And that was the reason behind a recent FBI search of Mar-a-Lago, looking for any improperly removed classified documents. Some of which could have dire consequences if they fell into the wrong hands.
Donald Trump may have removed documents connected to nuclear weapons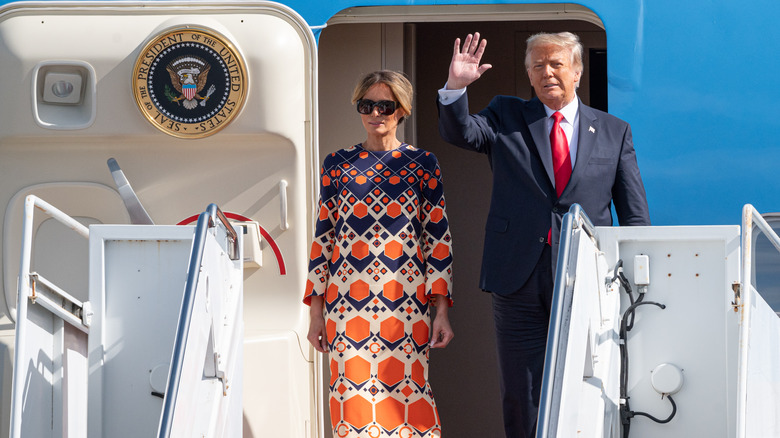 Noam Galai/Getty Images
The FBI searched Donald Trump's Mar-a-Lago residence under a search warrant, and it could potentially disqualify him from holding political office again. Apparently the FBI search — which included going through Melania Trump's closet — was to look for any classified documents related to nuclear weapons, per The Washington Post. A search of this kind is unprecedented, but nuclear weapon info isn't what you want floating around in the world. Attorney General Merrick Garland himself authorized the search warrant, and he's asked to have the search warrant unsealed because, as he said in the motion to do so: "the public's clear and powerful interest in understanding what occurred under these circumstances weighs heavily in favor of unsealing."
A full throated denial from the former president was posted to Trump's social media network Truth Social: "Nuclear weapons issue is a Hoax, just like Russia, Russia, Russia was a Hoax, two Impeachments were a Hoax, the Mueller investigation was a Hoax, and much more. Same sleazy people involved," he said, per Politico. Tri,[ previously posted a theory that the FBI might be planting evidence; he was in New York City at the time of the raid, though he did have lawyers present at Mar-a-Lago. He has said that he's fine with the warrant being unsealed and wants it done ASAP, according to Fox News. His lawyers likely have a copy of the warrant and could make it public, according to The Independent.
The FBI search of Mar-a-Lago is unprecedented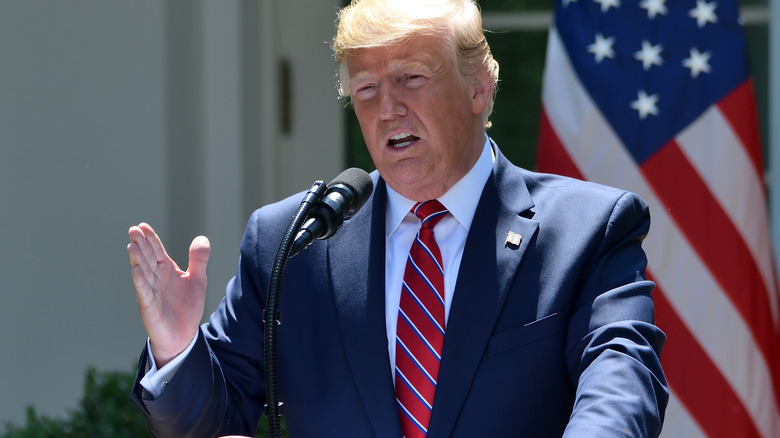 Evan El-Amin/Shutterstock
No other president has been charged with improperly removing documents before, and there's not yet any confirmation of what the FBI found during its search. Some Donald Trump supporters think that documents taken by Trump to Mar-a-Lago would have been declassified by Trump when he was president, so there isn't an active concern, according to NBC News.
Merrick Garland explained why such an unprecedented event was taking place: "Upholding the rule of law means applying the law evenly, without fear or favor. Under my watch that is precisely what the Justice Department is doing," per The New York Times. The investigation is ongoing, and the National Archives and the Justice Department have previously asked for any improperly removed documents to be returned. In mid-January 2022, the National Archives recovered around 15 boxes of documents, via The New York Times.
In 2018, Trump signed a bill that made unauthorized moving of classified documents into a felony and with a five year maximum, via Business Insider.