If You've Never Watched A Meg Ryan Movie, Here's The One You Should Start With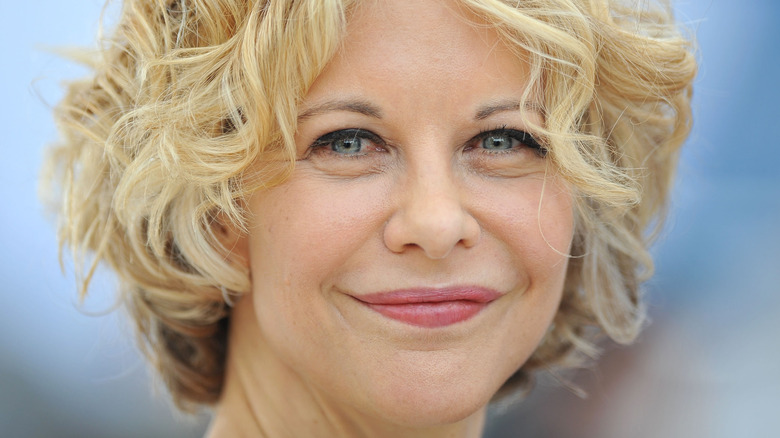 Pascal Le Segretain/Getty Images
Meg Ryan is one of Hollywood's most beloved stars and has been captivating fans for decades. Before she became the actress we know today, Ryan was born in Fairfield, Connecticut under the name Margaret Hyra (via Biography). When Ryan was young, her mother left the family to pursue an acting career, which left the actress' father, Henry Hyra, to raise Ryan and her three siblings by himself, per Hello! Magazine.
After high school, Ryan attended New York University, where she studied journalism. However, her time at the college didn't last long. She eventually opted to quit school and try her hand at acting. That's when Meg Ryan changed her name, using her grandmother's maiden name as her own. She eventually moved to Los Angeles and began auditioning for roles. After establishing herself as an actress, Ryan met fellow actor Dennis Quaid. The two began dating and fell in love. They tied the knot in 1991 and went on to have a son named Jack Quaid, who also became an actor. Ryan has also had romances with celebrities like John Mellencamp and Russell Crowe over the years, per Ranker.
While Ryan's love life has made headlines at times, her body of work is what continues to keep her a favorite among fans.
Meg Ryan's career took off after she landed a gig on 'As the World Turns'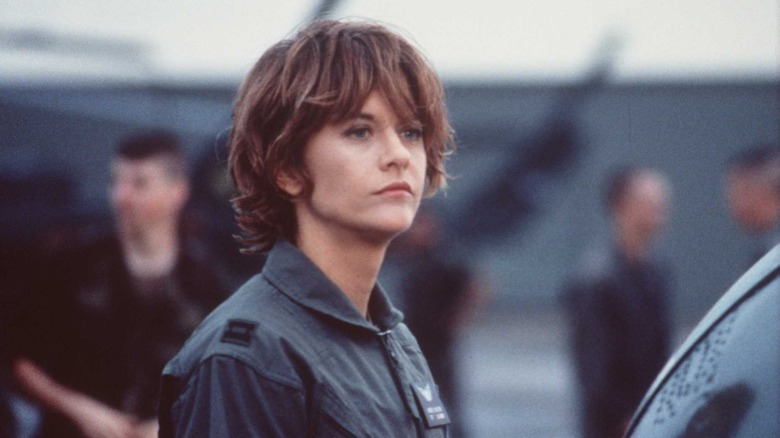 Getty Images/Getty Images
Over the years, Meg Ryan became "America's Sweetheart" thanks to her work in some of the most beloved films of all time. The actress got her big break when she was cast as Betsy Stewart Andropoulos on the classic soap opera "As the World Turns." Ryan appeared on the sudser for two years in the early '80s (via Biography). After her time on the soap was over, Ryan saw her film career really take off when she landed a small role in the popular film "Top Gun." Ryan co-starred alongside Tom Cruise and Anthony Edwards in the movie and later earned parts in movies like "Innerspace" and "D.O.A." with Dennis Quaid.
Ryan then got a reputation for starring in romantic comedies that are still loved by fans to this day. She also filmed multiple movies with actor Tom Hanks such as "Sleepless in Seattle," "You've Got Mail," and "Joe Versus The Volcano," per Gold Derby. In addition, she lent her voice to the animated film "Anastasia," and took on some more serious roles in movies such as "In The Cut," "When A Man Loves A Woman," "Courage Under Fire," and "The Doors."
For fans who have never seen a movie starring Ryan, there are so many great options. However, you may want to start with one of her biggest roles in the film "When Harry Met Sally."
'When Harry Met Sally' is an iconic rom-com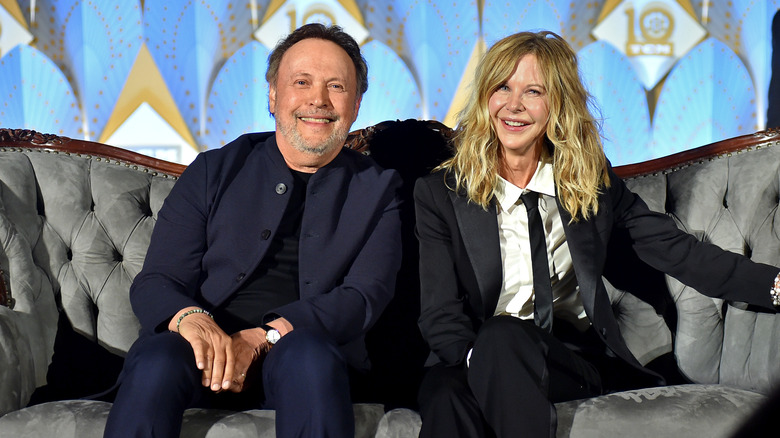 Stefanie Keenan/Getty Images
In 1989, Meg Ryan co-starred with Billy Crystal in the romantic comedy "When Harry Met Sally." The film focused on Harry and Sally's first meeting in college when they carpooled across state lines and debated whether or not men and women could ever be platonic friends (via Shmoop).
Years later, Harry and Sally meet again and they are thrust into each other's lives in many ways, including the marriage of their best friends. The duo ultimately become best friends and talk each other through their individual romantic entanglements. In addition to giving a memorable performance, Ryan also earned her first Golden Globe nomination for the role (via Gold Derby).
"When Harry Met Sally" is one romantic comedy men and women will both love as it explores friendship, romance, sex, and everything in between. In addition to Ryan and Crystal stealing the show as the main characters and a supporting cast that includes "Star Wars" actress Carrie Fischer, the film was also written by iconic rom-com writer Nora Ephron and directed by fan-favorite Rob Reiner, per Vanity Fair.
Of course, one of the most endearing parts of the movie includes multiple breakaway scenes that feature couples of all ages giving interviews about love and life. "When Harry Met Sally" is an iconic classic that any movie lover will enjoy, and the first of many Meg Ryan films you'll want to devour.