The Truth About Meg Ryan And John Mellencamp's Relationship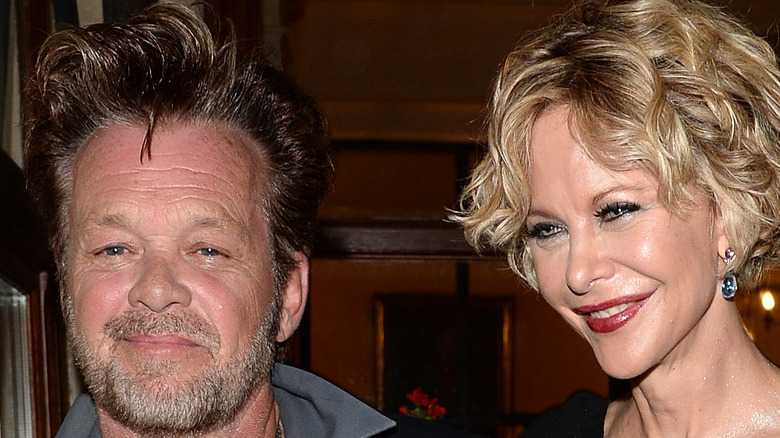 Venturelli/Getty Images
Out of the dozen-or-so relationships that John Mellencamp has entered, his romance with Meg Ryan was by far the most publicized. Reports that they were dating first began to circulate in early 2011 after the couple was spotted drinking coffee and shopping together in Martha's Vineyard and New York City (via People). However, a source close to Ryan suggested the pair had begun seeing each other in 2010 — a few months after Mellencamp divorced his wife of 18 years, model Elaine Irwin (via Ultimate Classic Rock).
At first, the musician and actor were relatively quiet about their newfound love for one another, but after they were spotted holding hands in early 2011, they had no choice but to go public (via Hello!). Their relationship seemed strong from the get-go, with Ryan traveling alongside her beau as he toured Europe in 2011 (via Daily Mail), and they were even rumored to be looking to buy a house together (via ABC). But that soon all came crumbling down.
Distance was a factor in their initial breakup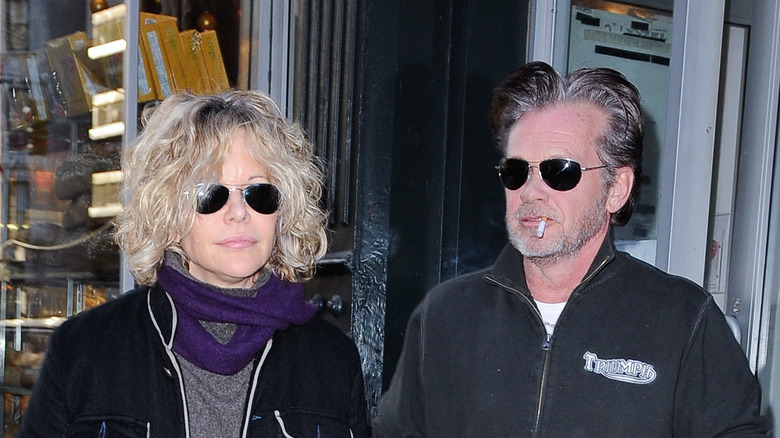 Ray Tamarra/Getty Images
The initial romance between John Mellencamp and Meg Ryan came to an end in 2014 after they struggled to maintain a long-distance relationship. "She lives in New York and he resides in Indiana," a source told People. "It was the long distance that ultimately was the cause." Mellencamp had considered moving to the Big Apple in 2013, but couldn't bear to leave his home state.
"I'm too sensitive to live there," the musician told Rolling Stone. "I can't see poor people. I can't see the suffering. I can't see the trash on the street," he explained, adding that he also didn't like how intrusive the paparazzi were to Ryan. "I'm not leaving Indiana. I'm going to die here," Mellencamp concluded.
Both stars moved on relatively quickly, with Mellencamp dating model Christine Brinkley for a year (via Us Weekly) while Ryan decided to take a break from love. "I'm [in love] with my life right now in a way that I adore, with my kids and my world," she told Closer Weekly.
After reconciling, John Mellencamp and Meg Ryan got engaged in 2018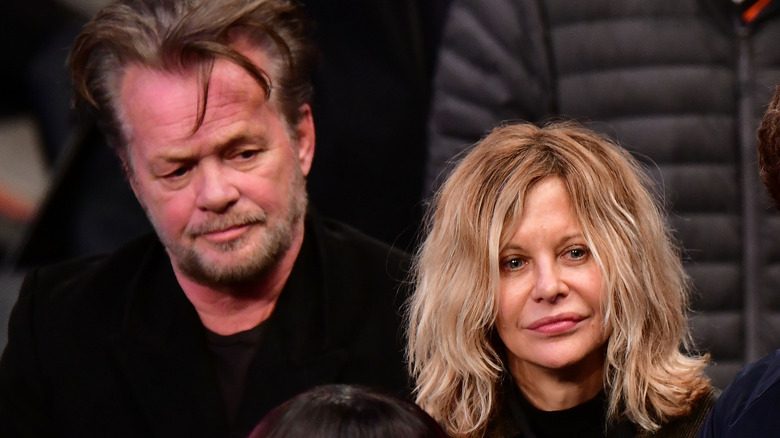 James Devaney/Getty Images
The breakup didn't last long, as John Mellencamp and Meg Ryan found their way back to one another in 2017. The rockstar was initially cautious about rekindling old relationships, telling Howard Stern that while he loved Ryan, she wasn't too fond of him after their split (via Entertainment Tonight). "I think it's because I'm a child. I throw fits, I gripe, I complain," he explained. "I'm moody. Every bad thing that a fella can be, that's me." Despite the musician saying that Ryan wouldn't return his calls, in July of 2017, Page Six reported that the couple was back together.
A year later, the couple became engaged. In a now-deleted Instagram post, Ryan shared the news by posting a hand-drawn image of herself and Mellencamp captioned "ENGAGED!" (via BBC). But that bliss was short-lived, as the pair called off the engagement in 2019.
According to E! News, the relationship came to an end because Ryan was "exhausted" with it. "There were so many ups and downs and it wasn't healthy," a source said. "She just needed to get out and not be in that environment anymore ... She cares about John but it was time for her to move on. She knows she made the right decision and is happy."
Since then, Mellencamp has gone on to date celebrity skin expert Jamie Sherrill (via Daily Mail) and realtor Natasha Barrett (via Page Six).