What We Know About Anne Heche's Ex-Husband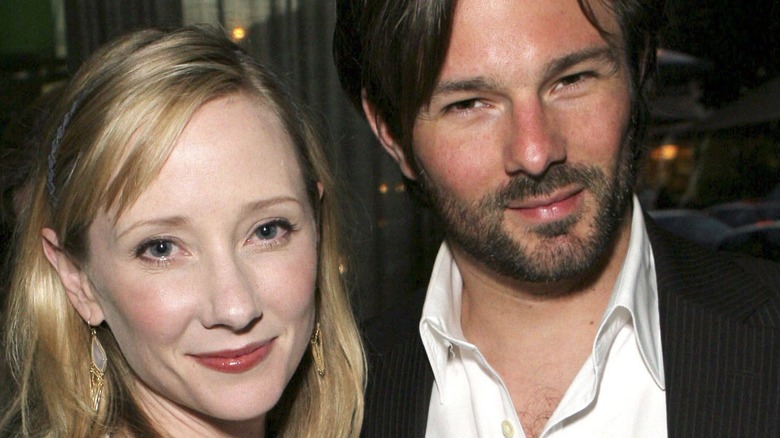 Chad Buchanan/Getty Images
Anne Heche was well-known for her extensive acting resumé, with starring roles in dramas like "Return to Paradise," and comedies such as "Six Days, Seven Nights," as well as stints on TV on "Hung" and "Men in Trees" (via IMDb). But her romantic relationships also stole headlines throughout her impressive Hollywood career.
Of course, Heche's most tabloid-worthy couple-up was with Ellen DeGeneres. The two stars dated from 1997 until 2000, with the Ohio-born actress claiming the funnywoman was controlling, which prompted her to move on. "I told Ellen that I needed to have friends, she said that she did not want a girlfriend that needed that, and that is the day I left," Heche said in 2021 (via U.K. Daily Record).
Despite her account of why the relationship unraveled, some reports claim that Heche broke up with the TV talk show host because she met someone else. That someone was a man who would later become the star's husband.
Just how the mom of two became acquainted with him is nothing short of scandalous.
Anne Heche and Coleman Laffoon loved hard and fought hard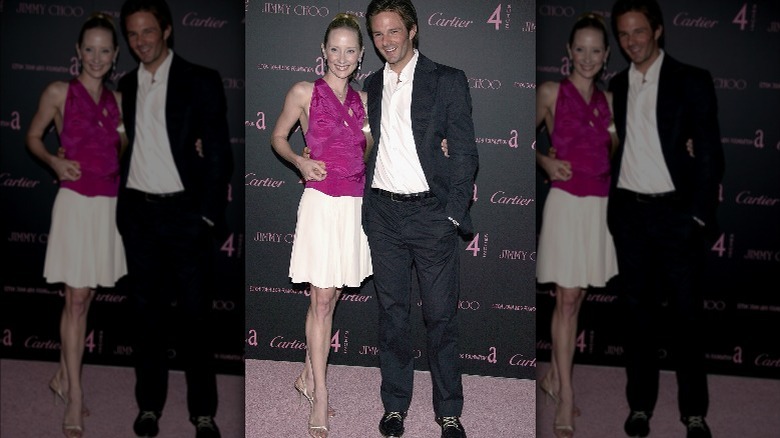 Frazer Harrison/Getty Images
According to Closer Weekly, Anne Heche was working on a documentary about her girlfriend, Ellen DeGeneres, when she crossed paths with cameraman Coleman Laffoon. It wasn't long before the star and cameraman, who like Heche hailed from Ohio, wed, with Page Six reporting they said "I do" in 2001.
Not much is known about their marriage, however the couple welcomed a son, Homer, in 2002. They stayed together for six years, finalizing their divorce in 2009. The reason for the split is as shocking as how the lovers allegedly got together.
It's alleged that Heche met someone else — James Tupper, with whom she would date for the next decade. The duo also had a son, Atlas, who was born in 2009 (via The Teal Mango).
Sadly, Amo Mama reported that Laffoon would go on to accuse his ex-wife of not being able to take care of Homer and demanded full custody and child and spousal support. TMZ reported that Laffoon and Heche ended up splitting custody of their son, although the cameraman, who later became a realtor, did win his bid to receive monetary assistance from the actress.
Although their split may have been contentious, it seems that's water in the bridge, with the "Dancing With the Stars" alum's ex having taken to Instagram with an expression of love for Heche following her tragic death in August of 2022.
Coleman Laffoon has remarried but remains committed to their son
Coleman Laffoon is now remarried, to fellow realtor Alexi, and the couple has three kids: Zoey, Emmylou and Wyatt (via The Teal Mango). While the family has stayed largely out of the spotlight, Anne Heche's ex is often on Instagram, sharing the adventures of his brood, which of course includes now 20-year-old Homer.
Following the passing of the Hollywood star and mom of his son, who incidentally never remarried after their union, Laffoon again turned to his social media to share his feelings about Heche. He posted a lengthy and emotional video expressing his feelings for his ex, saying in part, "One, I loved her and I miss her. And I'm always going to." Laffoon described Heche as loving and outspoken, with a fiery energy.
He also pledged to take care of their son, saying they were both going to be fine with each other's support.
Finally, the realtor shared a photo of Heche as a young and happy mom with Homer, writing, "It's important to remember the real love in the best times. Thank you Anne. Peace on your journey."