Why David Garrison Left Married... With Children In Season 4
For the first four seasons of "Married... with Children," the Bundy family constantly battled with their neighbors Steve and Marcy Rhoades. Well, kind of. Despite being Peggy's best friend, Marcy and Al shared a fair amount of tension due to her views on feminism and environmentalism. Thankfully for Al, he always considered Steve a buddy and would often find themselves in strange situations like playing a poker game in a bank vault.
Drama ensued in the middle of the fourth season when Steve left Marcy a note while she was at work to tell her he was leaving. After years of working at a bank — and losing that job — Steve decided to leave and move to Yosemite and become a forest park ranger. "He's rejected materialism and all the evils brought about by the quest for money," Marcy said. He also sued her for alimony, much to Al's pleasure.
But what caused this sudden departure from David Garrison, who played Steve in "Married... with Children"?
David Garrison missed the freedom of acting in theatre
David Garrison started his career on stage (via his official website), and the similarities between working in front of a live audience for a sitcom made him miss the theatre. "Doing a half-hour show on camera with a live studio audience is much closer to theatre work than doing single camera for television or film," he said in an interview with getTV. "As an actor, you have more control over pacing and delivery than you do when you're shooting out a sequence and piecing together scenes from various angles."
However, he also missed the freedom of being on stage. At the time, Garrison was also living in New York City and regularly had to make the six-hour flight to Los Angeles for filming. "I missed my life in Manhattan and my theatre career," he said. Garrison felt that after four seasons on "Married... with Children" as Steve, "it was time to exercise some other muscles." Garrison left the show "on good terms," and returned for several episodes as a guest star.
The actor has remained friends with some of his Married... with Children castmates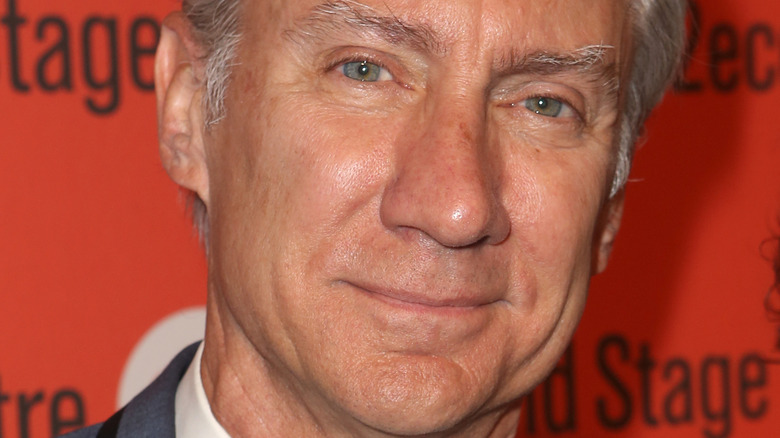 Walter Mcbride/Getty Images
After five or so years of focusing on stage work, David Garrison returned to the small screen by the turn of the millennium. You may have noticed him in episodes of "Sabrina the Teenage Witch," "The Practice," "NYPD Blue," "The West Wing," "Law & Order," "The Good Wife," and "Unbreakable Kimmy Schmidt" (via IMDb). As Garrison told getTV, some of the latter shows were filmed in New York, making it easier for him to work between stage and screen.
As for "Married... with Children," Garrison still has fond memories of his time on the show — and still remains in touch with some of his cast mates. "Amanda and I are still friends to this day," the actor told getTV. "She is a force of nature, and it's been a pleasure watching her expand her career into directing." He also loved working with Ed O'Neill. "I think Ed and I had good chemistry bouncing off each other as Al and Steve — a real odd couple."