The Heartbreaking Death Of Soap Opera Star Robyn Griggs
Following the news that "Another World" star Anne Heche died following a horrific car crash in Los Angeles, another alum from the soap, Robyn Griggs, passed away at age 49 following a long battle with cancer, according to Soap Hub. A friend announced her death on Griggs' official Facebook page. "With a heavy heart, I am saddened to announce Robyn's passing. However, she is no longer suffering and would want us to remember that and the good memories," the statement read.
Like Heche and her daytime television legacy, Griggs was also a force to be reckoned with in the soap opera world. In addition to her work on "Another World" as the character of Maggie Cory, Griggs also starred as Stephanie Hobart on "One Life to Live" for two years, per IMDb. And while she did have steady work throughout the course of her career, it was Griggs' cancer diagnosis in 2020 that changed her life forever.
Robyn Griggs fought until the very end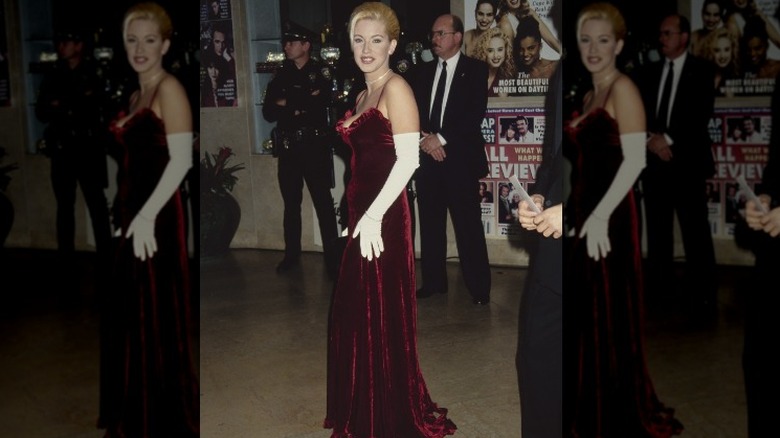 Michael Ochs Archives/Getty
In July 2022, Robyn Griggs took to her Facebook account to announce to her fans that she had been diagnosed with stage four Endocervical Adeno cancer. A month before her death, Griggs revealed that her doctors had found four tumors. "Two new tumors on my liver, one on abdominal muscle and a large one on right side lymph node," she wrote. 
Back in 2021, Griggs opened up about her initial diagnosis in an interview with Soap Opera Digest. "When the doctor left after giving me the news, I broke down, bawling. Now mind you, it's during the pandemic, so my husband isn't allowed in and everyone around me is wearing masks, so it's just frightening. My first thought was, 'I'm going to die.' It was just horrifying."
Despite the grim news, Griggs said that she was determined to fight her cancer head-on. She also said that her husband Mark was a stable force in her life at the time. She added, "It's been such an emotional roller coaster but he's been keeping me steady and that's true love. When I whined, 'I'm bald, I'm ugly, and I don't fit into anything because I'm overweight from steroids,' he said, 'Are you really that vain?' That's what I need to hear. I waited for the right one."