Love Island's Mady Reveals Why She Self-Eliminated And More - Exclusive Interview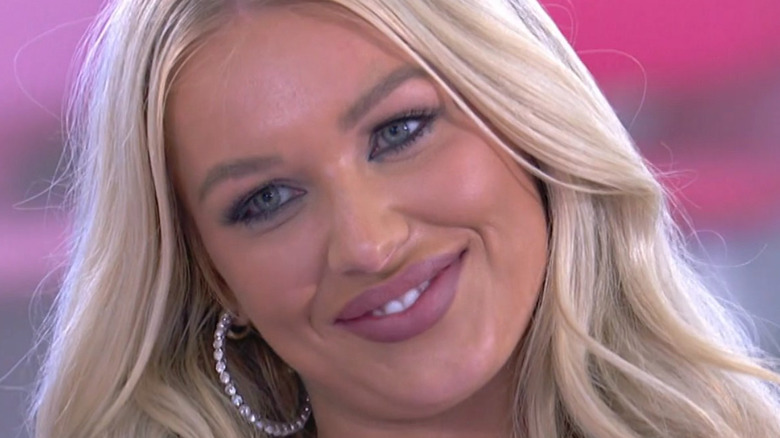 Peacock
When it comes to romance, passion, and following your heart, it can be a minefield trying to navigate the best course of action. So many of us know what it's like for our heads and our hearts to be at war with one another. While our logical brains are telling us that the person we're crushing over simply wouldn't be a good fit for us, our emotional, hopeless romantic side is trying to convince us that it could work out — crazier things have happened before! Either way, pursuing an intimate bond with someone is a bit of a gamble, and it does require a leap of faith. No one seems to know this better than Mady McLanahan, who left the television opportunity of a lifetime when she realized that her heart simply wasn't in it anymore.
Of course, we're talking about "Love Island," the hit show that brings hopeful (and gorgeous) singles together while shaking up the villa with eliminations and new arrivals. Mady was a standout as soon as she entered the villa, and it quickly became clear that Andy Voyen stole her heart. But like all good things, Andy's time on the show came to an end, and Mady was left to pursue relationships with the newcomers, despite her feelings toward Andy. But she simply couldn't put her heart on the back burner, and Mady chose to self-eliminate in a move that was selfless, romantic, and a standout moment on camera.
After her time on "Love Island" came to an end, we sat down with Mady for an exclusive interview to discuss everything that happened on the show, the pressures she was feeling from Chazz Bryant, and where things with Andy stand today.
Mady reveals what was going through her head when she self-eliminated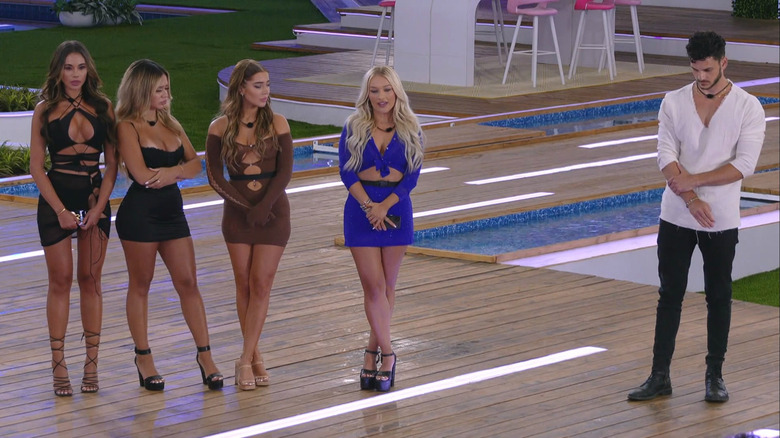 Peacock
Let's dive straight into the nitty-gritty — the elimination and your volunteering to leave. What was going on in your mind moments before that all happened?
That week had really been rough. I had been trying to stay positive and felt like because I was saved that there was a reason behind that, and that I still had a purpose in the villa. But as time went on, each day, I realized that I couldn't stop thinking about Andy [Voyen], and I knew in my heart it wasn't fair to the other islanders. When we had that surprise dumping and I knew a girl had to be picked to go home, I immediately knew in my heart. I was like, "This is what I'm supposed to do. It's time to end my journey."
I'm not 100% invested anymore since Andy wasn't there, so I knew it wouldn't have been fair for me to stick around and for someone else to go home if I knew that they were still 100%, and that they deserve to find that connection. Especially Nadjha [Day] and Kat [Gibson], because they had been there for three or four days, and I had been there for three weeks. I knew I had to follow my heart in that decision, and it was literally the best thing I've ever done, and I'm happy with everything and how it turned out. Watching the show now, I'm seeing that the people that did get to stick around are forming connections, so that makes me happy.
On social media, people are praising you wholeheartedly that you made a pretty selfless call in an environment where you could've stuck around if you'd really wanted to.
I appreciate the love and support, because I was thinking about everyone else. In the end, doing "Love Island," I was there to find someone and find a connection. I didn't care about the prize money; I didn't care about the clout. I really was there to find someone. I had been single for six years, so leaving my friends and family and making that sacrifice to do the show — I was legit there to find someone to form a connection [and] to hopefully have it outside of the villa as well.
Every time I was trying to form a connection with someone, I was asking, "Is this going to work outside of the villa?" Andy was literally the only one I ever saw it working outside with. When he left — I don't think it hit me until after he left — then I knew in my heart that I had to leave.
Mady dishes about Chazz, Jared, and the pressure she felt on the show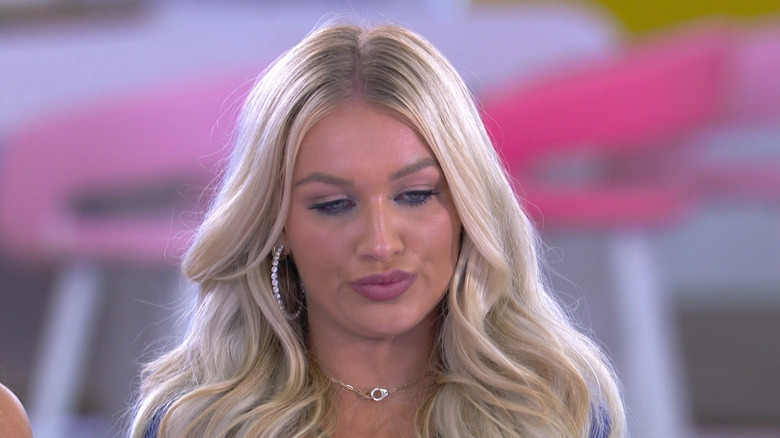 Peacock
I wanted to talk to you about feeling the pressure from Chazz [Bryant] to get serious with Jared [Hassim] so quickly. You expressed how ridiculous that was. Looking back on it, what's your reaction to those comments and the pressure that you were feeling?
I felt so much pressure that week because it felt unfair that a lot of people were comparing my relationship with Jared — that had just been formed in 48 hours — to their relationship with someone that they had [since] day one. That put a lot of pressure on me because I am someone who takes relationships and intimacy very seriously. For me to let my guard down after I had been hurt, and someone had just left the island that I had a connection with — [it was hard] to jump into having to let my walls down again.
It was so many emotions, and I was trying so hard to be positive. My girls were telling me, "You're handling this so well, you are being so positive." From day one, my experience wasn't easy — I was in a love square, then I was interested in Tyler [Radziszewski] and he went home. Then Andy and I were starting to like each other; I had told him that night that I liked him, and then he went home.
It was one thing after another, and I didn't feel like I could catch a break, so I was scared again to have another connection with someone. I did try — I tried very hard with Jared. But initially, I didn't see that working outside of the villa, so it was hard for me to want to continue if I didn't see a future with him.
What was it about Andy that drew Mady in?
Getting into your relationship with Andy, we got to talk to him this week. He told us that you checked off every single box he could've had. What was it about him that initially drew you in? Was there maybe something that we didn't see on camera?
Andy checked off all of my boxes. I normally don't go for people who are younger than me, but he carries himself so well. He's so mature. He knows what he wants to do with his life; he has goals, ambition, and a wonderful work ethic. Those qualities are important to me.
He pursued me, and that was from the get-go. I wanted someone who pursued me, made an effort, and he constantly was pulling me — making an effort, reminding me of how amazing I was. I haven't felt that way from a guy in so long. It was the effort and the consistency that he had shown me. I love men who are tall — he was a football player; I love football players.
He's close with his family and very family-oriented, and my family is super important to me. He checked off so many things as well. Honestly, from the get-go, I was like, "Yeah, I can definitely see a future with this person." I could tell Andy would help better me as a person and help motivate me to be better every single day. That's my main want in a relationship. Those were the things that I gravitated toward.
Have Mady and Andy reconnected since leaving the villa?
When we talked to [Andy Voyen] this past week, he did think there was a possibility of you rekindling something outside of the villa. Where do things stand — have you chatted? What's going on there?
We have chatted. We have each other's cell phone numbers now — exciting. We definitely are excited for the future. We are taking it one day at a time. Obviously, we are getting back into the reality of the real world, but we are trying to see each other next week.
What's the plan? What are the details? Tell me everything.
He's going to try and come to Oklahoma. I'm excited to see him and spend quality time with him. We're taking it one day at a time, but I'm very excited — we are in a very good place.
Great. I'm excited for you both.
Thank you.
Myself, the fans — everyone's rooting for you, so that's so exciting.
Yes, I'm very excited, and I love all the positive feedback that we've got. It means the world to me.
Mady reveals what's next for her professionally
Do you have any regrets from your time on the show?
Honestly, I don't have any regrets. I feel like I tried my hardest — maybe some of the viewers didn't get to see all of my conversations with everyone. But I really did. I put myself out there. In the real world, it used to be hard for me to text a guy first and ask him to hang out, and then I went on this show, and I was pulling guys for chats and telling them I was interested. That was big for me.
I'm really proud, and I learned so much about myself in that process. I met the most incredible people I've ever met in my whole life. I gained so many friendships. I formed a solid, genuine, pure connection with Andy. At the end of the day, I feel like I won. It was literally the best experience I've ever had, and I'm so glad I took that risk of doing "Love Island."
What's next for you professionally, personally? What's the path forward from here?
I've worked for my parents for their online store, so my next step is continuing with my work with my family and getting settled back into the swing of things. Maybe, hopefully, I can design some clothes for the store.
We better get you back out to California.
Yes, I would like to make the move to California eventually, so we'll see.
"Love Island" USA Season 4 drops new episodes Tuesdays through Sundays on NBC's Peacock, with recap episodes releasing on Saturdays.
This interview was edited for clarity.