Everything You Need To Know About The Glazed Lip Trend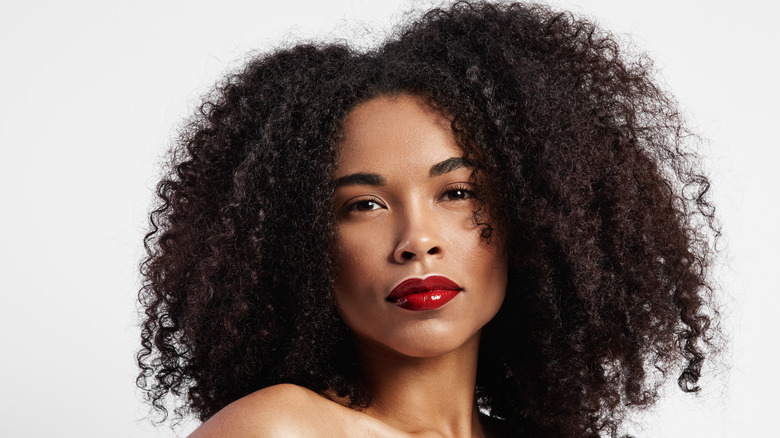 Beauty Stock/Shutterstock
If you haven't noticed, lip gloss is making a major comeback. The revival comes thanks to '90s nostalgia and a focus on natural, dewy skin. Plus, since mask mandates have eased (although masks are still recommended in many situations), many people are excited to experiment with the newest beauty trends, especially our lips, which have been covered on and off during the COVID-19 pandemic.
According to stylist Jalia Pettis, after years of self-care, our skin looks better than ever. "We spent the last two years in the house because of COVID, and this led people to be more focused on having healthy, glowing, and luminous skin versus packing on a ton of makeup," she explained to Essence.
Now that isn't to say matte lips are totally "out," because there's always a time and place for a sophisticated pop of color only matte lipsticks can provide. It's just that shiny lips feel a bit more relaxed, flirty, and current. After all, when one of the hottest trends evokes one of our favorite confections — glazed donuts — it's clear glazed lips are all about fun. 
Here's everything you need to know about the glazed lip trend and the best products to achieve the most delectable sheen.
Glazed lips are making a comeback
The glazed donut look is experiencing an all-around surge. Look no further than style and beauty icon Hailey Bieber to dub "glazed donut skin" the beauty trend of the year (via Glamour). Fans noted the model's clever Instagram caption under photos of her dewy, gleaming skin, reading: "glazed 🍩🍩 skin all 2022. Tell a friend." 
There's no doubt Bieber has some serious influence. The Peptide Lip Treatment from her new skincare line, Rhode, has made some major waves — that is, if you can get your hands on it. The waitlist-only formula nourishes, plumps, and glosses lips to a glazed perfection.
The beauty industry's top makeup artists have seen glazed lips reviving, too. As makeup artist Mali Thomas, explained to Vogue Arabia, "While clear, shiny gloss has a staying power all on its own, it has been featured with lip liner and glazed over lipsticks." 
References to the Y2K era in both fashion and beauty are going strong, and a glossed-up lip will complete any makeup look, day or night.
Our top picks for glazed lips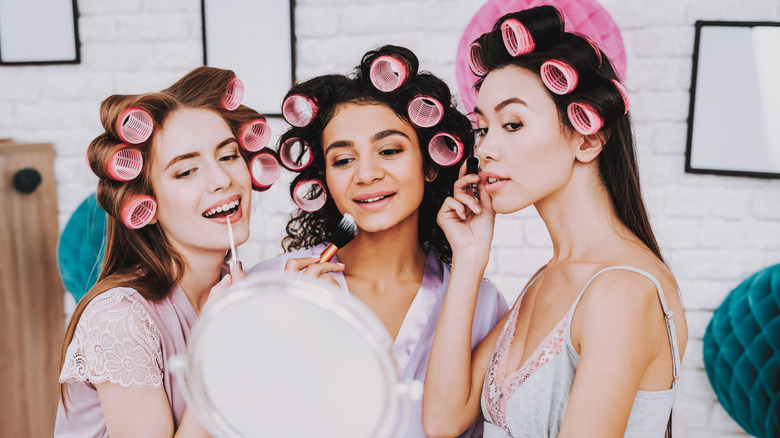 VGstockstudio/Shutterstock
Lip glosses have significantly improved since the sticky formulas of the '90s and early 2000s. Does a certain candy-colored tube that loved to leak in your purse ring a bell? You'll now find moisturizers and natural oils infused into the formulas to both nourish the lips and give a beautiful sheen.
Since you likely don't want to wait around for Hailey Bieber's lip glaze forever, we have a few other options for you. Our first pick comes from the cult-favorite brand, Glossier. Their best-selling clear lip gloss gives an iconic shine worn alone or over lip liner and lipstick.
Tinted lip oils are also having a moment, notes Vogue. They offer the same nourishing benefits as the face and body varieties like hydration and skin softening, plus an added high shine. InnBeauty Project is all about the glazed donut skin and lips, and their Glaze Lip Oil is no exception. The playful packaging and glossy finish will bring you back to middle school, but the clean formula and natural moisturizers elevate this lip gloss for your grown-up needs.
Our favorite for the perfect glazed lip is Lip Treat by Sunnies Face, which looks like a tinted balm but applies with an extra dose of shine, all without the glittery shimmer. This effect comes thanks to moisturizing shea butter, meadowfoam seed oil, and plumping collagen. The seven options for shades, including clear, are also wonderfully flattering.