There Are Strict Protocols For Flying Flags After The Queen's Death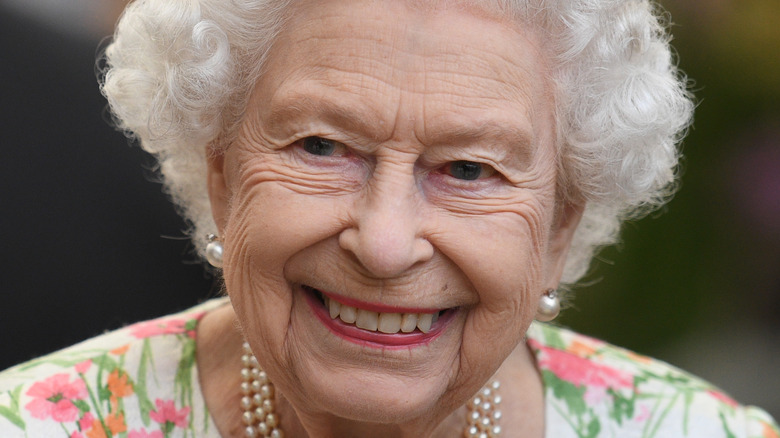 Wpa Pool/Getty Images
It's difficult to imagine the death of Queen Elizabeth II. The British grief over the queen's death will be historic. The longest-reigning monarch in British history is so important to the United Kingdom and the world. When the queen got COVID-19 in February, people worldwide held their breath (via Reuters). One of Elizabeth's subjects, Steven Stepanian, told Reuters, "She's an icon, she's an icon of the UK, she is an epitome of the UK in some ways, most people in the country have never known any monarch other than her."
The strict program put in place after the queen's death is part of the plan known as Operation London Bridge, according to Politico. The outlet reported the day of Queen Elizabeth II's death is called D-Day, and every day up to her funeral is called D+1, D+2, et cetera. Bells will toll upon the announcement of Queen Elizabeth's death, and while it is hard to imagine, there are strict protocols for flying flags after she dies.
Flags will be flown at half-mast in the United Kingdom after the queen's death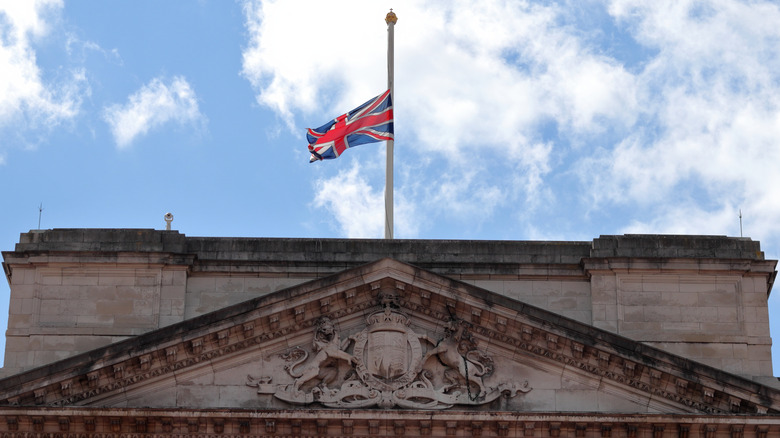 Devis M/Shutterstock
After Queen Elizabeth's death, there will be an email sent out from the cabinet secretary to all ministers and senior government officials, according to Politico. The email will read, "Dear colleagues, It is with sadness that I write to inform you of the death of Her Majesty The Queen." Upon getting this email, flags around Whitehall will be lower to half-mast as soon as possible.
Modern British history expert Nicoletta Gullace told Reader's Digest that the flag protocol should happen "within ten minutes of the notification of her death." Gullace added, "Behind the scenes, events will unfold with the clockwork precision of a military operation." Gullace indicated that all communications about the queen's death are strictly followed so that the flow of information is controlled inside the United Kingdom and then around the world. Trinity College Dublin director Gavin Hughes explained to Reader's Digest the flag protocol after the queen's death. "National flags will be immediately flown at half-mast on all government and civic buildings, such as churches and the Royal Palaces across England, Scotland, Wales, and Northern Ireland," Hughes told the outlet.
Given the rise of misinformation by hostile powers, it is very important to communicate the facts about the queen's death and follow the protocols.