Everything Hilary Duff Has Said About Her Body Positivity Journey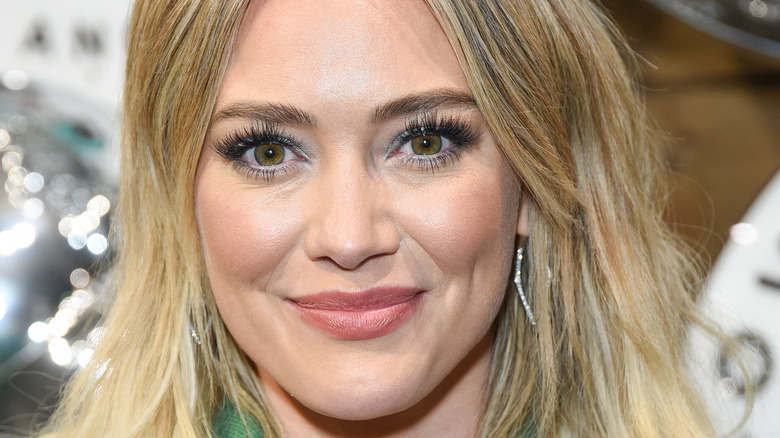 Presley Ann/Getty Images
Hilary Duff has spent most of her life in the spotlight after finding fame as the titular star of beloved Disney show "Lizzie McGuire" in her early teens. 
She's far removed from it now, but Duff feels really positively about "Lizzie McGuire," reasoning the show "made people feel good," in an interview with Bustle. Still, it took Duff a long time to accept being so closely associated with Lizzie, especially since growing up in front of the world wasn't always easy.
The "How I Met Your Father" star confirmed to Cosmopolitan that, if given the chance, she would be a child star again. However, "I wouldn't do it all exactly the same," she said. 
Duff is grateful for where her career is at now and couldn't imagine risking losing everything, but the actor wishes she had more of an education along the way. "I feel smart, but there's certain things that people talk about where it literally isn't in my brain because I didn't experience it," she said.
One of the toughest things for her to contend with is how the rest of the world views her — and how that impacts Duff's self-confidence. It's been a long road to body positivity, but, just like refusing to look back on her Disney beginnings with anything but gratitude, the "Lizzie McGuire" star is glad of the journey above all else. 
The former Disney star is proud of how far she's come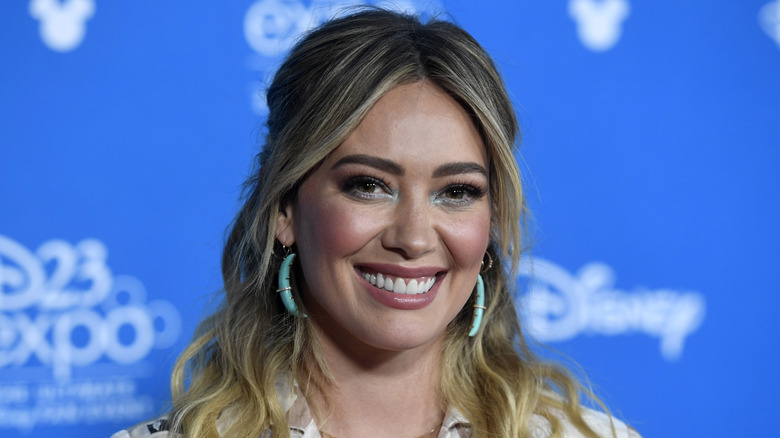 Frazer Harrison/Getty Images
It's worth noting that Hilary Duff was just 11 years old when she burst onto the scene back in 1998. Within just a few short years, Duff was fronting her own Disney show, and she still vividly remembers how it felt to be put under the microscope because of her looks. 
As Duff told Women's Health, there was major pressure to be skinny, which even led to her briefly developing an eating disorder. "It was horrifying. Because of my career path, I can't help but be like, 'I am on camera and actresses are skinny,'" Duff acknowledged. 
Thankfully, nowadays, after giving birth to three healthy children, Duff can take pride in her appearance and appreciate her body for everything it's given her. "I've gotten to a place of being peaceful with the changes my body has gone through," she noted.
The Disney alum regularly sees a therapist, too, arguing that physical and mental health go hand in hand. Duff even confidently posed nude for the cover of Women's Health. It was a terrifying moment for her, but the former child star is glad she did it, admitting to ET, "I'm not that person that cruises around my house naked, ever." 
Thankfully, as Duff noted while sharing the shots on Instagram, posing nude ultimately made her feel "strong and beautiful."
Being a mom keeps Hilary Duff grounded in who she is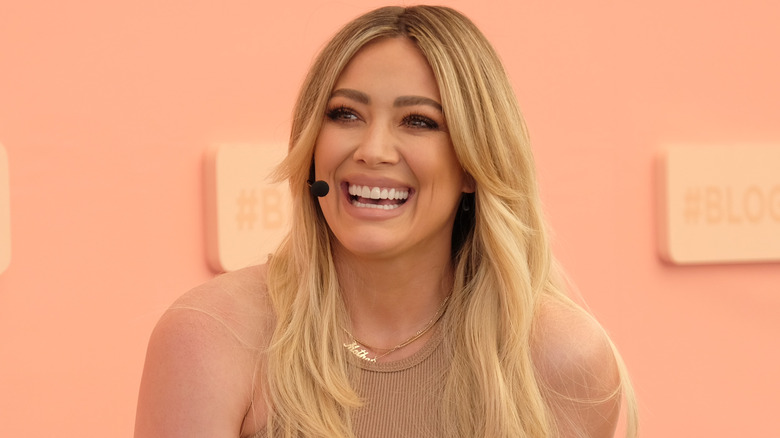 Sarah Morris/Getty Images
Growing up famous was tough, and the influx of social media accentuated everything tenfold. When it comes to grounding herself, Hilary Duff starts at home. "I think becoming a mother really helped me carve out what I really care about and being at peace with who I am, and that really is the ultimate for me. [It's] just like, 'Who I am under this roof [at home]?' That role is the most important role to me," she explained to Harper's Bazaar.
Duff reiterated the importance of therapy, acknowledging how easy it is to fall into the trap of believing what she reads and hears about herself online and in the tabloids. "It's really a lot of pressure, and I think letting go and just not caring, not reading and knowing that it's not real, and that probably next week something else is going to come and replace it, and then it's forgotten about," she shared.
"I just try to hang onto what's real in my household, in my world, and that's been the easiest way to become a full person," she said. The negativity still gets to her sometimes, though, with the actor telling Bustle that it's tough seeing older photos of herself shared online for people to judge. "You're like, 'Let's dig up photos of you when you were 16 or 17 or when you were eating 500 calories a day," she noted.
If you are struggling with an eating disorder, or know someone who is, help is available. Visit the National Eating Disorders Association website or contact NEDA's Live Helpline at 1-800-931-2237. You can also receive 24/7 Crisis Support via text (send NEDA to 741-741).