Here's How Buy Buy Baby Foot Traffic Is Remaining Consistent Post-COVID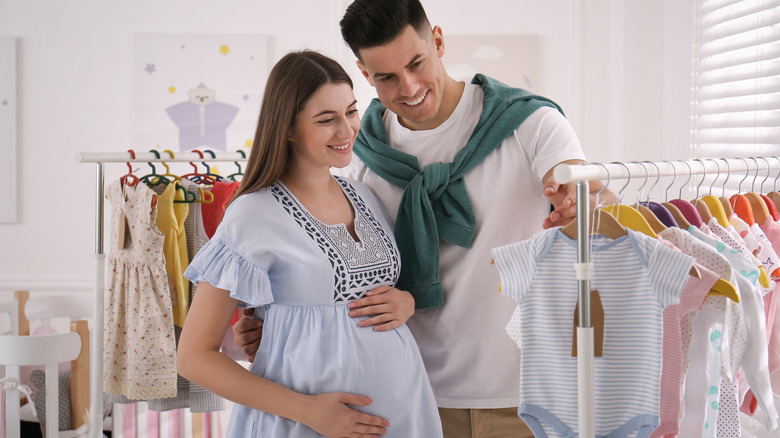 New Africa/Shutterstock
From high-tech strollers to adorable onesies and every color burping cloth you can imagine, Buy Buy Baby has everything a new parent needs to care for their bundle of joy. Buy Buy Baby was established in 1996 as a way to "simplify things and give parents the honest low-down, so they can embrace parenting confidently and shop worry-free" (via Buy Buy Baby). Parents can create a quick and easy Buy Buy Baby registry that allows their loved ones to shower the expanding family with gadgets and gizmos that hopefully help them get just a few hours of sleep each night. According to Money Inc, Buy Buy Baby has been extremely successful since it was acquired by Bed Bath and Beyond in 2007, creating a unique and enjoyable environment that caters to its "expecting" clients' needs as they prepare for their newest edition.
But how did the retailer that relies on in-person connection and easy shopper experience handle the COVID-19 closure? The List created a graph via Data Herald that tracked monthly foot traffic trends at Buy Buy Baby over the past two years. The data could indicate long-term trouble for the retailer if post-COVID trends continue to affect birth rates.
Did COVID cause a baby boom?
The List's graph illustrates a significant drop in Buy Buy Baby foot traffic beginning in March of 2020, with recovery the following June. Since its reopening, the retailer has seen a steady stream of visitors, but the average monthly visitor count dropped from approximately 6,000 to approximately 4,500. This significant drop in averages is surprising, especially because University of Michigan researchers predicted a pandemic baby boom. Contrary to researchers' predictions, there seemed to be a 2021 baby bust instead of a baby boom.
A study conducted by Italian professor Arnstein Aassve per Scientific American found that the United States was amongst countries with "statistically significant declines in birth rates in the final months of 2020 and first months of 2021, compared with the same period in previous years." Birth rates were slightly lower nine months after the COVID-19 lockdown began, as many continued to navigate unsure waters regarding their safety. Lack of childcare, economic uncertainty, and drastic policy changes regarding women's health may also play a factor in low birth rates — and could be causing the shift in monthly visitor averages to baby stores. But experts believe that the COVID-19 baby bust will be short-lived, predicting that families will stabilize and focus on family planning in the years to come (via National Academies).
Lucky for retailers like Buy Buy Baby, there will always be a need for products that keep little ones happy, healthy, and adorably dressed.