The Strange And Twisted Story Behind Rachel's Conception On Days Of Our Lives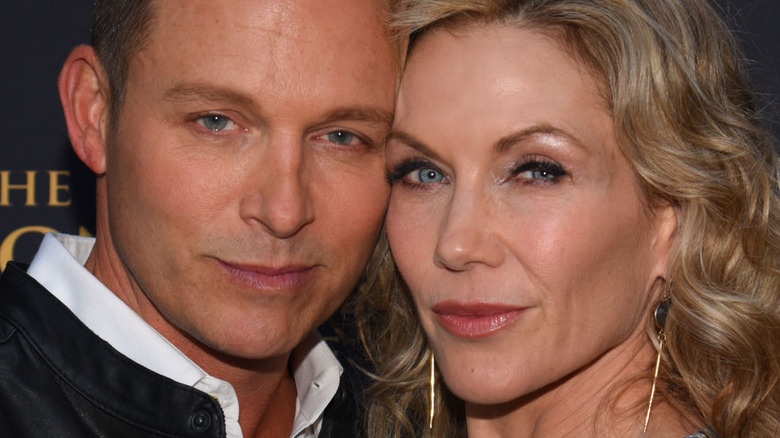 Michael Mattes/Shutterstock
Kristen DiMera is one of the most dramatic and entertaining characters in "Days of Our Lives" history. Kristen definitely knows how to cause chaos wherever she goes and often brings many Salemites along for the ride. Kristen first arrived in Salem in 1993 with actress Eileen Davidson in the role. Kristen formed a strong bond with villain Stefano DiMera, who later adopted her and her brother, Peter Blake. She met John Black (Drake Hogestyn) and fell in love. The two nearly tied the knot, but Kristen's scheming prevented the pair from ever solidifying their bond. Eventually, Kristen left Salem and wasn't seen or heard from for years (via Soap Central).
Eventually, Stefano convinced Kristen to return to Salem and when she did she brought the drama back with her. Kristen hired a mugger to attack Brady Black and then pretended to save him. Kristen and Brady fell in love and John plotted to break them up. The plan didn't work and Kristen and Brady became engaged. However, when Brady learned the truth about his mugging, he called off the nuptials and Kristen left town, per Soaps in Depth.
Although the pair split up, Kristen never forgot her love for Brady, and her devious actions often showed it.
Kristen always wanted to have Brady's child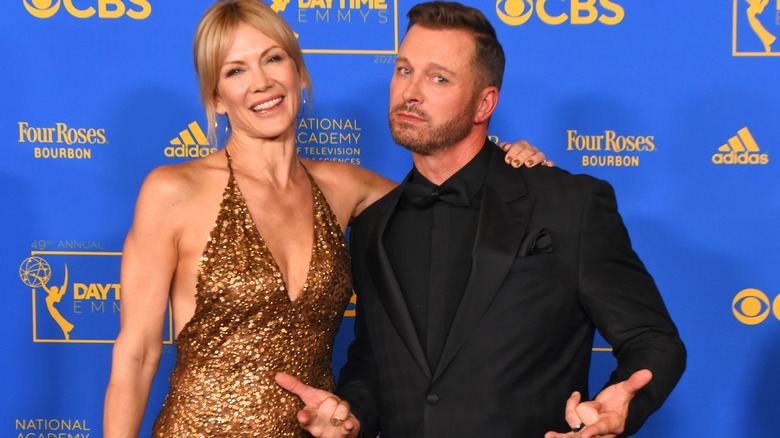 Michael Mattes/Shutterstock
Later, "Days of Our Lives" fans were stunned when Kristen DiMera sought revenge on Brady Black (Eric Martsolf) and his family by drugging Eric Brady (Greg Vaughan) and taking advantage of him. Because Eric was a priest at the time, the assault was an even bigger scandal and eventually led him to leave the priesthood (via Soap Central).
When Kristen came home to Salem again she did the unthinkable. She found out that Brady had fallen in love with Theresa Donovan (Jen Lilley) and she wasn't happy about it. After Kristen learned that Theresa was pregnant before anyone else and stole the embryo from her and had it transplanted into her own body. Kristen left Salem and took off to Europe, this time carrying Theresa and Brady's child.
Theresa insisted that she was once pregnant with Brady's child, and eventually began having flashes of memory to support her claims. Meanwhile, Kristen had given birth to Theresa and Brady's baby, a boy she named Christopher, per Soaps in Depth. Eventually, Brady and his then-girlfriend, Melanie Jonas, were compelled to find Kristen in Europe after Theresa went missing. It was there that Brady and Theresa were reunited with their son, whom they later renamed Tate.
This wasn't the last time that Kristen would end up carrying Brady's child.
Kristen got pregnant while impersonating Nicole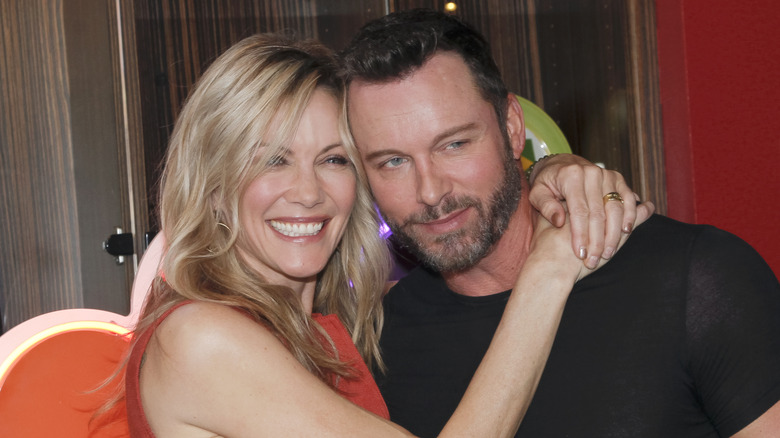 Tibrina Hobson/Getty Images
"Days of Our Lives" recast the role of Kristen DiMera with actress Stacy Haiduk in 2018, and although Kristen had a new face she still carried her obsession with Brady Black, per Soaps in Depth. Viewers were on the edge of their seats as they watched Kristen use an elaborate mask to impersonate Nicole Walker (Arianne Zucker). During this time, Kristen used her disguise to get close to Brady and even got intimate with her former boyfriend when he believed her to be Nicole. Of course, Kristen's devious plan was discovered and Brady was shocked to learn that she had been masquerading as Nicole.
Kristen then moved on to her next plot, with was to steal Sarah Horton's embryo, just like she did with Theresa Donovan. However, Dr. Rolf told Kristen that he couldn't do that because she was already pregnant with Brady's child (via Soap Dirt).
Brady and Kristen ended up back together after bonding over the pregnancy. However, they were told that their child had died at birth. Kristen fell into hysterical grief over the loss, but over a year later it was revealed that her daughter, Rachel Black, had been switched at birth with Sarah's daughter, Mackenzie Horton, per TV Insider. Rachel was eventually reunited with Kristen and Brady during a sweet moment.
Although Kristen and Brady have had an on-again, off-again romance through the years, fans will likely never forget the strange and twisted way their daughter Rachel was conceived.