How A Simple General Hospital Photoshoot Sent Vanna Fans Into A Tizzy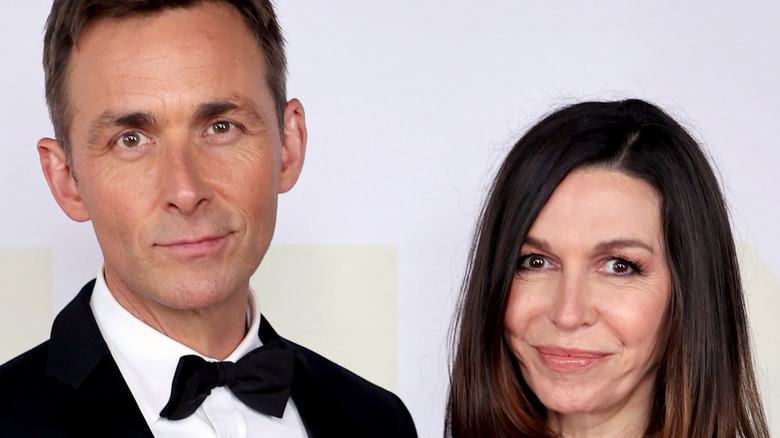 Kevin Winter/Getty Images
There are certain couples in the world of daytime television that elicit intense fan reaction more than others. One of those pairings that always sparks conversation is that of Valentin Cassadine (James Patrick Stuart) and Anna Devane (Finola Hughes). For much of their time on-screen together, they lingered in the frenemy role. They have a long history together, but for the longest time, they didn't teeter into the category of romantic partners. However, all of that changed when they kissed for the first time in 2021 (via Soap Dirt). They're currently navigating what being a couple looks like, but there are secrets and lies threatening to unravel the romance before it progresses too far.
Since learning his daughter with Brook Lynn Quartermaine (Amanda Setton) is not biologically his, Valentin has been on a downward spiral of self-destruction (via Soaps.com). Despite making many efforts to change his bad guy ways in recent years, he's falling back into old habits. Recently, he attempted to poison Mayor Laura Collins (Genie Francis) on behalf of his father, Victor Cassadine (Charles Shaughnessy). However, at the last moment, Valentin reconsidered and prevented Laura from drinking the spiked beverage (via Daytime Confidential). Anna has suspected her flame of sneaky behavior and has dug into his recent happenings. Their future is looking a lot like Anna and Valentin's past. 
However, even though things between the pair are tense on-camera, that doesn't seem to equate to their real life. A recent behind-the-scenes photoshoot shows the chemistry between Anna and Valentin is alive and well.
Valentin and Anna's photoshoot leaves fans wanting more from General Hospital couple
Finola Hughes (Anna Devane) recently posted a behind-the-scenes video to her Instagram featuring her and James Patrick Stuart (Valentin Cassadine) getting glam. It was a fan treat for viewers, showing them what it's like to work with Finola. The video shows the two laughing and dancing in their full hair and makeup. It didn't take long before the fan reaction flooded social media across both Instagram and Twitter. Viewers are going wild for the pair of Valentin and Anna, and it's clear they want to see more from them on "General Hospital."
One fan in Hughes' Instagram comments wrote, "Two of my absolute favorites on GH! You both look AMAZING!!" Another viewer expressed their excitement for things to progress for Valentin and Anna, saying, "I CAN'T wait for the romance between you two to heat up. Waiting patiently." Another fan referenced Twitter's reaction to the post, writing, "Twitter was in a titter frenzy last night when these STUNSATIONAL pics became available! You guys are so charismatic and simply drop mother egging GORGEOUS."