The Best Ways To Style That Perfect Pair Of Pumps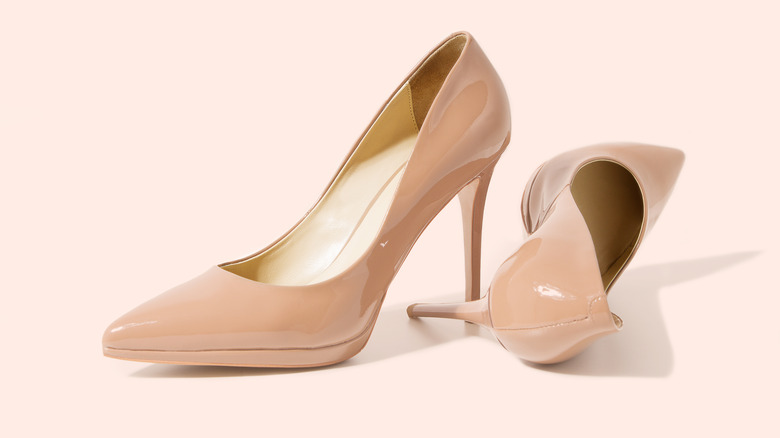 Zhur_Sa/Shutterstock
The beauty of pumps is their versatility and wearability. Available in so many shades, designs, and styles, this iconic footwear has the potential to work with so many different outfits. Although fashion is known for its ever-changing trends, Who Wear What argues that the pump is a piece of fashion that will never go out of style. Because they are so versatile and pair well with many different styles and outfits, it's clear why the pump withstands the test of time.
If you're wondering what sets pumps apart from other types of heels, their chunkier heel provides more stability while walking (per Difference Between). That stability allows pumps to be less straining than other pairs of high heels while staying just as fashionable. If you've just purchased the perfect pair of pumps or have been daydreaming about the pair that's sitting in your closet, there are ways to best style them. 
Pumps can be styled professionally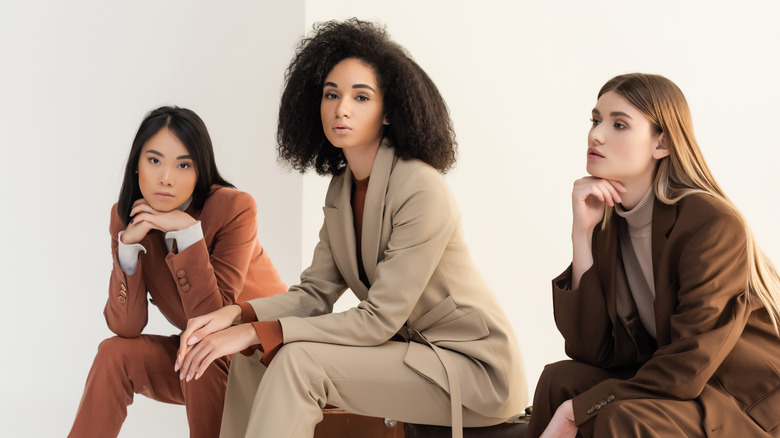 LightField Studios/Shutterstock
Whether it suits your everyday aesthetic or if you're planning an outfit for work, pumps are perfectly suited for business casual looks.
According to PopSugar, the business casual look allows for you to make more inspired fashion choices while maintaining professionalism that is best suited for the workplace. While standards for workwear can vary depending on your position, Stylishly Me describes the aesthetic as a mixture of traditionally professional pieces, like slacks and blazers, with more casual, everyday pieces you'd wear while hanging out with friends.
Because of this, a pair of pumps lends itself greatly to professional styling. If your pumps have animal print or are brightly colored, pair them with neutrally colored slacks and a coordinated blouse to highlight their pattern or color. More basic pumps, like beige or black, can balance more standout pieces and go perfectly with plaid pants or patterned blouses.
If you're looking to style your business casual look after a celebrity, check out outfits from Meghan Markle, who is frequently spotted in pumps. As featured on Suggest, Kate Middleton has also conquered the business casual look, as demonstrated by her show-stealing pink ensemble. Not only do these outfit options ensure you'll look great, but they are also comfortable and workplace ready.
Pumps are perfect for nights on the town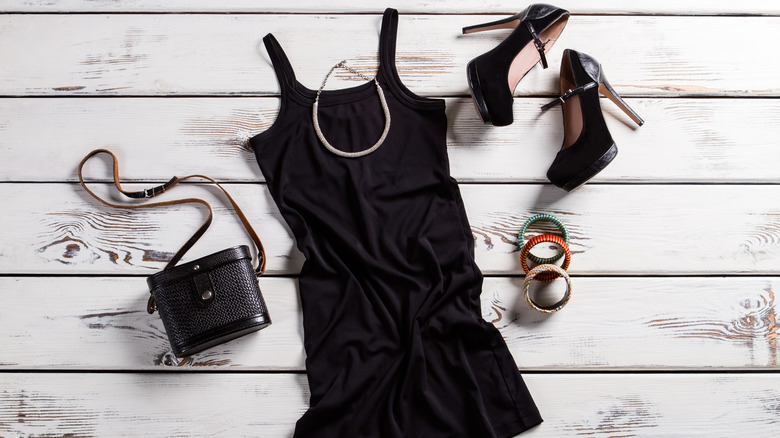 DenisProduction.com/Shutterstock
Another great way to style your favorite pumps is by pairing them with a bold night out look. Depending on where you're going, your fashion for a night on the town will vary greatly, but pumps are almost always a solid addition to any evening look.
As mentioned by Love Your Dress, the "little black dress" is a wardrobe staple that is perfect for going out with your best friends. Adding your perfect pair of pumps to this classic look and accessorizing with your favorite jewelry is a great way to style your heels. Many celebrities have conquered this combination, but we think model Josephine Skriver wore it especially well (via Pinterest).
The metallic look is also a trendy night out option, as mentioned by Harper's Bazaar, which highlights content creator Coco Cuenco's shiny look as inspiration. A black pair of pumps would work especially well with such an outfit, as the neutral color would highlight the shine of your statement piece, and it doesn't take much other accessorizing.
If you're wanting a more casual night out look for your pumps, turn to Kendall Jenner for inspiration, as the star has worn several pump-centered looks fitting for a night on the town. One such look, which is featured on Style Bistro, included high-waisted leather pants, a crop top, and a bright pair of green pumps. Accessorizing the outfit with a sheer, fitted jacket and black sunglasses really brought the look together.