What Not To Say When You Are Buying A House
Studio Romantic/Shutterstock
The housing market sure isn't what it used to be. Between wildly priced houses, high mortgage rates, and an overall supply shortage in many areas, things aren't easy for homebuyers. According to The Wall Street Journal, the ability to afford a house hasn't been this dire since 1989. 
When you do find a house in your price range, you must be ready to compete with other buyers. An initial open house will often have several buyers ready — and possibly, a few willing to make offers to get on the seller's good side. Recently, houses on the market have sold within hours, with potential buyers offering $10-20K or more in order to not lose the house, per Bankrate.
All the stress of today's housing market coupled with the pressure to find and afford your dream home can put anyone's nerves on edge. When doing a walk-through, you want to make a good impression on the seller and the real estate agent — but if you're nervous, it's easy for homebuyers to make mistakes. Here's what you shouldn't say when buying a home.
Keep these comments to yourself when buying a home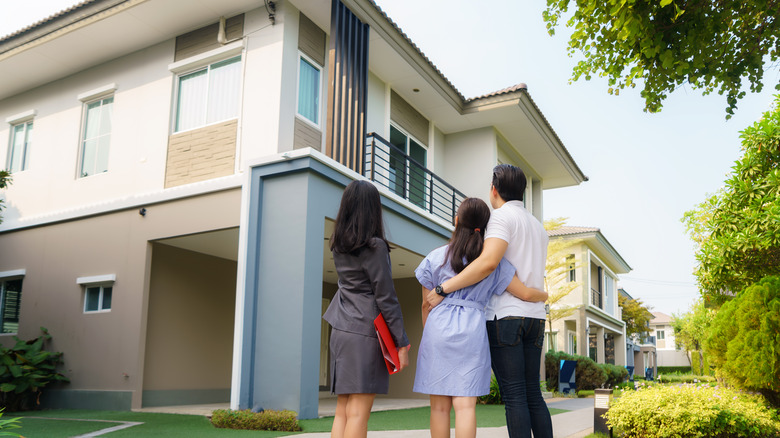 Travelpixs/Shutterstock
Just as there are certain terms sellers should avoid in their house listings, homebuyers need to be aware of the words they choose when speaking to the seller and their agent. First of all, don't say too much. You don't want to show all your cards up front. If you adore the house and your eyes light up the second you walk in, do not express that, according to Property 24. Leave the agent and the seller guessing your level of interest so they don't try to negotiate a higher price.
"These are the kind of things that can help the sellers snag more money out of the buyers because they really know how much this house means to them," real estate agent Ryan Gibbon advises, via Realtor.com. "All discussions about the house and any negotiating strategies are best left in private."
Similarly, realtor Maryjo Shockley says, per Realtor.com, "A prospective home buyer should never address with a seller or seller's agent anything concerning their financing or ability to pay a full-price offer." Shockley encourages homebuyers to respond only when asked, and to say something to the effect of: "Finding a fairly priced home is what matters to us more than the amount we can afford." 
Refrain from getting personal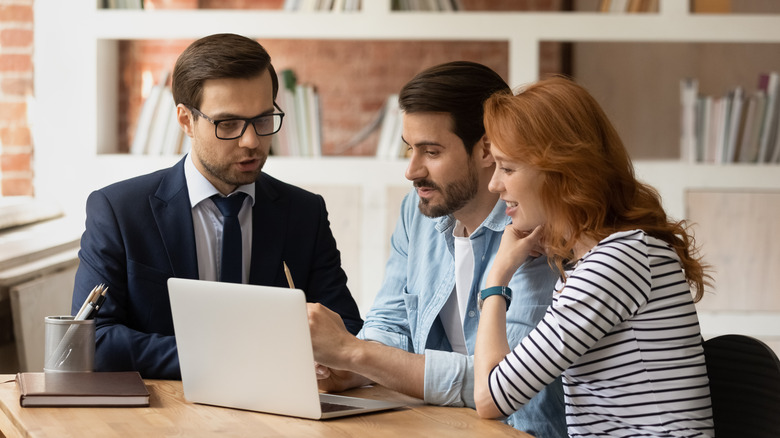 fizkes/Shutterstock
Stick to business talk with the seller and the agent. This means that while you can compliment their home and decor, keep it minimal and friendly, per Garden State Home Loans. Under no circumstances should you say you want to get rid of that horrible wallpaper or you could never have a couch like that in that space. You never know what people hold near and dear to their hearts. Plus, as any "Seinfeld" fan will tell you, a seemingly small offense could make or break a business deal.
Additionally, keep all your financial information private, according to The Preferred Realty. The only thing the real estate agent needs to know is how much your lender has approved you for, not what you think you can afford. If your credit is not great, you'll want to keep that information to yourself. Sellers and agents also don't need to know if you're getting a divorce, how much money you make, what's in your bank accounts, or if you've changed jobs.
In the end, you want to come off as stable and level-headed, pleasant and friendly, and interested just enough.