Rudy Giuliani's Latest Election Entanglement Confirms What We Suspected All Along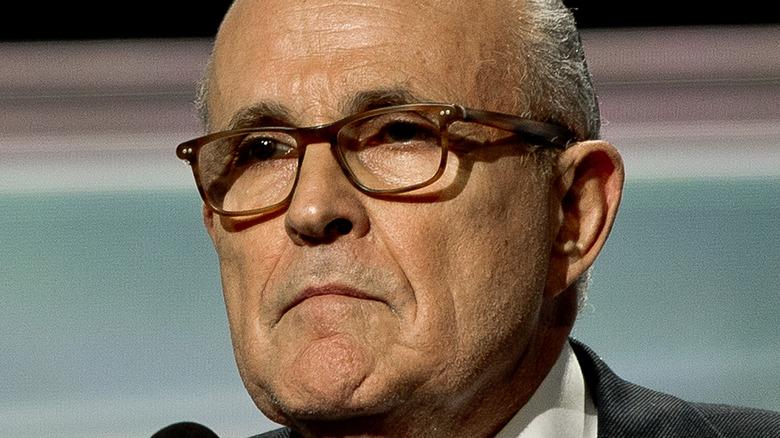 mark reinstein/Shutterstock
Since losing the last presidential election, Donald Trump has been in hot water for claiming the election was rigged, and for allegedly inciting violence at the Capitol on January 6, 2021. More recently, Trump's Mar-a-Lago home was raided by FBI officials searching for classified documents that may have been unlawfully removed from the White House. Agents walked away with 11 sets of materials, some of which were marked as top-secret documents, according to CNN. Trump also faced prosecutors in New York last Wednesday in a deposition regarding evidence that he may have falsified the value of his assets (via AP News). And for months, the former president has been at the center of investigations by the Justice Department and a House committee into his attempts to overturn the election and impede the peaceful transfer of power (via CNN).
Given Trump's legal issues, it's no surprise that some of his closest allies have also landed themselves in the criminal crossfires, including White House adviser Peter Navarro and chief strategist Steve Bannon, who were both indicted following the Capitol riot, per BBC. Now, Trump's former personal lawyer, Rudy Giuliani, is being investigated — and could be next in line to face criminal charges.
Rudy Giuliani has been identified as a target in Georgia investigations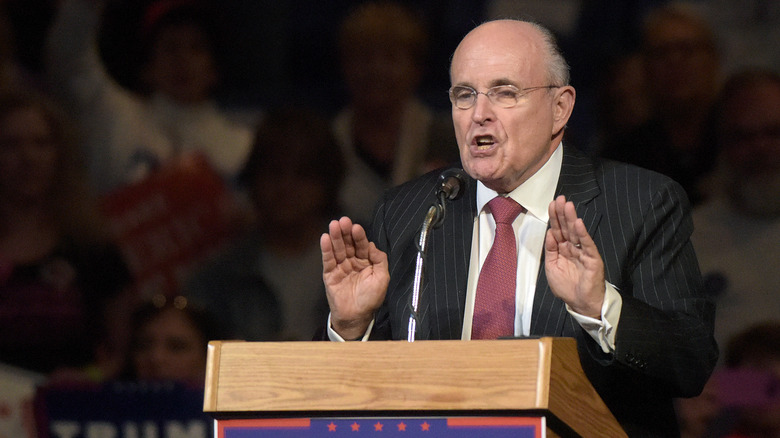 Matt Smith Photographer/Shutterstock
Donald Trump leaned on Rudy Giuliani throughout his presidency, and, despite their somewhat rocky relationship, Giuliani has continued to support the former president ever since, per The New York Times. However, Georgia prosecutors are now investigating if Giuliani's loyalty to Trump runs as deep as committing crimes in his favor. The New York Times reports that Giuliani was told on Monday, August 15, that he's now a target in an investigation on attempts to overturn the 2020 presidential election in Georgia. 
Giuliani discussed the investigations on "The Rudy Giuliani Show" podcast, saying, "I appeared in Georgia as an attorney for Donald J. Trump, so I'm going to be prosecuted for what I did as an attorney." He went on to speculate that he may be indicted because Atlanta is a "Democratic dictatorship" that targets Republicans like himself.
However, Georgia prosecutors haven't focused on Giuliani's political party, but rather on his involvement in attempting to alter election results. Previously, he claimed that "suitcases" full of fake ballots were counted in Atlanta and that Georgia voting systems were rigged — claims that have since been debunked (via USA Today).
Now as a bonafide target, Giuliani may be more likely to face indictment as prosecutors continue gathering evidence. The former Trump attorney is set to appear before a special grand jury in Atlanta on Wednesday, August 17.