Who Are Liam And Wyatt's Mothers On The Bold And The Beautiful?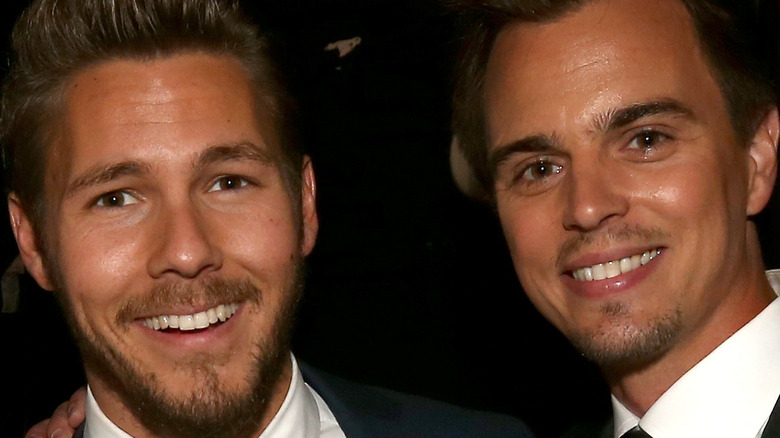 Christopher Polk/Getty Images
On "The Bold and the Beautiful," the Spencer brothers are probably best known for their continuous competition over women, particularly Hope Logan and Steffy Forrester, which played no small part in their feud. Liam, played by soap vet Scott Clifton, showed up in the soap's fictional version of Los Angeles in 2010 searching for his biological father (via Soaps in Depth). Though several of the show's leading men revealed themselves as potential fathers for Liam, money-hungry businessman Bill Spencer Jr. (Don Diamont) ended up being the lucky winner. Though the pair didn't initially get along, the father-son duo eventually formed a relationship, even if it's occasionally disrupted by Bill's uncanny ability to get himself into trouble.
In 2013, a wrench was thrown into Liam and Bill's relationship when a new family member showed up in town. Wyatt, played by Darin Brooks, came to Los Angeles with his mother and immediately clashed with Liam because of his interest in Hope (then Kim Matula). With the help of Hope's meddling, Wyatt soon discovered that he is also the son of Bill Spencer and that Liam is his half-brother — a shock since Wyatt had been told his father was dead for his entire life (via Soap Central). It became nearly impossible for Liam and Wyatt to forge a brotherly connection due to constant interference in their love lives, only strengthening their rivalry. However, both men felt secure enough in their relationship with "Dollar Bill" to take on the Spencer name and follow their ruthless father into the family business. 
But who, exactly, gave birth to these two very different Spencer men?
Kelly Hopkins died before her son Liam came to town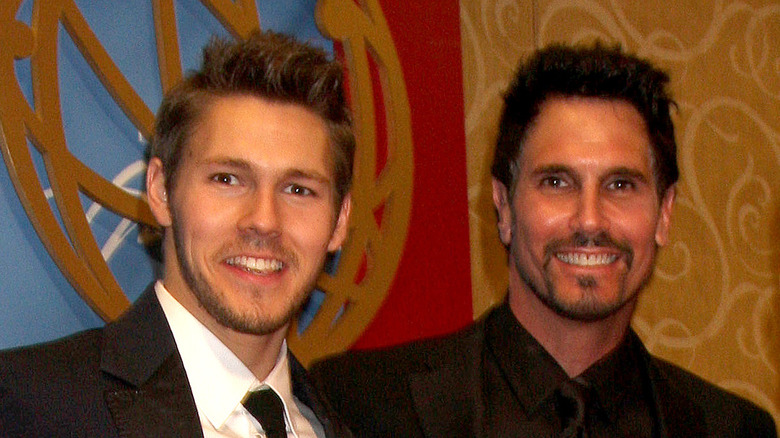 Kathy Hutchins/Shutterstock
When Liam Spencer first arrived in Los Angeles, his name was actually Liam Cooper. He had recently graduated from college and following the tragic death of his mother, began the search for his biological father whom he had little information about (via SoapCentral). Liam's late mother, Kelly Hopkins, had been working as a model when Liam was conceived and all he knew was that his father worked at Forrester Creations. Liam got himself a job in the IT department at the company while he tried to suss out who his dad might be. Initially, he believed Ridge Forrester (then Ron Moss) to be him but soon discovered that Kelly had relationships with both Bill Spencer Jr. and Thorne Forrester and that one of them was his father. Liam formed a strong bond with Thorne while the trio waited for the results of a DNA test and was somewhat disappointed when the results showed he was Bill's son.
Since Kelly died before Liam's arrival in Los Angeles, she has only been seen in photographs on "The Bold and the Beautiful" and there is little known about her life aside from the few facts that Liam has shared. However, when Liam and Steffy Forrester (Jacqueline MacInnes Wood) had a daughter together in 2018, they made the heartwarming choice to name their baby Kelly after Liam's mother (via Soaps).
Quinn Fuller briefly reconciled with her baby daddy Bill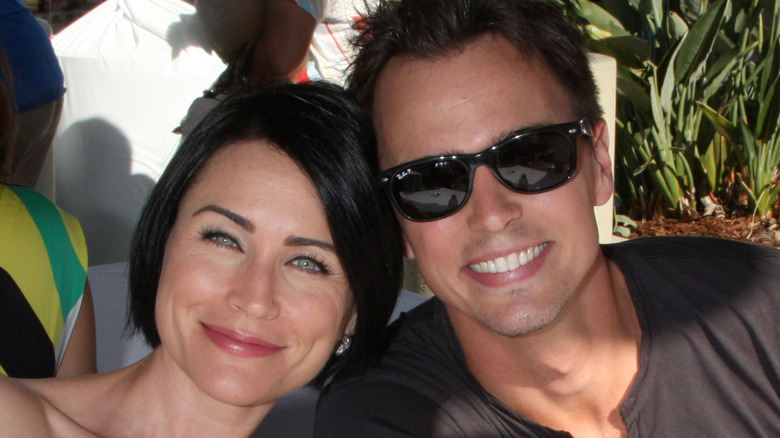 Kathy Hutchins/Shutterstock
Wyatt Spencer's mother has become a fixture on "The Bold and the Beautiful" since the pair arrived in town in 2013.  The son of jewelry designer Quinn Fuller (Rena Sofer), Wyatt was raised by his single mother in Las Vegas and believed that his father was dead (via Soap Central). After coming to Los Angeles, Hope Logan made the connection between Quinn's jewelry designs and the matching sword necklaces worn by Bill and Liam Spencer. When Wyatt discovered that Bill was in fact his biological father, he was furious with his mother for lying to him. However, they were able to reconcile when Quinn explained that she'd withheld the truth because she didn't want her son to know that she'd had an affair as a teenager and that Bill had offered her money for an abortion when she discovered she was pregnant.
Though there was plenty of animosity between Quinn and Bill after her return to LA, particularly because she accused him of favoring Liam over Wyatt, they did briefly reconcile romantically, per Soaps in Depth. Quinn decided that she still had feelings for her baby daddy and seduced him before using evidence of their tryst as a way to break up his engagement with Brooke Logan (Katherine Kelly Lang). Needless to say, their reunion was short-lived. Bill moved on with Katie Logan (Heather Tom) and Quinn moved on to several other men — including Liam Spencer!