The Secret Behind Dream Home Makeover's Shea McGee's Fanciful Emmys Look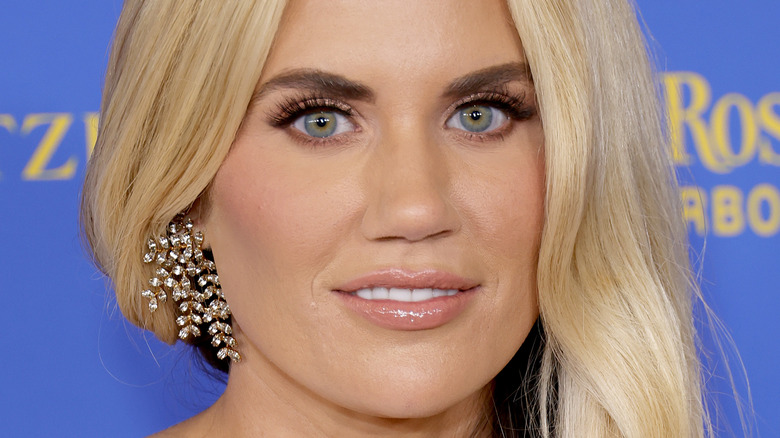 Frazer Harrison/Getty Images
Fans of Netflix's "Dream Home Makeover" are used to seeing design guru Shea McGee dressed down in jeans and sweaters as she plans room and entire home overhauls. Indeed, the reality star is not afraid to get down and dirty, helping to move furniture and of course, personally arranging each and every pillow to be found.
We also enjoy when McGee spends time with her three kids, Wren, 9, Ivy, 6 and Margot, 1 (via People). During those sneak peeks into her mom life, the home maven is typically wearing what we all do when we're keeping it casual. All hail yoga pants! Meanwhile, the Utah native sometimes shows off her trademark dressed-up style — typically on reveal day — which can only be described as prairie chic. We're talking floral patterns, poofy sleeves and long, roomy dresses. As PopSugar notes, McGee never shies away from oversized bows or ruffles either.
But what about for an appearance at the Emmys? As the designer shared on her blog, "Dream Home Makeover" was recently nominated for Outstanding Instructional & How-To Program at the 49th Daytime Awards. And while the show didn't win the Emmy, McGee so won with her glamorous look, showing fans a completely different side of her fashion sensibility.
Shea McGee's dress was familiar yet fresh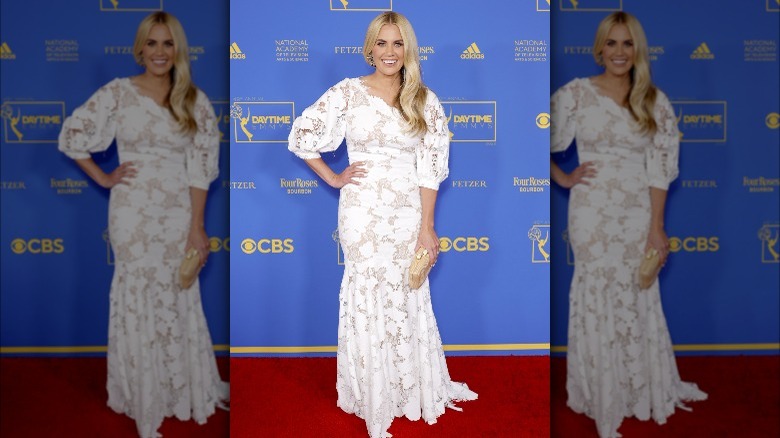 Frazer Harrison/Getty Images
Anyone who is obsessed with "Dream Home Makeover" is well aware of Shea McGee's devotion to flowers. She'll throw in a floral pillow as an accent piece and yes, the mom of three is known to sport bold floral patterned dresses as well. So it's no surprise that the star turned to flowers for inspiration for her Emmy gown. We can also say with confidence that her love of the color white in her designs makes the hue of the gown not exactly a shock either.
McGee described the dress as a "white lace, trumpet silhouette gown" on her blog. We're seeing a similarity in the shape of the dress and other looks we've seen on the Netflix star in the past, given the voluminous sleeves especially. As for why she chose this gown over others she tried on, McGee noted the "attention to detail" drew her to the bridal-ish look, which she also hailed as "feminine" yet "understated."
When it came to accessories to complement the dreamy dress, McGee admitted in her blog, "I wanted to add a little sparkle to the look." With her floral-inspired earrings and wow-worthy shoes, we'd say she accomplished that goal.
Shea McGee kept her hair and makeup natural and pretty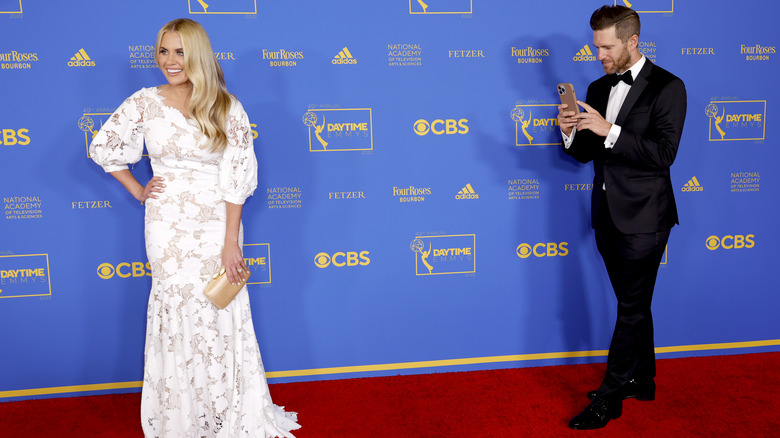 Frazer Harrison/Getty Images
As Shea McGee, told fans in her blog post about her Emmy look, although the dress and accessories were big parts of pulling off a red carpet-worthy moment, for her, her glam was "the real star of the show." As she shared in another blog post about her makeup routine, avoiding breakouts is a big driver behind what she puts on her face on a normal day. Among her go-to products are foundation, bronzer and blush — although as McGee confides, she skips the powder because she enjoys giving off a little glow.
For the Emmys, the designer, who was accompanied by her husband Syd, opted to go for a look that was "glam but polished with touches of pink."
The hair was all about volume meanwhile, according to McGee, who also shared her daily hair care tips on her website, noting her go-to look is loose curls, which she seemingly also opted for on the red carpet.