How Many Children Do Dream Home Makeover's Syd And Shea McGee Have?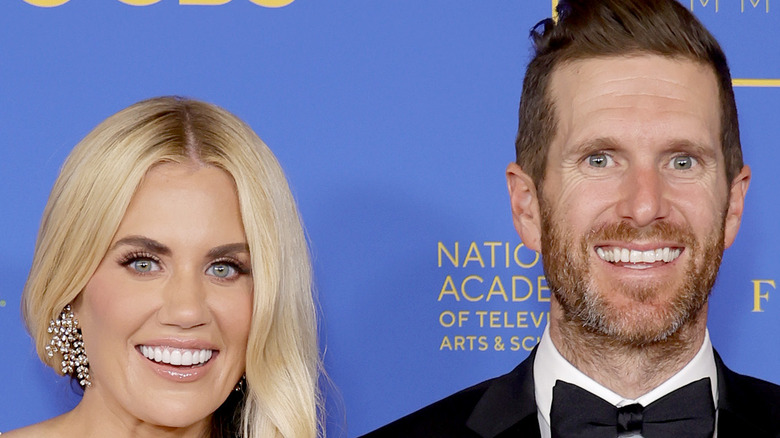 Frazer Harrison/Getty Images
Whether you are a home renovation junkie or have simply walked through Target, you are likely familiar with Syd and Shea McGee and their brand, Studio McGee. The couple — who got their start on YouTube and Instagram and have no formal training in interior design — has now managed to acquire not only a massive following, but also a hit show on Netflix called "Dream Home Makeover."
On the show, we see Syd and Shea revitalize homes in their signature style, all while getting a glimpse into their personal lives. According to PopSugar, the pair met through Shea's brother, who was a good friend of Syd's. During college, Shea went to visit her brother and fell instantly for the skinny-jeaned boy on a skateboard. A few years later, they were married. After about five years of marriage, they would welcome their first child, a baby girl named Wren, per Distractify. But Wren wouldn't be the only addition to the McGee family.
Syd and Shea McGee have three children
Syd and Shea McGee have welcomed us into their homes on their Netflix series "Dream Home Makeover." In between watching them plan and create gorgeous designs, we also get a glimpse of their life as parents. In 2013, the McGees welcomed their first daughter, Wren. According to PopSugar, Wren is the designer of the family and has expressed her interest in following her mom's footsteps. "Our daughter brought home this little notebook that they write in at school every day," Shea said on their YouTube channel. "It had a career page. She wrote, 'When I grow up, I want to be a designer.' My heart exploded."
In 2016, the family welcomed another daughter named Ivy. Our first introduction to Ivy was during a sneak peak of the Netflix series where we see then 4-year-old Ivy cut her own hair. Since then, she has loved the spotlight and made quite the impression. As for her parents, they call her their "sneaky child" and know that if she's quiet, something is up. For a while, the McGees were happy with their status as a family of four, but in 2021, they welcomed another baby into the family.
The McGee's recently welcomed their third baby
Syd and Shea McGee shared exciting news in July of 2021 — Shea gave birth to their third baby girl, per People. Joining sisters Wren and Ivy, the new baby, whom they named Margot, makes the McGees a family of five. The couple told People how excited they were to welcome Margot into the world and confirmed that both Shea and the new baby are doing great. With a five year age difference between their now middle child, Ivy, and the new baby, Shea revealed she felt confident about having a third. "Now I'm feeling like our girls are really going to take on the responsibility of being helpers," she told People. "They're really, really excited."
And that excitement has lasted throughout the past year. The McGee family recently celebrated Margot's first birthday, posting an adorable photo to their Studio McGee Instagram page with the caption, "Margot is officially one and I'm officially in denial. We had a sweet little backyard party for her last weekend and she loved every moment of the attention (and cake)." Season 3 of "Dream Home Makeover" premieres July 27 – we can't wait to see how the McGees do it all as a family of five.