Olivia Palermo On Keeping Summer Items Clean And In Great Shape - Exclusive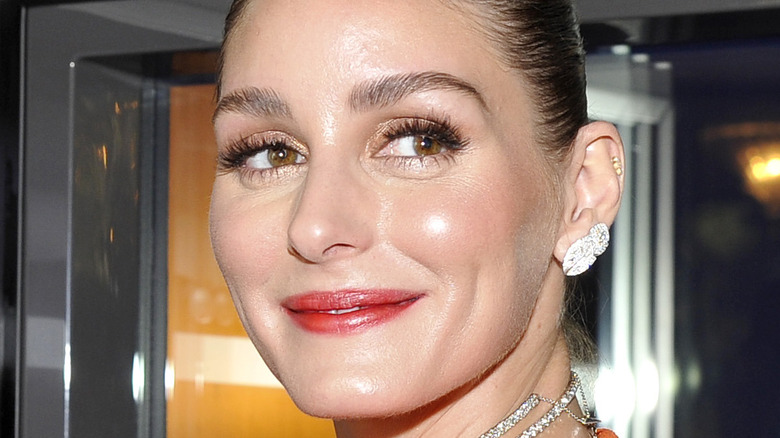 John Sciulli/Getty Images for LG SIGNATURE
Olivia Palermo has come a long way since first starring opposite Whitney Port on MTV's "The City." Of her early years as a party-hopping socialite and intern with Diane von Furstenberg in New York City, she told The New York Times, "It was important to figure out what I wanted to do, other than to run around and have a good time." Since then, the founder and CEO of Olivia Palermo Beauty has held diverse roles in the fashion industry including that of model and stylist, as she's known for skillfully putting outfits together.
One of several brand ambassadors for LG's Signature product line – a group that also includes John Legend — Palermo is the perfect face for the luxury brand. Describing her as "an international style authority" who is "seen by many as the epitome of elegant, modern living," the website explains her ability to "[highlight] the art of luxury living with its beautifully designed, cutting-edge products." 
The List connected with the beauty and style influencer for an exclusive interview about summer fashion and how to keep your wardrobe looking its best.
The influencer's tips for removing stains and keeping clothes clean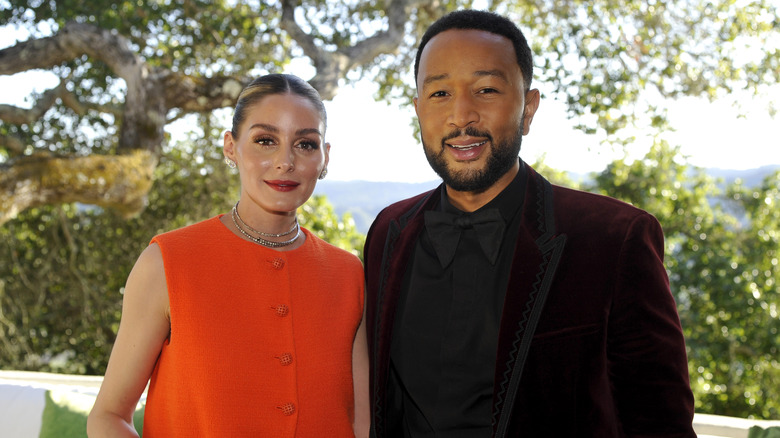 John Sciulli/Getty Images for LG SIGNATURE
Olivia Palermo loves wearing white, especially in the summer, though it's not easy to keep clean. "You do have to work hard to keep your whites white," Palermo told us. "Keep them away from suntan lotion of any kind, and maybe think about what you plan on eating." The influencer tucks her napkin into her neckline when she's out with her husband, but this isn't always the case. "If with company, I have to be super careful not to splash any kind of sauce onto my clothes," she said.
No matter how hard you try, stains are sometimes inevitable — but Palermo has a common "go-to" remedy. "Salt is my go-to immediately for any oil-based sauce or dressing splashes," she said. After applying it to the stain, she "[rinses] the garment as quickly as possible in water, as it stops the stain from 'setting.'" She also recommends Tide pens, since "you can be super specific and careful about where you use it on the garment."
The brand ambassador has become a fan of LG Signature's innovative combo washer/dryer. "It has this intuitive auto-dosing function that detects how soiled or stained my clothes are and automatically dispenses the correct amount of detergent," she said. "This not only cleans my clothes efficiently, but it [also] protects them and is great for the environment."
Olivia Palermo on keeping your clothes looking their best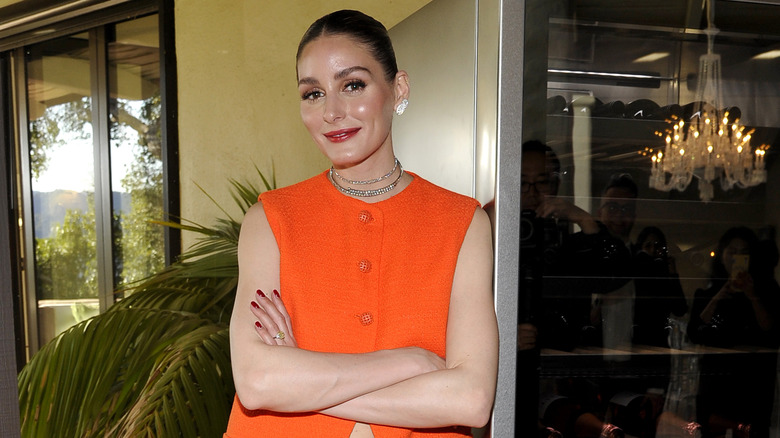 John Sciulli/Getty Images for LG SIGNATURE
Despite our best intentions, over time, we sometimes find that our favorite pieces no longer look the same. But it's important to know that the way you store your clothing can affect each piece's longevity, Olivia Palermo explained. "I tend to hang everything except knits," she said. "Knitwear I fold, as even the lightest knit will stretch if it hangs for too long."
A swimsuit isn't easy to keep looking its best, but Palermo has some tricks up her stylish sleeve: "I try to remember to rinse them after swimming since neither salt nor chlorine is great for them." Because the LG Signature brand ambassador regularly wears and washes her swimsuits, she recommends the brand's combination washer/dryer — with detergent only. "I like to use the handwash program, and it remembers the frequently used cycles, so no mistakes," she said.
When storing your swimsuits, is there anything else to keep in mind? "When you are using them often in the summer or on vacation," Palermo said, "I make sure they are clean and dry before putting them away."
The LG Signature Washer/Dryer is available at LG and major retailers. Olivia Palermo Beauty is available at oliviapalermo.com, Net-A-Porter, Niche Beauty, and WOW concept.