Why General Hospital Fans Are Furious At Willow After Her Cancer Diagnosis
Amy Sussman/Getty Images
Willow Tait (Katelyn MacMullen) is one of the few characters on "General Hospital" who are truly above reproach. Soap Hub even declared that she could most likely be canonized. Per Soaps in Depth, Willow is such a good person, that she married Michael Corinthos (Chad Duell) so he could keep custody of his son Wiley from the child's mother — the evil Nelle Benson (Chloe Lanier). Willow has been through a lot in her life, particularly being caught up in the Dawn of Day cult through no fault of her own. A secret about who her birth mother really is looms just out of her reach and Carly Corinthos (Laura Wright) knows the truth (via Soaps She Knows).
But that's not the only secret at play. Willow's issues came to the forefront when she passed out at the MetroCourt Hotel's pool and was fortunately caught by Sonny Corinthos (Maurice Benard) before she hit the ground.
Because her fainting spell at the MetroCourt was not her first, Dr. TJ Ashford (Tajh Bellow) ran her bloodwork and not only found that she was pregnant but also suspected something was wrong due to her high white blood cell count. Further tests were run and Willow was diagnosed with leukemia. At the onset, she chose not to tell her former husband, now boyfriend, and father to her baby Michael Corinthos, per Celebrating the Soaps.
Willow's decision to keep this information secret has fans in an uproar.
Fans are irritated by Willow's decision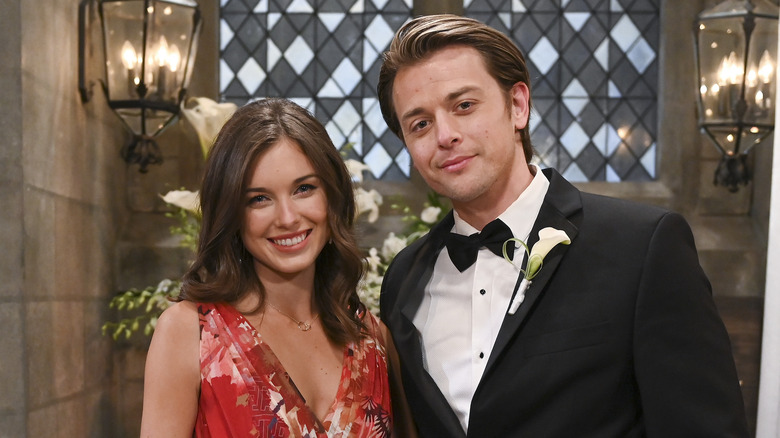 ABC/Scott Kirkland
An official "General Hospital" Twitter post stated, "Willow has the weight of the world on her shoulders. Should she tell Michael about her diagnosis or wait for a better moment?" Fans responded by asking why this storyline is even going in that direction. "It's ridiculous that she hasn't already. Why writers Why??" replied one fan. Another followed up with, "Isn't this the most ridiculous storyline?"
One fan questioned the post's wording with, "Will there ever be a "better moment"?" While one fan responded to the storyline saying, "This is so ridiculous to go through something so serious and not tell your partner about it," another stated, "I went through something serious too and didn't tell anybody about it either." An astute fan observed, "She should tell him. I mean what does it say about the state of their relationship, when she is afraid to tell him the truth about a life threatening health issue, she is facing. To me, it says they don't have a very good relationship."
Cheat Sheet reported that many fans feel Michael is not good enough for Willow and that he holds great influence over her. The true bond that ties them together beyond their love for each other is Wiley.
Michael and Willow have had an interesting and loving relationship, so it's no wonder the fans are debating her decision not to share her diagnosis with him.