Heidi Klum And Tim Gunn Dish On Season 3 Of Making The Cut - Exclusive Interview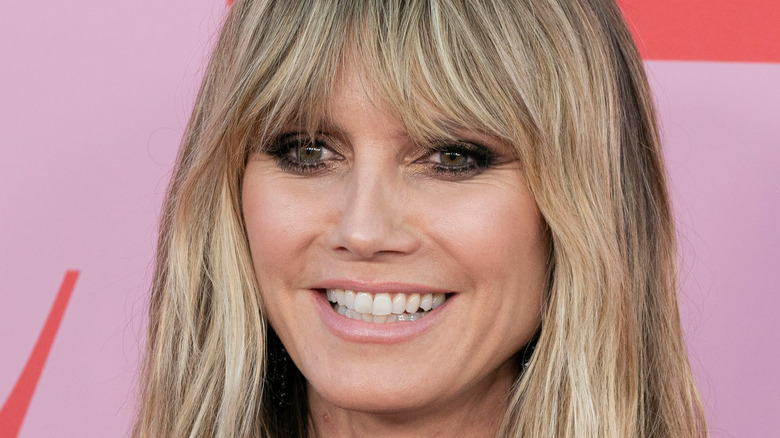 lev radin/Shutterstock
Heidi Klum and Tim Gunn have been in a TV partnership for 18 years. The dynamic duo started on "Project Runway" in 2004: As a supermodel, Klum took on the role of host and celebrity judge, while Gunn was a co-host and mentor to the "Project Runway" competitors. The pair are still working together today on Prime Video's "Making the Cut" as hosts and executive producers. "Making the Cut" is a fashion competition show seeking the designer for the next global brand. Season 3 of the series is coming out on August 19, and the competition is more impressive than ever.
Prior to the new season's release, Klum and Gunn sat down for an exclusive interview with The List to discuss the series. While talking about the upcoming season, the co-hosts shared what it's like to have worked with each other for 18 years. Klum also opened up about how she picks the winners and teased some of the biggest surprises from this season.
They discussed their 18-year partnership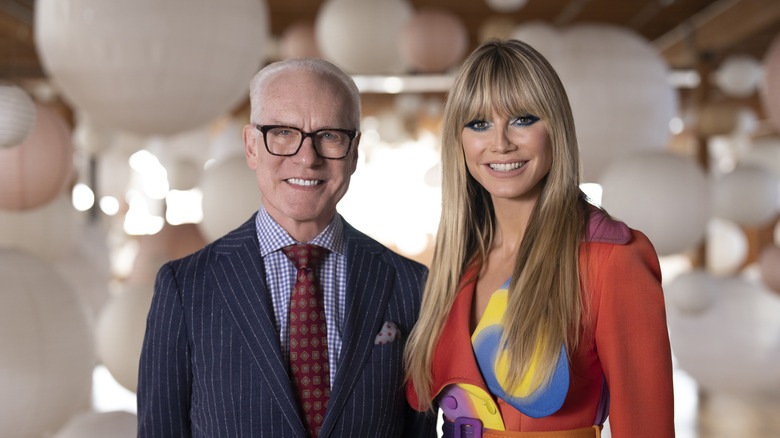 James Clark/Prime Video
You two have been on TV together for a long time now. What's that relationship been like, having that partnership together?
Tim Gunn: It's the most fabulous relationship I've ever had in my entire life. I mean, Heidi Klum. Look at me. What's the likelihood of that?
Heidi Klum: I love my real-life husband, obviously, but Tim and I, we've been together for the longest. It's been 18 years of TV marriage, and it's been amazing.
Gunn: It's truly amazing.
Everyone competing on this season is so talented. Did that make your job harder, Heidi?
Klum: No, I want them to all be really amazing. I can always pick my favorite. I'm not one of those, "This, this, this." It happens very fast for me when I know which one I love. My eye goes immediately to it. What I love the most is that here we get to put 10 amazing designers into the world to be able to show who they are and what they can do — because I didn't know them before; you didn't know them before. Finally, they have the opportunity to be seen and for their talent to be seen. To give them this opportunity feels amazing.
They get to win a weekly challenge that gets produced and sold on Amazon. Then we have the million-dollar prize at the end. There's many wins along the way, and [the winner] has that million dollars at the end. It's a fun journey all the way around.
Surprising challenges to look forward to this season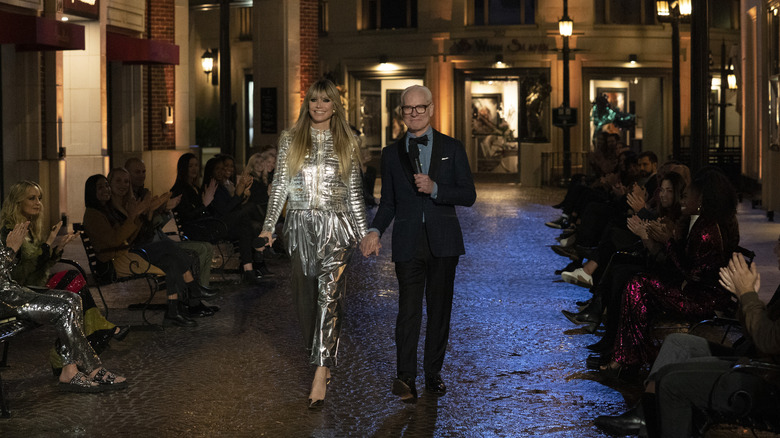 James Clark/Prime Video
Tim, you're advising them throughout. Do you feel like you get close to everyone who's competing because of that?
Gunn: Oh, absolutely. Yes. We spend a lot of time together. In the show, it looks like I'm with them for a couple of minutes. It can be 15, 20 minutes or more. We have a very substantial conversation.
Are there any challenges you're really looking forward to people seeing this season?
Gunn: All of them.
Klum: Yes, all of them. Sometimes, you think, "Is this maybe too simple for them?" But no — you never know what they're going to do. For example, we had this festival wear challenge where they did not blow us away. We're like, "This is such a fun challenge where you can really go nuts," and then they don't, and then we get upset. 
No, the whole ride was amazing. Every challenge is amazing. We had great partners. Champion was there this year, which was a lot of fun, our guest judges. It's been a fun show this year.
"Making the Cut" Season 3 premieres on Friday, August 19, on Prime Video, with two episodes available weekly until the epic two-episode finale on Friday, September 9.
This interview was edited for clarity.