Tiffani Thiessen Talks Season 3 Of Deliciousness And Her Long Career - Exclusive Interview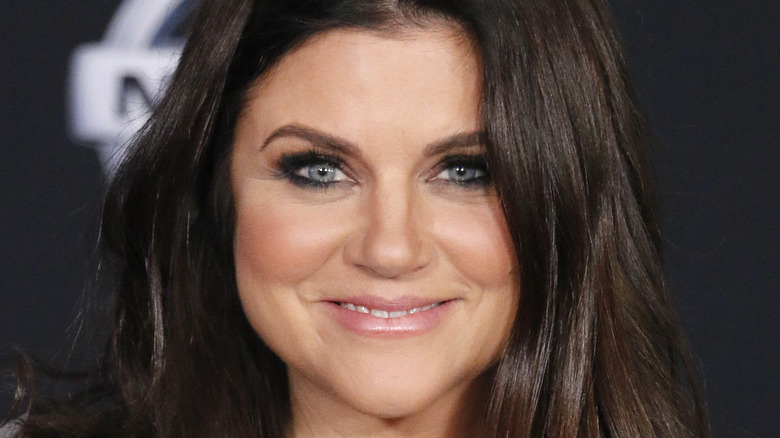 Tinseltown/Shutterstock
Many of us grew up watching Tiffani Thiessen in "Saved by the Bell" and "Beverly Hills 90210" and have followed her career ever since. From her early teen roles to "White Collar" and "Alexa & Katie," audiences have always gravitated toward Thiessen. Now, as the host of "Deliciousness," Thiessen is reaching a whole new audience and having an absolute ball alongside her co-hosts, Angela Kinsey, Kel Mitchell, and Tim Chantarangsu.
Back for Season 3, "Deliciousness" continues to delight viewers with its hilarious food-related videos and the equally funny reactions of its hosts. The chemistry between Thiessen and her castmates is what makes "Deliciousness" so fun to watch, and it's clear that there's a lot of love among the entire group.
In an exclusive interview with The List, Tiffani Thiessen takes us behind the scenes of the new season of MTV's "Deliciousness," opens up about her roles on "Saved by the Bell" and "Beverly Hills 90210," and reveals what her kids really think about her career.
Working on Deliciousness is a dream job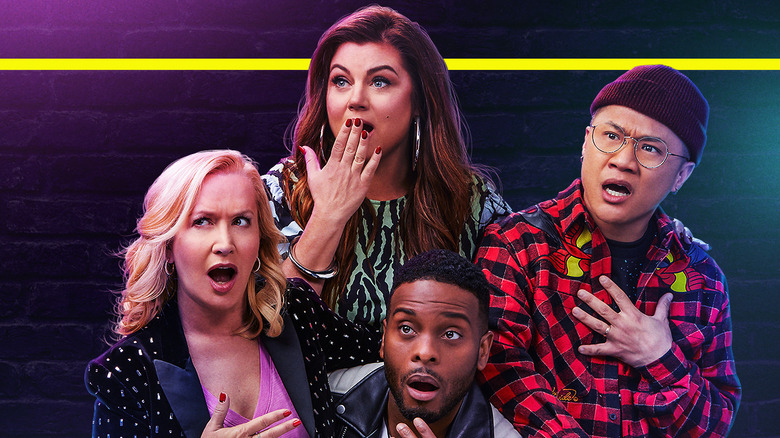 MTV
I'm so excited to talk about "Deliciousness," which is back for Season 3. What are some of the highlights fans can expect from the new season?
A lot more funny content, as usual. The fact that our producers can bring in these videos that are from all over for us to be able to have fun with on the show is pretty genius. It's amazing that we've been doing all these episodes and I still get up there and I laugh. I'm doing it with three very funny people, very charming people. It's a cast that I actually grew and fell in love with pretty instantly, which usually doesn't happen in Hollywood. It really makes it, I have to say, probably the funnest job I've ever had.
You were a teen icon [as Kelly Kapowski in "Saved by the Bell"], and then you've got Angela Kinsey, who is an icon because she's in "The Office," and Kel Mitchell [of "Kenan & Kel"] was also a teen icon. Do you ever bond over the fact that you've all starred in these huge shows that people are still rewatching all the time?
That's funny. I guess we probably should, but we haven't. I was always a fan of "The Office" and had never met Angela. [But I] knew her co-star, Jenna [Fischer], a little bit, her and her husband. So I was super excited to actually get to work with Angela because I knew of her, of course. 
And Kel, I had never met through all these years. My daughter had seen his movie. I don't think my son's seen it yet, but [my daughter is] very much a fan of his "Good Burger" movie. But [Kel is] a delight. What a gentleman, what a sweetheart, inside and out. The whole cast [was a delight]. Tim [Chantarangsu was] totally new [to me]. I didn't know anything about him, and we probably clicked the fastest. I adore that guy. He is hilarious, and he truly makes me laugh with anything that comes out of his mouth.
What's it been like filming these new episodes?
The only thing that's not fun is my butt having to stand up there in heels while they get to sit on my comfy couch.
Do you spend a lot of time laughing together?
Yes, very much. We usually [shoot] three to four episodes a day. We roll through these hilariously funny, sometimes gross clips and poke fun at the clips, the people, at ourselves. [We tell] stories that might relate to the clips. That's what it's all about. It's really quite fun.
Returning to Saved by the Bell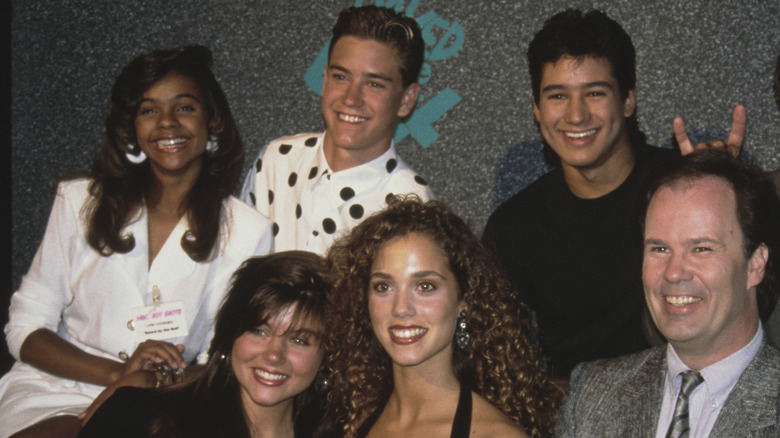 Michael Ochs Archives/Getty Images
The "Ridiculousness" franchise is huge now and just keeps expanding. Are there any areas you'd like to see it expand into? And can you see yourself being a part of it for a long time to come?
Good question. I want to continue doing "Deliciousness" because, like I told you, it's truly one of the funnest jobs I've had in my long career — knock on wood. I'd love to do a lot more, and I know they've got other spinoffs that they have done and are continuing to do. My husband was a huge fan of "Ridiculousness" back in the day. He was very excited that they were actually doing a couple different versions of this show, ours being the first one. It was exciting. ... My daughter loved it. My daughter loves the show.
A lot of us grew up wanting to be you, and you got to reprise your role as Kelly Kapowski in the "Saved by the Bell" reboot. What's it been like playing such an iconic character for such a long time?
It was one of the very first roles that I had done. Of course, I was very young when the show started and became a huge success here in the States. Then when we went [world]wide and went all over, and I think it was in 140 countries or something like that, it is life changing. I was 16 years old, traveling all over Europe with Mark-Paul [Gosselaar], meeting fans and doing press and all that. That's a big deal for a 16-year-old. I experienced a lot of crazy things, a lot of cool things. I have nothing but fond memories of back then. Then to be able to create some new fun with the new spinoff that Tracey [Wigfield] had developed for Peacock was really fun as well, and to be able to work with the guys again.
Do you think we might see you as Kelly again, in the future?
Well, I don't know. They did two seasons of the show. They did not pick up the show anymore. I highly doubt it, unless there's some other form that someone ends up coming up with, but I highly, highly doubt it.
Joining Beverly Hills 90210 was 'a little challenging'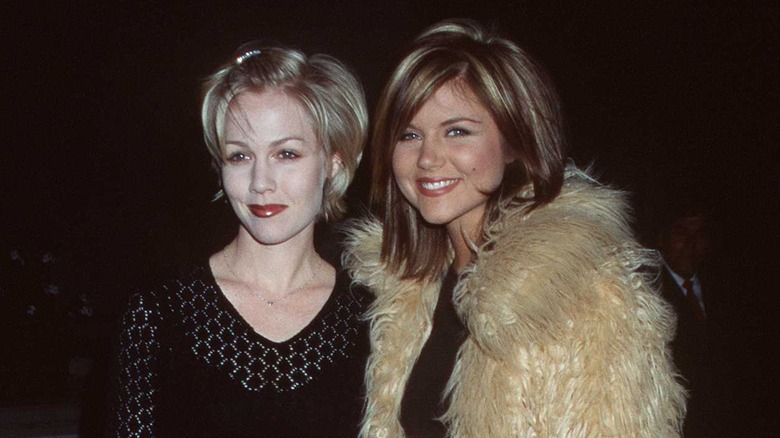 Denny Keeler/Getty Images
Another huge point in your career was "Beverly Hills 90210." What was it like bouncing from one huge teen show to another?
Pretty crazy. Again, I was coming from a very popular kids' show to a very popular teenage, young adult show. It was an interesting progression in the sense that, as different as the roles were, it was super fun. It was definitely very different. "Saved by the Bell" was a half-hour sitcom. [That's] what they called it. The hours were very different, and I was still doing school at the time for most of the season. I would part-time do school and part-time do the show. Then, by the time I went to "90210," I think I was 20, so older, [and the] content [was] much different, and the show was an hour [long]. The actual hours of work were much longer and much harder. But again, super fun. 
I've spoken very publicly [about how] it was definitely a little challenging for me to come on a show that was very well established already and be the new kid. But most of the cast was very open and welcoming. Some weren't as much. But that all turned around and got much better towards the end of the first season. Then I finished off all those years with them, and it was great. 
You've had an incredible career so far. You've done so much. Is there anything you haven't done yet that you'd still like to?
I'm always looking for something different in my routine. I like to work and I love working with people. I love being an actor. I just love it. I don't think I could ever give it up. As much as I've developed a whole other side with unscripted, to food and a food career and stuff like that, acting will always be my first love.
Her daughter is a Saved by the Bell fan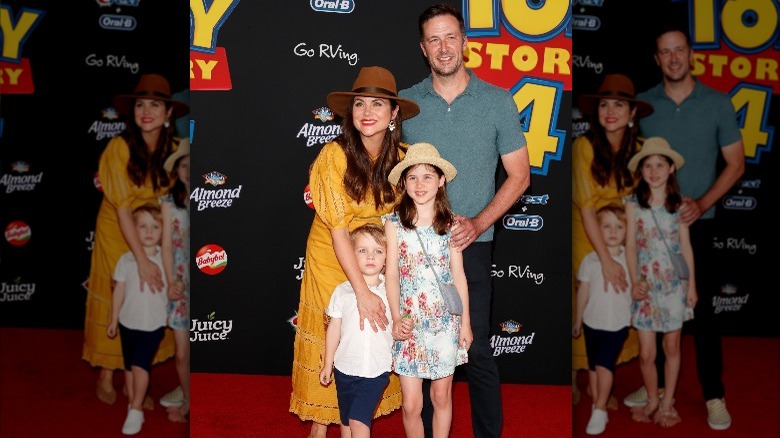 Kathy Hutchins/Shutterstock
Do you have a favorite project that you've acted in so far?
That's so hard. You're going over 30 years of different stuff. That's a super hard one. It's also hard because a lot of these shows or movies or whatever are very big parts of different times in my life — from my teenage years being in "Saved by the Bell," and my young 20s being in "90210," and then it's always progressed, to "White Collar" [and] being able to live in New York. That's a definite top favorite show for me because I got to live in New York City, and I had my first child during that show, and that cast is so wonderful. I'm still very close with a lot of them. But it's hard to pick one because they all have meaning to me for many different reasons and different times in my life.

You mentioned before that your kids are fans of "Deliciousness." Do they watch any of your other shows?
My son, not so much because he's so young still. He just turned seven. But my daughter loves "Deliciousness." [She] has watched every single episode. She's also completely watched, from beginning to end, "Saved by the Bell." She's also watched "Alexa & Katie," which was my last show that I had on Netflix. She's watching all of those episodes. She's not ready for "90210" yet. She probably needs to be a little bit older, but she's getting close.
How does she feel watching you on-screen? Is it strange for her, or does she enjoy it?
I don't know. She hasn't really said. Maybe when she was younger, it was a little different for her, but I think she's so used to it now. She's 12. She's grown up having that idea of what Mom and Dad do for a living. [For] some of these shows, she's actually been on set with me. She was on set during "Alexa & Katie" many days, and she was little when I was doing "White Collar." She's very much a part of it. My son, not as much because he came so much later. Then these last couple years, no one could go on set because of COVID, so it's been a little different.
A second cookbook, and more Deliciousness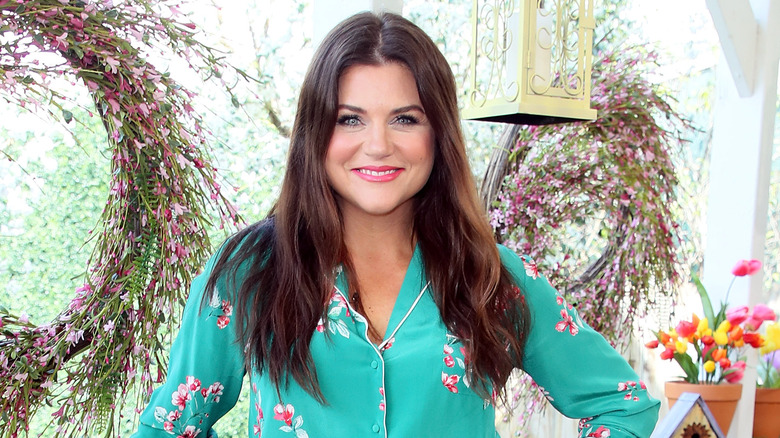 David Livingston/Getty Images
Is there anyone you'd like to work with that you haven't had the chance to yet?
There's so many. Again, a hard question. The list is probably huge. There's so many people that I admire and would love to get the chance to work with. And that's not even just actors; that's also directors or writers. There's so many. And on the other side of it, working with chefs that I love. ... I feel like I'm still young, that I should have a big list still. I don't want to pigeonhole myself with just one or two. ... I'm 48, and I don't see hopefully any of this ending anytime soon. I really do enjoy working in all these fields. Even the food field that I've recently got into in the last 10 months, I've enjoyed. I just finished my second cookbook, which will be out next fall. It's been a really nice side career that I've enjoyed making a bigger part of my career.
Is there anything else you want us to know about "Deliciousness" before you go?
Like I said, it's a job that I really, really enjoy, and I love working with the cast and the crew and the producers. It's one of those really fun jobs. I highly recommend [the show] to anybody for the end of the day, sitting back with a glass of wine or a beer. [If you want to] be able to not overthink and watch something funny and giggle, this is the show for you.
Watch the new season of "Deliciousness" on MTV now.
This interview has been edited for clarity.