Here's What Gabrielle Union Looks Like Going Makeup Free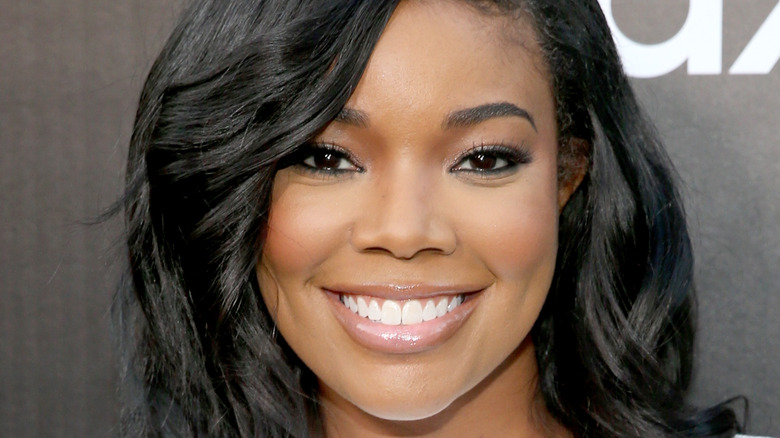 Jonathan Leibson/Getty Images
Although she's been around forever, it's taken a depressingly long time for Gabrielle Union to get her due in Hollywood, as a Harper's Bazaar profile makes explicit. These days, the actor, activist, and beauty brand ambassador is no longer holding back on how she feels, with Union having firmly established herself as a bankable star and formidable businesswoman in equal measure. In particular, she pointed to the dichotomy of "being hyper-visible or invisible on sets."
As Union explained, "When do you stand up and point out every micro-aggression, and when do you stand down so you're not the angry black person all the time? It's tiring. It feels like another job that you're not getting paid for — that is all encompassing." Likewise, despite numerous roles in the high-profile likes of "Bring It On" and "She's All That," the actor found it frustrating to deal with never being the one at the front of the line, purely because of her race. 
In a piece for Oprah.com, Union extolled the virtues of learning to trust your gut and expunging negative influences from your life. Plainly speaking, she's no longer willing to hold back, including proudly sharing what she looks like without makeup. 
The Bring It On star is the definition of a natural beauty
Gabrielle Union is no stranger to posting makeup-free selfies and, perusing even a handful of them, it's easy to see why. The actor looks genuinely incredible bare-faced, to the extent it's actually kind of annoying. She clearly has great genes but, otherwise, Union told Women's Health, "I sleep eight hours a day and don't let myself stress out," quipping, "A lot of people call it selfish, but I don't have any wrinkles." The "She's All That" star also works out consistently and always washes her face before bed, as well as drinking plenty of water. 
"It's just important to get the water in," Union told Fitness magazine simply (via Prevention). As for specific skincare products, the actor informed Elle, "It's a blessing and a curse to have oily skin, but I'm starting to believe it's like embalming fluid that's sort of keeping me youthful looking." She shouted out Julie Hewett's Camellia Oil, describing it as "a godsend," alongside plain ol' Neutrogena Pink Grapefruit Acne Wash Face Scrub, Mario Badescu toner, and Dove body-wash. Moreover, Union ensures she wears sunscreen daily, too. 
The former teen star also shared with Women's Health, "My best anti-aging tip is the ability to say no, no and hell, no. We run ourselves ragged saying yes to every freaking thing, whether it's to our family, spouses, or careers." Union's beauty brand, Flawless, carries on that idea by celebrating Black women's strength, per Refinery 29.
Gabrielle Union learned to get comfortable with her looks
In an interview with Harper's Bazaar, Gabrielle Union acknowledged that, when she was growing up in a mostly white suburb of California, it was tough to feel beautiful. "We weren't anybody's standard of beauty," she explained of her teenage years. "I didn't love my skin color, I didn't love my lips. I didn't love my nose, I didn't love my hair. I didn't love anything. I didn't love my body. Because no one was choosing me — my self-esteem was determined by somebody choosing me."
That feeling of not belonging continued as Union tried to break into Hollywood. She acknowledged to Salon that things haven't changed enough just yet, because, "It's just morphs into different challenges" but at least there are more jobs thanks to streaming services, etc. As Union stated firmly, "We are the culture. Culture does not exist without us. This doesn't exist without us," advising younger women, "You take up all the space in this room, and you are your full-ass self."
The Flawless founder also shouted out her forebears, including living legends Regina King and Jenifer Lewis, for paving the way while also pointing out the need to do the same for those coming behind her. "We were able to bloom. We're doing the same for the next generation," Union noted. In keeping with that goal, she's putting her best face forward in all facets of her life and career.