These Are Kesha's Must-Have Beauty Items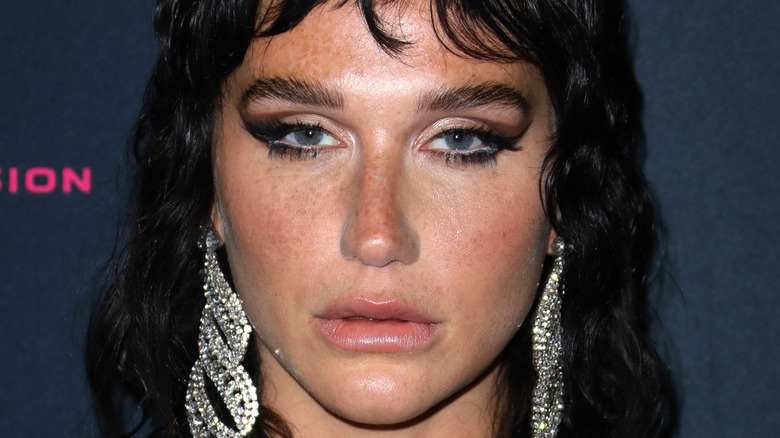 Jc Olivera/Getty Images
Kesha changed party music forever when she released her hit song "Tik Tok" in 2009, per Billboard. Though the singer's path has been anything but a straight-shot success. She initially signed with music producer Dr. Luke at age 18, and would become entrenched in a struggle to get out of their contract until the producer left his imprint at SONY music, though lawsuits between them continued over the next decade, per Vulture.  
Throughout Kesha's career, she has served as a tastemaker and became a vital voice in the #MeToo era, standing her ground through failings by the justice system and receiving support from celebrity allies like Taylor Swift and Lady Gaga. Kesha's music was able to come back into focus for the first time since her 2012 album "Warrior" when she released "Rainbow" in 2017, a powerful album dealing with emotional pain and a slow healing process. In 2019 the singer brought fans her makeup line, Kesha Rose Beauty, and the next year, she released her fourth album, "High Road." 
The talented writer, singer, and beauty mogul is known for her candor, and in a 2020 interview with Page Six, Kesha dished on her current skin-care and makeup favorites, plus how she kept her look fresh mid-pandemic.
Kesha's beauty routine matches her dramatic personality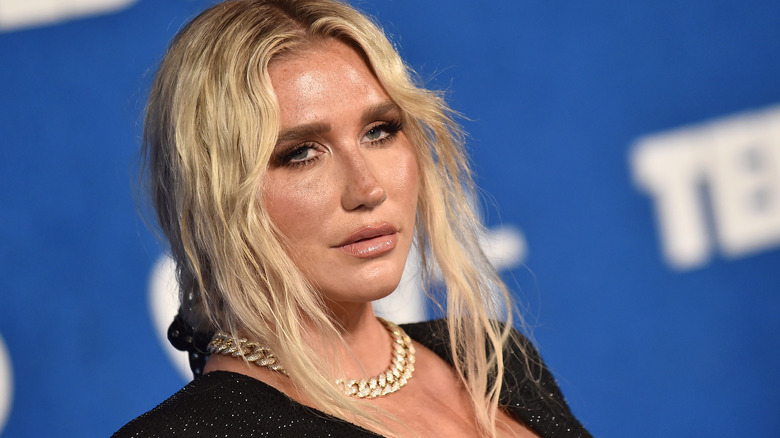 DFree/Shutterstock
Kesha's first recommendation may be out of some fans' budgets, but it's a tool that high-end dermatologists use on clients — the Scalpa Surface Microneedling Pen comes in at over $300, but Kesha gushed about some of its benefits. She told Page Six, "This helps your skin glow and resurface, and makes your beautiful face shine. It's a great at-home device that I use about once every six months, and is a really affordable option for anyone who wants to add microneedling — which I personally love — to their skincare regimen."
Her next pick comes with a hilarious visual that makes complete sense for the eclectic artist. The SpectraLite FaceWare Pro, an LED face mask, is "Great for helping get rid of fine lines and bacteria and making my skin glow," according to the singer. But she also added, "It's so easy to use when I'm watching a movie with my cats — and makes me look like a robot psycho killer, which is a plus."
The singer plugged a favorite eye cream from MBR and a serum from Biologique Recherche, then shouted out a product from her own beauty line. The Kesha Rose FTW Eyeshadow Palette is exactly what fans might expect from the artist, since its colors are bright, glittery, and unapologetic. Kesha explained to Page Six, "Since I wear a mask everywhere I've been into making my eyes sparkle, as it's the only part of my face people can see. I love to smile when I pass people on a walk, so I let the colors on my eyeballs do the smiling!"
Kesha has her own makeup line
Kesha's makeup line, Kesha Rose Beauty, came out in late 2019 and is cruelty-free and vegan. The flagship products are the singer's vibrant FTW eyeshadow palette, the trio — which includes the eyeshadow, Raising Hell lipstick, and the Kesha rosehip oil lip gloss — the lipstick and gloss duo, and the Whatever Wherever Wand dual-ended liquid eyeliner set (sadly, the complete set is sold out). For some background, Kesha told Refinery29 in 2019, "The name of the palette is FTW, which can mean whatever you want it to mean: F*** the world, find the whales — whatever you want."
She also said of the dual-sided eyeliner, "I have pens that are called Whatever Wherever [Wands] and you can write on your arm to make fake tattoos or use it as a liquid liner that will not mov e... I am a big fan of taking things and trying to go outside the box of what they're used for."
As Kesha told Page Six of the Palette, "I've been matching the colors from my palette to my mood and just having a lot of fun, feeling my emotions in color." To get even more of a sense of Kesha's beauty favorites, fans can check out her "Beauty and BS with Kesha" YouTube playlist, or the video of doing her own makeup for the "When I Was Young" music video, filmed with her "glam guru" Vittorio.