Donald Trump's Favorite McDonald's Order Is Even Grosser Than You Think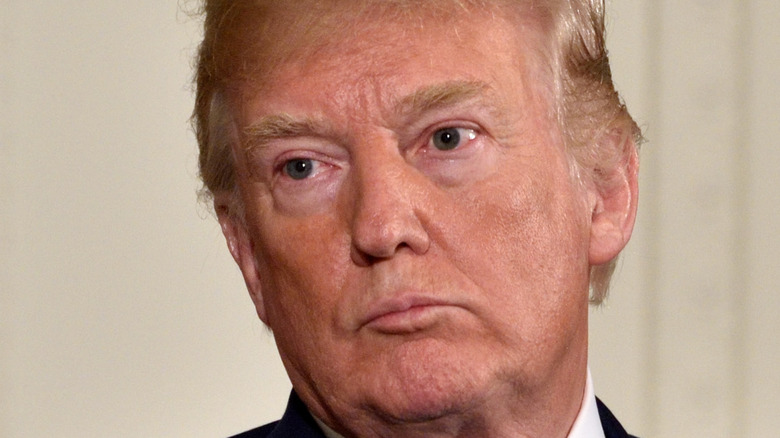 Evan El-Amin/Shutterstock
Former president Donald Trump's love of fast food is well documented. In 2016, he told CNN's Anderson Cooper about his preference for McDonald's and Burger King, "I'm a very clean person. I like cleanliness. And I think you're better off going there than maybe some place where you have no idea where the food is coming from." 
Incidentally, in Michael Wolff's book "Fire and Fury: Inside the Trump White House," the author claims the Republican's fear of being poisoned may also help explain his fast food preference, since a would-be enemy wouldn't know ahead of time the likely 2024 candidate would be taking his security detail through the drive-thru line (via New York Daily News).
As ABC News reported, Trump is such a big fan of fries and nuggets that he was known for serving fast food to college athletes in the White House — not without condemnation of course. And, long before his address was 1600 Pennsylvania Avenue, the controversial conservative even starred in a 2002 commercial for Mickey D's.
Now, Trump's son-in-law Jared Kushner is revealing new details about the former POTUS' McDonald's obsession in his book, "Breaking History." And let's just say what the politician is known to order may turn more than a few stomachs.
Donald Trump's go-to McDonald's meal is rather mighty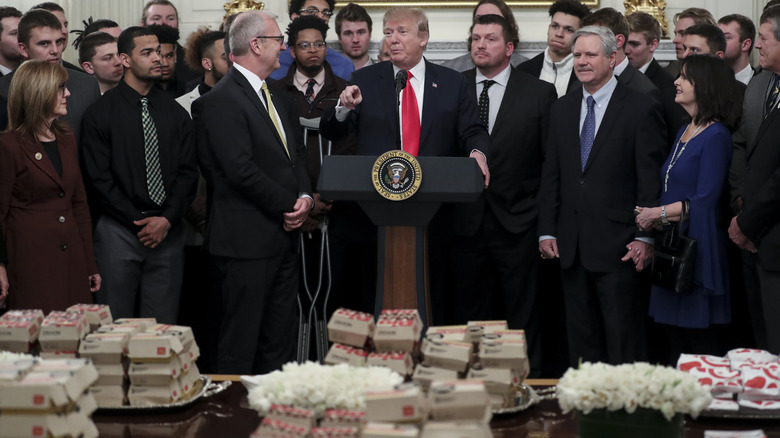 Pool/Getty Images
Jared Kushner has shared more than one eyebrow-raising revelation in his new book, "Breaking History." For instance, the former advisor to the president recently disclosed that it was a person you may not expect who attempted to broker a peacemaking meeting between Donald Trump and Hillary Clinton after the 2016 election.
On the more mundane end of the spectrum is the tidbit about his father-in-law's favorite McDonald's menu items that Kushner included in the book. Although it's not exactly earth-shattering, the former commander-in-chief's typical order is, well, a little gross.
According to the dad of three, Trump's go-to order is "McDonald's Big Mac, Filet-o-Fish, fries and a vanilla shake" (via New York Post). Interestingly, Kushner writes that when the POTUS asked for this supersized meal, he knew Trump was doing better following his 2020 bout with COVID.
Just for fun, we totaled up the calories of the GOP leader's beloved meal from the Golden Arches and determined the four items amount to 1,650. Just sayin'.