The One Food The Queen Has Eaten Every Day For 91 Years
Sean Gallup/Getty Images
Queen Elizabeth's dietary preferences are as well-documented as former president Donald Trump's love for McDonald's, with his favorite order being, um, a little over-the-top just like he is (it's a Big Mac, Filet-o-Fish sandwich, fries and a vanilla shake by the way). In fact, the monarch is rather regimented with her food choices, preferring to eat many of the same foods daily.
For instance, her former personal chef Darren McGrady shared that his royal client opts for Early Gray tea and a bowl of Special K breakfast cereal to start her day (via British Heritage). Her other meals are said to be quite simple, with the 96-year-old enjoying grilled meat like chicken or fish — and a nice gin cocktail! Perhaps the Queen's appreciation for another wine-based drink could be her secret to living such a long life (via Express)? 
In any case, there is one particular food that McGrady confides the Queen has eaten every day of her life since she was just 5 years old. And exactly what the food is will likely surprise even the most devoted royal fans due to how simple it is. In fact, you definitely wouldn't need a personal chef to pull off this budget-friendly meal worthy of the second longest-serving monarch in the history of the world (via NPR).
Queen Elizabeth's favorite sandwich involves just 3 ingredients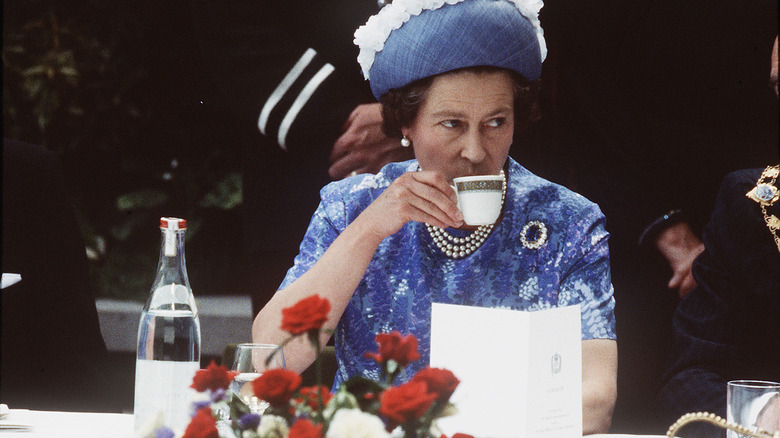 Anwar Hussein/Getty Images
As Queen Elizabeth's personal chef Darren McGrady shared on his YouTube channel, his royal charge of 15 years would always ask for a certain sandwich at tea time, no matter who she was dining with (via Daily Mail). The Queen's preferred snack is called a "jam penny" and you can fix it at home using just three ingredients: bread, jam and butter.
According to McGrady, the monarch's jam of choice is strawberry. "We'd make the jam at Balmoral Castle with gorgeous Scottish strawberries from the gardens," he shared in the video. It's worth noting this simple sandwich incorporating a homegrown fruit is in keeping with the widely-reported notion that the monarch is very cost-conscious despite her high station in life (via SCMP).
As for why the sandwiches are called "pennies," it has to do with "the size of the old English penny," McGrady said. In fact, this sandwich is small enough to make them the ideal meal for children according to British baker Karen Burns-Booth, who shared a recipe for the easy-to-make favorite of Her Majesty ahead of the Platinum Jubilee.
As for dessert, along with her jam penny, the Queen is known to favor another specific treat.
The Queen ends her day with a treat or two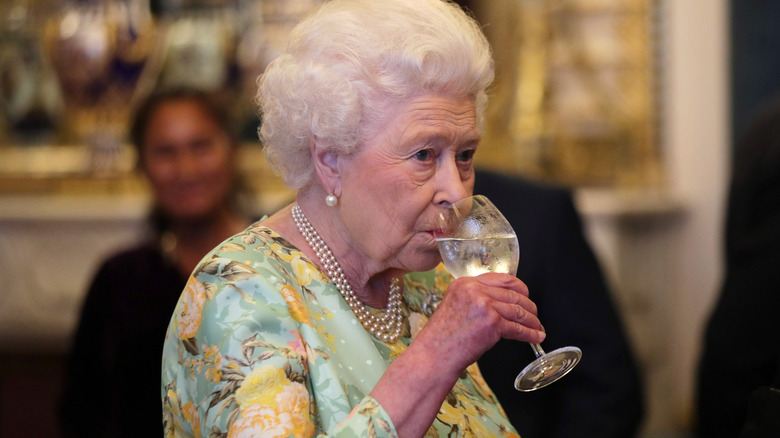 Wpa Pool/Getty Images
The jam sandwich is not the only basic and frugal fare the Queen is known to favor.
Indeed, she is a big fan of the simplicity of chocolate by all accounts, with Darren McGrady confiding previously, "the Queen never was a foodie" (via Hello!). That post was reserved by the monarch's husband of nearly three quarters of a century, Prince Philip. Meanwhile, McGrady also said about his former royal client, "She's absolutely a chocoholic. Anything we put on the menu that had chocolate on she'd choose, especially chocolate perfection pie" (via Delish).
Try her chocolate biscuit cake of choice, courtesy of U.K. bakery owner Karen Burns-Booth again. 
On the healthier side, Queen Elizabeth will also eat peaches or strawberries (perhaps some left over after making jam for those penny sandwiches!) for dessert. And then there's that love of the drink again, with British Heritage noting she is known to finish her evening with a glass of champagne.
And then, it's on to the next day when she repeats her habitual menu.