Why Annie Leibovitz's Photos Of Ketanji Brown Jackson Have Twitter Seeing Red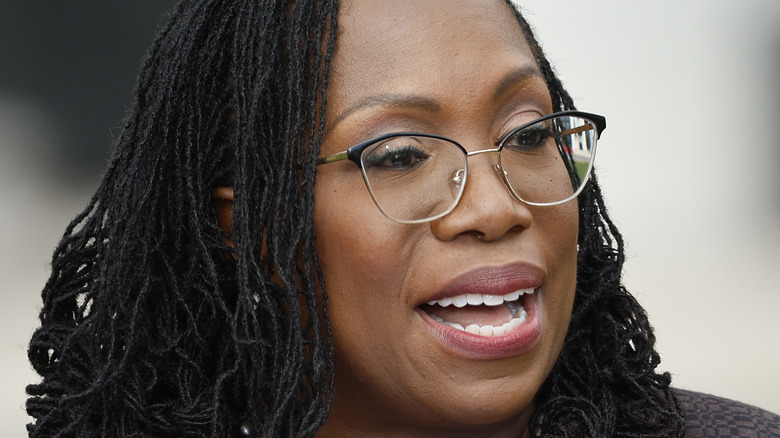 Chip Somodevilla/Getty Images
World famous photographer Annie Leibovitz has been named a "Living Legend" by the Library of Congress, joining the likes of Barbara Streisand, Gloria Steinem, and Billie Jean King, all honored for their creative contributions. Leibovitz is perhaps best known for her portraits of celebrities — she photographed Truman Capote and Andy Warhol, a naked and pregnant Demi Moore for a 1991 Vanity Fair cover, and John Lennon and Yoko Ono for Rolling Stone, which was the last photo of Lennon before he was shot and killed, per The Guardian.
Another woman at the top of her game is Ketanji Brown Jackson; she may not have had the same level of name recognition of Leibovitz in the past, but she's more likely to now. Jackson was nominated by President Joe Biden to replace Justice Stephen Bryer on the United States Supreme Court, and she previously served on the United States District Court for the District of Columbia. She is the nation's first Black woman to serve on the highest bench in the land. 
Jackson was photographed by Leibovitz for the September 2022 issue of Vogue — the same issue in which Serena Williams announces she's moving away from tennis – and the photos of Jackson are getting attention, but not all of the good kind.
People are outraged by Ketanji Brown Jackson's bad lighting
Annie Leibovitz's photos of Ketanji Brown Jackson at Washington, D.C.'s Lincoln Memorial have been met with outrage on Twitter. A concerned user tweeted about the focus of one of the photos, saying, "We can't even see [Jackson's] face. It's like Abe Lincoln is the focus. My Interpretation of this photo is Abe freeing slaves, in turn leading to this moment... which I feel is really what Annie was thinking and it has taken away from KBJ's huge achievement." Another wrote, "Do you see [Jackson] or do your eyes go to Lincoln immediately? If I didn't know she was in the photo I wouldn't be looking for her."
One person posted their own version of the Leibovitz photos made in "less than five minutes" to make Jackson's face brighter and more visible, saying the choice to keep the images darker must have been "on purpose." Another wanted to know why a Black female photographer could have been chosen, and tweeted, "This is horrible. How did you manage the 1). Poor lighting of this Black woman, 2). De-center her in her own narrative, and 3). Make a dead white man the center of a Black woman's success and narrative." And one person tweeted at Vogue to not use Leibovitz for pictures of Black women, writing, "She doesn't light them properly and allows them no grace or beauty, only stereotypical visual narratives of BW as either 'strong' or beleaguered. Enough already." 
Annie Leibovitz has been accused of being a poor photographer of Black women before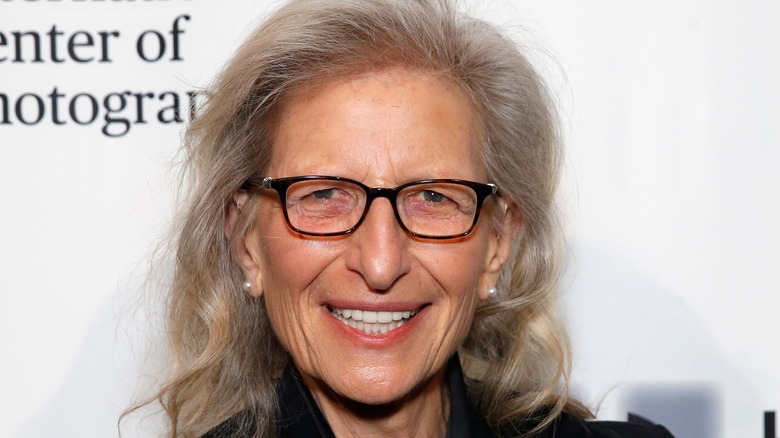 Dominik Bindl/Getty Images
Some defended Annie Leibovitz in the most recent controversy surrounding her work. One tweeted that the photo of Ketanji Brown Jackson was "perfection," and one thought that any uproar over the photos was liberals looking for trouble. One thought Leibovitz was staying true to her art, writing, "​​Light is light. And Annie almost always shoots these dramatic 'low light' photos. It's a stylistic choice. Shooting Black people ain't any different." Though not everyone seemed to agree with that: "Sometimes a subject is intentionally photographed under low light for impact, but this just doesn't look exposed properly," one tweeted.
This isn't the first time that Leibovitz has been accused of not properly lighting Black subjects, which one person pointed out: "You are one of the most acclaimed photographers of this era and you STILL can't properly light a Black person to save your damn life. And you've been called on this for two decades now and won't learn," an angered Twitter user wrote.
Leibovitz photographed gymnast Simone Biles for the cover of Vogue in 2020, and people noted that Biles looked washed out, per Vox. And in 2016, Leibovitz's portraits of Lupita Nyong'o and Viola Davis were considered by some to be notably unflattering when compared to the photos of Jennifer Lawrence and Cate Blanchett, who were photographed for the same spread, HelloBeautiful points out.