Serena Williams Opens Up About Her Decision To Step Away From Tennis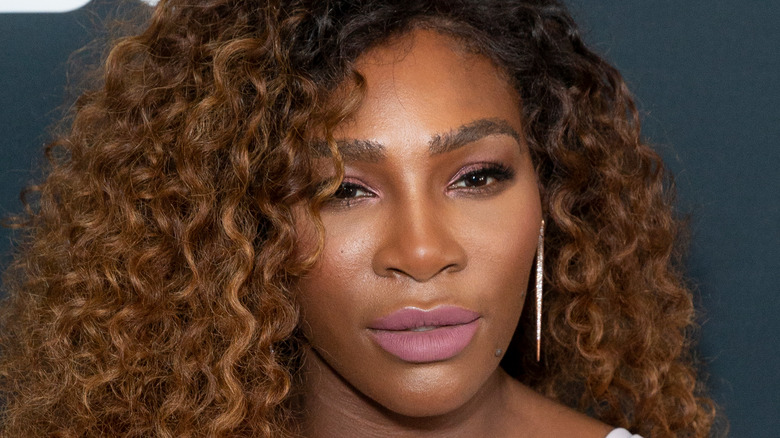 lev radin/Shutterstock
The story of Serena Williams and her sister Venus getting into tennis as girls, while their father hustled to make them into great tennis players was made into the Oscar-nominated film "King Richard." One of the producers of the film was Isha Price — the older half-sister to Serena and Venus. She told NPR "Serena is hands down the GOAT [Greatest Of All Time], she's the best that has ever done it. But even she said historically that doesn't happen without Venus, that there had to be somebody to bust that door open."
Serena has been a tennis superstar for years; she went pro in 1995, and her first major title win was at the US Open in 1999. From there, she's won four Olympic gold medals, been the world's best women's tennis player for 186 consecutive weeks, and accumulated a total of 23 Grand Slam titles, per Vogue. Serena has also been on the cover of a number of magazines, including the fashion bible Vogue. Serena's first solo Vogue cover was in April 2015, per Bleacher Report. Her most recent Vogue cover is the famous September issue, and in its pages, Serena opens up about her future.
Serena Williams is reluctant to give up tennis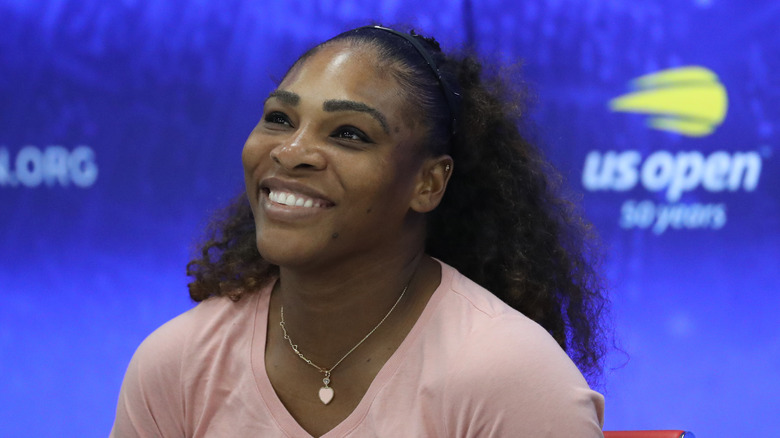 Leonard Zhukovsky/Shutterstock
In Vogue's September 2022 issue, Serena Williams talked about her love of tennis: "I love to win. I love the battle. I love to entertain." And she acknowledged how she's worked to prove doubters wrong: "I've built a career on channeling anger and negativity and turning it into something good." However, regardless of much, she loves the game she's come to the difficult realization that her career is winding down. Facing the prospect of life without tennis at the center sounds like it's a real challenge. "I hate it," she said, "I'm torn: I don't want it to be over, but at the same time I'm ready for what's next."
Serena also opened up about the struggles of being a mother and having a tennis career, saying: "I never wanted to have to choose between tennis and a family. I don't think it's fair. If I were a guy, I wouldn't be writing this because I'd be out there playing and winning while my wife was doing the physical labor of expanding our family." Williams also noted that she was reluctant to give up tennis, not even wanting to say she was retiring, but rather that she was "evolving away from tennis."
She does seem certain on one thing, she's choosing "building [her] family" over tennis. Serena also revealed that she and her husband Alexis Ohanian are trying for another baby; apparently their daughter Olympia has been praying for a little sister.
Serena Williams wants to expand her family and her venture capital firm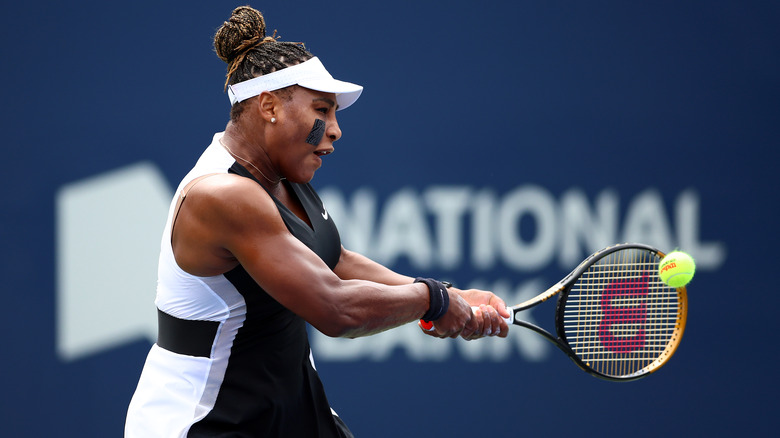 Vaughn Ridley/Getty Images
Along with building a family, Serena talked about how she wants to focus on expanding Serena Ventures; she's a fan of investing, and she's stoked about expanding the company. Over 75% of the companies Serena Ventures has helped fund have been created by women and people of color, per Vogue.
Serena Ventures is not her first foray into the business world. She has her own fashion line called "S by Serena" and a jewelry collection. She's also partnered with a number of big brands including Gucci, Gatorade, Nike, Nintendo, Secret, and Stuart Weitzman — she even modeled with her daughter for a campaign.
There had been rumors about Serena's retirement from tennis after she tore a hamstring at Wimbledon in 2021, via ESPN. She's still currently playing in the National Bank Open in Canada, and she's on the schedule to play in August in Cincinnati at the Western & Southern Open, via The New York Times. Whether she'll play in the 2022 US Open is unknown as of now. No matter when or where her last pro match is, Serena does have hopes for her tennis legacy. "I'd like to think that thanks to me, women athletes can be themselves. [...] They can wear what they want and say what they want and kick butt and be proud of it all."