The Bold And The Beautiful's Kimberlin Brown Reveals How She Became Deacon's Mystery Woman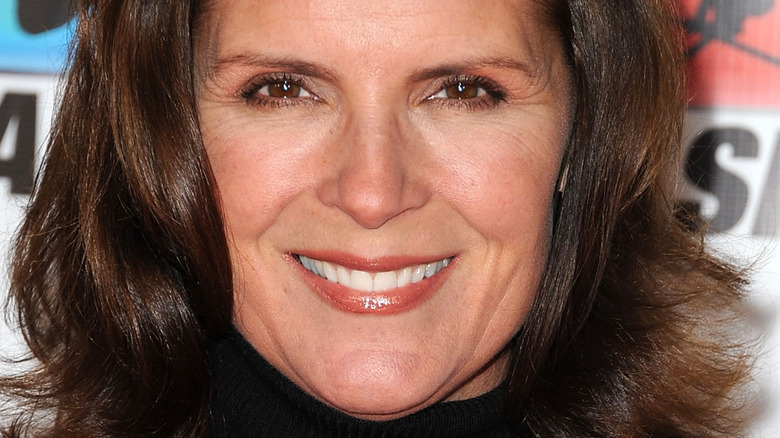 Allen Berezovsky/Getty Images
When it comes to "The Bold and the Beautiful" character Sheila Carter (Kimberlin Brown), everyone knows that as the resident villain her work is never done, and even when people presume that she's dead. Ever since Sheila came back to this fictional town of Los Angeles that the Forrester, Logan, and Spencer families reside in, she's managed to upend everyone's lives. She was the one who made Brooke Logan (Katherine Kelly Lang) fall off the wagon on New Year's Eve, according to Daytime Confidential, and nearly destroyed Steffy Forrester (Jacqueline MacInnes Wood) and Dr. John 'Finn' Finnegan's (Tanner Novlan) lives before admitting to shooting and almost killing her own son, as detailed by Soaps.com. If that weren't enough, she also attacked Li Finnegan (Naomi Matsuda) before Bill Spencer (Don Diamont) rescued her. And just to think, she's done all of this in just a short span of a few months.
And while a lot of people might think that Sheila is gone, that might not be the case. In fact, Sheila's portrayer Kimberlin Brown recently revealed how she became Deacon's mystery woman in a new post she shared on Instagram. While everyone is still trying to learn more about this new red head in town, it appears as though Sheila might have put her latest devious plan in motion. 
It's Sheila Carter like you've never seen her before
According to the latest "The Bold and the Beautiful" spoilers, Deacon Sharpe (Sean Kanan) woke up in his apartment next to a woman that he's never met before. While she might look vaguely familiar, she definitely acts differently and dresses differently than Sheila Carter did. The character's portrayer Kimberlin Brown took to her Instagram account to show her fans her character's new transformation, which came complete with prosthetics and a fiery red wig. Brown captioned it with, "My #behindthescenes #transformation #sheila goes red! Thanks you @danmakesstuff and @tinsleystudio for the wonderful #prosthetics and of course the wonderful Chris Lia Johnson #makeup @stephpaughhair for her #wig work! What a great #team."
Of course, it didn't take long at all for "The Bold and the Beautiful" fans to weigh in on Sheila's new look. Many of them commented with sentiments such as, "I can't wait. They can't kill Sheila off that easy. It's not over till Sheila says it's over," along with, "Omg this has got to be the most outrageous turn of events in 'B&B' history! Sheila really has a million lives!" Clearly, Sheila will have the final word.